Of course, I can't ask the question in the title without asking you what kind of social media "sharer" you are!
Are you a:
NO sharer? Are you part of the rare and elusive breed that shares nada online? You don't even have a Facebook account? You still, gasp, share most info in person or on the phone?!??! Hee hee. 
Do it then share it… sharer? You share things you do, and "important" news on social media, but don't talk too much about it before, and share it after the event.
Talk it up and share it sharer? You talk about doing something quite a bit before doing it, then share it while you're doing it, and after. 
Some sort of hybrid of above?
Ha ha, of course, those are just some goofy categories I came up with! But, I've been thinking about this a lot as I watch how people share information online. I am more of the do it then share it type. It's odd for me to talk about something a lot (online, mind you) before doing it. In fact, it's odd I mentioned the Milwaukee Marathon as much as I did before running it, and that I have mentioned the Dallas online so much, this far. There are certain things I try hard not to share online before it happens (or make too obvious), like travel, or work stuff.
So, anyway. 
Last week, I was talking with a friend about whether we prefer hearing something from a friend before we see it on social media. We both agreed that we'd prefer to hear "important" (of course, that is subjective) news first, rather than by discovering it on a feed or in a blog post. And of course, that made me think to ask you… have you ever been upset or hurt to find out news online, before hearing it "personally"?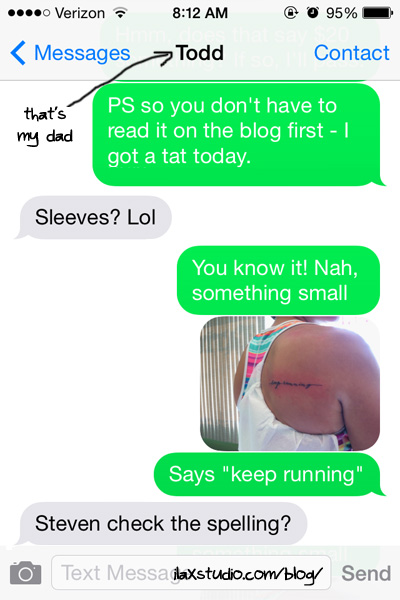 Personally is in quotes, because I don't actually mean in person, I just mean, hearing it, well, on a person-to-person basis, whether that is in person, on the phone, in a text, in an email… whatever. 
I've never been upset (that I recall) to read something first online (I must say though, I have been honored to know "important" information before it is announced). I just take it as one of a few things: a sign of how close I am with the person and what they want to share with me first, a sign of them not thinking the news is worth telling people before they read it online, a sign that the news is too difficult to share with everyone personally (online is easier and faster method), that they may be sensational and prefer to share things this way, that the "news" isn't something super important that you would share with people first… you get the idea. We're all different, we're all going to share differently.
So, back to the original question - who do you tell before social media?
I typically share things with my family and close girlfriends before doing them, and… anyone who happens to be around and listen to me talk. I am an over-sharer at heart. And while I can can keep other people's secrets, I get pretty excited about my own stuff and will blab away!
Like I said, I've been noticing different people's sharing patterns online, and I find it super interesting. We all have the capability to craft our own online social image, but, we can't control how people interpret it! Or, how they feel by what you share and don't share and what they already knew. Gawd, social media is so tricky. You could really use it to mess with people. Or purposefully piss them off. I am sure NO ONE ever does that…
By