Highlight of the Week: Trying trapeze! Having my dad's company on my Sunday run!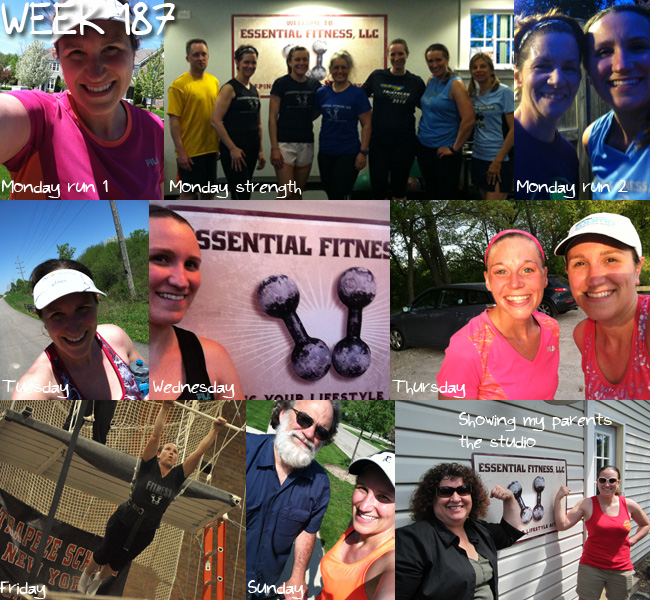 Monday | May 13, 2013: 5 m run + teaching strength class + 3 m run (w/Bobbi)
Loc: hood, Temp: 59°/61°, Time: 50:40, Pace: 10:08 avg, Difficulty: easy, Felt: like it was too hot
Strength: medicine ball circuit, Difficulty: easy (more watching than participation), Felt: awkward with the circuit style workout
Loc: Grayslake, Temp: 48°/48°, Time: 31:40, Pace: 10:42 avg, Difficulty: easy, Felt: like it was faster / hungry
Tuesday | May 14, 2013: 5 m run
Loc: Millennium Trail, Temp: 75°/79°, Time: 53:45, Pace: 10:45 avg, Difficulty: medium, Felt: hot
Wednesday | May 15, 2013: strength class
Strength: Liebert bars and free weights, Difficulty: hard, Felt: big
Thursday | May 16, 2013: 5.15 m run (w/Emily)
Loc: Nippersink FP, Temp: 53°/53°, Time: 49:22, Pace: 9:35 avg, Difficulty:easy, Felt: happy to have company
Friday | May 17, 2013: trapeze (w/Erin)
Saturday | May 18, 2013: rest
Sunday | May 19, 2013: 10 m run (w/Dad)
Loc: Millennium Trail to Nippersink FP, Temp: 65°/76°, Time: 1:48:43, Pace: 10:52 avg, Difficulty: easy, Felt: surprisingly good

Notes:
I had a higher mileage goal in mind this week. Oops. Next week. I have a hard time getting up early to run when I stay up late with houseguests (excuses!!!). 
And those mileage goals may not be met in the heat (more excuses!!!). My Sunday run felt good, but I just can't go as far, or as fast, once the temp gets in to the 60s/70s. 
I knew I was going to have some soreness from trying trapeze. It was just a matter of where and when. Sunday morning. Pecs, abs and latissimus dorsi. It was humorous when I took my parents to see the studio where I teach and my mom asked me to do a pullup. I could barely lift my arms up to reach the bar without feeling pain. And that moment was caught on camera. Awesome. Teaching should be interesting tomorrow!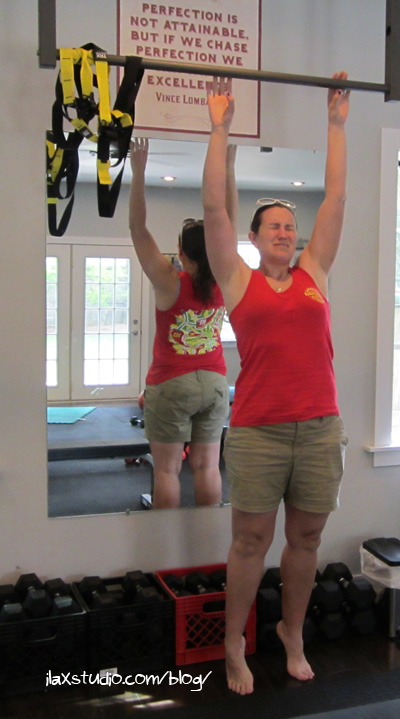 By