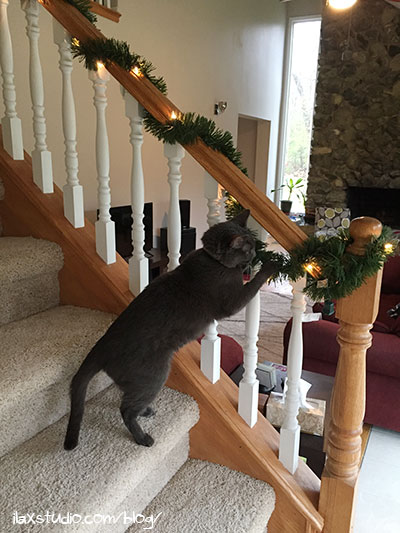 Teaching four fitness boxing classes! My students have really been getting in to it, and that makes it so fun for me. And this month, my brother-in-law will attend one of my classes and two of the classes will be holiday themed (Christmas Eve and New Year's Eve)!
Going to Dallas! It's my third year going there marathon weekend (2015, 2014). Only this year, no marathon, ha. I can't wait to see my otra familia, be silly, eats lots of good food, visit Luca's school, and see Meb again!!!
Steven's family's visit for the holiday (early)! That's why we got the house all gussied up – for their visit. We usually don't decorate when we won't be here for the holiday (we'll be in Iowa). Or maybe we would have this year since it's our first holiday in the new home? Who knows! I love it all festive, so maybe we'll start decorating every year.
Making a tofurkey and mashed potatoes when Steven's family is here. I've been craving them since Thanksgiving!
Seeing the new Star Wars movie. I wonder if I'll want to see this one several times in the theater like I did the last?
Steven's Birthday! Poor Steven has a December 22nd birthday. We gotta do something special to celebrate it away from the holiday!
Being with my family on Christmas and watching them open their gifts!
Seeing our house with snow on it – it just looks so pretty!
Cold weather running – I love it… as long as I can take a hot bath after. Ha! Hopefully I'll get lots of runs with family and friends this month during our visits!
Getting one month closer to meeting Baby William!
This list could go on and on but I'll stop at ten! What's on your list?
By