When I lived in Rome, it was trendy for females to wear only one earring. I saw many other trends during my time there that eventually made it to the US, but never the one earring thing. I could use that, now. 
Do you ever do something and feel like a very obvious life lesson is the outcome of it?
That was me, yesterday. In the morning, I grabbed the earrings I wanted to wear and saw they didn't have backs on them (to keep them on my ears). "Eh, I will be fine," I thought.
Yeah, you know I came home with only one earring. Sigh.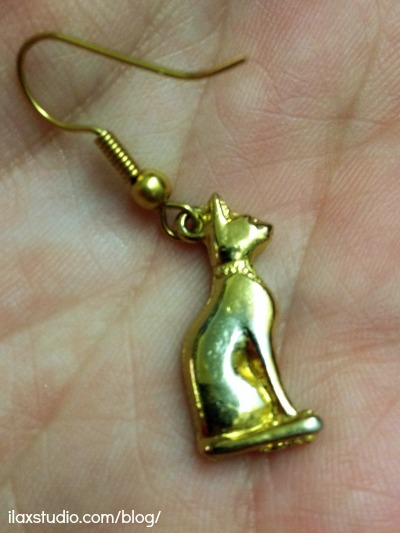 Many possible lessons out of this one: take care of your stuff, follow your instinct (to put backs on), don't be in a rush and make stupid mistakes, and don't get upset and act surprised when your choice with a potentially bad outcome, well, had the bad outcome.
Ahh, that last one. As soon as I realized it was gone (and not stuck in my collar or scarf as I had hoped), I was disappointed for sentimental reasons*, but had to laugh at myself. It was MY stupidity that got it lost! I should always wear backs to my earrings, but especially if I am going to be wearing a bulky scarf, taking a hat on and off throughout the day, and be using headphones! Derrrr.
It's weirded me out lately, the things that bother me, and the things that don't. My phone crashing and two pictures randomly deleting themselves (only to reappear 6 days later)? So very pissed. A super major issue at work? Eh. My computer operating slow and not letting me update google docs? OMG I COULD STAB SOMETHING. Train's late? Oh well. My ride is late? WTF?!?!?!
Ha ha, so I really shouldn't be patting myself for not sweating the small stuff that was my "fault." I've always been good at that. I've always been very easy on myself, and not really let my "failures" get me down. It's the small stuff that I have no control over, that I need to work on! Probably just like everyone else…
*I got these at an Egyptian exhibit in London. I didn't wear them often at all, but they reminded me of good times visiting there.
By