Have you ever been surprised by the power an apology has had in making you feel better about something? Or maybe disappointed that it did nothing at all?
Sigh, I am equal parts amazed at how much a simple, sincere apology can make me feel better about a situation, and equal parts ashamed at how much I harbor frustrated feelings until I get one.
I try not to hold grudges, and give people the benefit of the doubt when they do something to me personally that makes me feel bad, but there is an innate part of me that wants acknowledgement… wants an apology. Immature? Maybe! And believe me – I definitely know the street goes both ways. I hope no one is waiting for an apology from me about something, and that if they are, that they approach me about the topic!
But, anyway… ha, that intro makes it seem like I am having personal drama* right now. I'm not! I was actually just thinking about an issue I've had a work for the past two months with someone underperforming and not listening to the requirements I gave them. Week after week I felt frustrated that they wouldn't provide the deliverable I requested, despite explaining it to them several times and bringing other teammates in to help. Finally, we had a call to go over it again with their boss, and when the boss saw the deliverable did not meet the requirements the next week, well… the boss was not happy. And apologized to me several times.
Every single time I discussed that deliverable I found myself feeling tense and upset about it. And frustrated that I couldn't get anywhere with it (despite bringing in other people to help). Several times, I ended the work day angry about it and went on a run to try to pound out my frustration.
But when the boss apologized to me? I instantly felt better. 
It just amazes me, how much having someone else say "I am sorry" can really mean. Having someone say "I get that this has been frustrating for you," or whatever the situation is. 
Sometimes I just need that acknowledgement. (And sometimes I need to give it, too)
Ha! I didn't even make this connection until I was about to publish this, but I got another apology last week that made me feel better about something. I was eating an Apple Pear Strudel Clif Bar and bit in to something hard with my teeth. I keep chewing, thinking… geesh, I don't know what – that I was imagining it?! And kept biting in to something hard. Eventually I spit a tiny rock out my mouth. From a Clif Bar. I was a bit disturbed. I could have really hurt my teeth!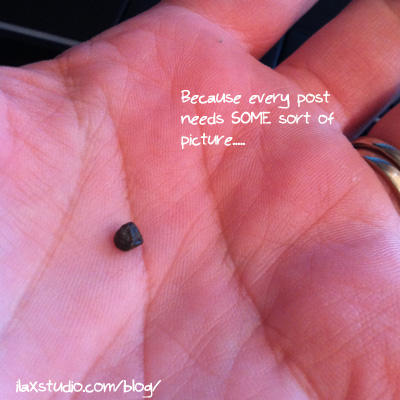 I love Clif Bars but felt like I had to say something about it, so I sent them an email, letting them know what happened, and their apology made me feel better about the whole thing. And the half-eaten** Clif Bar and rock are still sitting on my desk, waiting for an envelope to send it to them for analysis.
*But oh, I have. <— talk about emo /vague / annoying post
**I kind of laugh that it is half eaten because when I grabbed it as a snack I told myself to try to only eat half, knowing that would be pretty hard for me… ha ha. The rock made it easy to stop!
By