Lately, I've been feeling a bit guilty about my sharing habits with my girlfriends, because I've realized I favor certain communication methods over others, and it's mostly up to chance on who I will communicate with next, and how. So I am finding myself saying more often, "Did I tell you about this?" and being surprised that I didn't (and feeling that guilt). 
Ha ha, let me explain. First of all, I feel very lucky to have several close girlfriends*, and secondly, I usually don't have anything "important" to communicate with them**. Just my typical day-to-day blatherings. 
But who I talk with, and how, changes on a day-to-day basis, so what gets shared with whom does as well. 
I prefer in-person communication above all other. But we can't see our friends every day, can we? So after that, I really like google chat, cause it's easier to type using a keyboard, than texting. And it's live communication. Then, email is nice. And texting is good too***, but some things are just too much to put in a text. 
So, it's all very obvious, but I have just been thinking about how the people I see in person, tend to get news the soonest, then maybe someone I google chat with, or write an email to, and so on. Ha, notice that phone calls were not on that list? I only call my mother and grandmothers.
Which… brings me to the point of this whole post (long arse intro, huh?!). My parents were in town this weekend and we had such a nice visit with them. The four of us did things together, as well as spending time with other people, but I also had the chance to have some one-on-one time with my mom and dad, separately. 
You guys know that I get that one-on-one time with my dad quite often when I see him, because the two of us work out together. And I truly cherish that time with him. I gossip away, and when I shut up, I get to hear what is going on in his life, ha ha.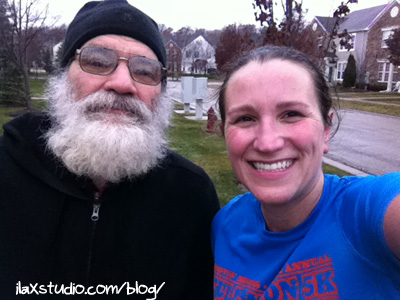 But I rarely, RARELY, get that one-on-one time with my mother. Like… I can't remember the last time I did before this weekend. When I am around her, there are almost always other people there, too. And she is usually busy, taking care of people! And when I call, she is often on the go, or around other people. 
So, to have that time with her, was just fantastic. We talked about a lot of different things I know we never would have, had we not been one-on-one.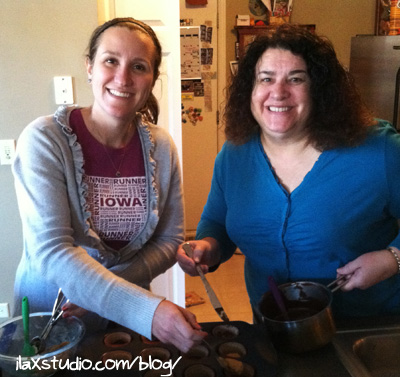 Sigh, I realized though, that I am horrible about keeping them up to date in things that are going on in my personal life****. You know, the things I started out this blog post talking about – the day-to-day blatherings. At least that made me feel better about how quickly I share them with my girlfriends, as I was updating my parents on things that happened over the entire last year!
With whom would you like some more one-on-one time?
*and interestingly, mostly from different social groups – not many are friends with one another
**as in, why do I even feel guilty if they are missing out on my dramz? ha ha
***and really fantastic for keeping in touch, just not sharing long stories, hee hee
****really, just talking about small things here – I tell them "important" news
By