This is the second year of the Wisconsin Half Marathon, and our second year running it! As you'll see below though, we ran a bit slower than last year… (on purpose, mostly!).
Here's the overview since this is long: 2:19:14 (update, official time of 2:19:11), hit the wall at mile 9:00, have a few things to work on. Full stats on the Garmin website here, and below.
I'll start with the night before the race. Steven's parents were in town, so they came to our house for homemade pizza, bread sticks and brownies (good pre-race food?). Then, we all went to Kenosha to spend the night in a hotel.
I met with Erin at the hotel to give her her race packet and joked about how I would have pre-race nightmares. Sure enough, I did. I dreamed that Steven and Erin started the half marathon without me and I missed the entire thing (the dream was more detailed but that is the overview) but I woke up feeling a bit awful. Do you ever have pre-race nightmares?
I woke up bright and early at 5:00 to eat some oatmeal and get ready. I went outside in a tank top to see if it was warm enough. Yeah, it was 60° and already a bit humid!
We rode to the race with Erin and Jason. We left at 6:00, but hit race traffic and got there a bit later than we all probably would have liked (and then Steven and I wasted time putting our bibs on). We didn't even get to warm up! Steven had to wait in line at the porta potties and jumped in to the race right before it started at 7:00.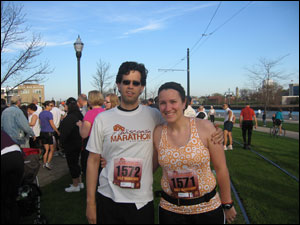 It seemed like there were a lot more people there this year (3300) than last year (I think between 2000-2500). The race start was a tiny bit crowded, but really, it evened out right away and I didn't feel irritated at all!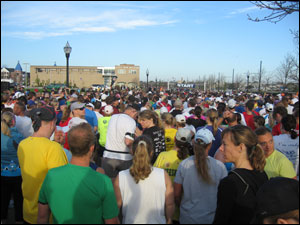 We saw Steven's parents right after the start! This race is an out and back that goes south then north then south again… so you end up running through downtown Kenosha 4 times, giving spectators a lot of chances to see you.
The first three miles flew by, at 10:07, 10:09 and 10:12, and I was feeling great. Sure, I felt humid and sweaty right away, but I felt pretty good for not being able to warm up! I was also enjoying the scenery.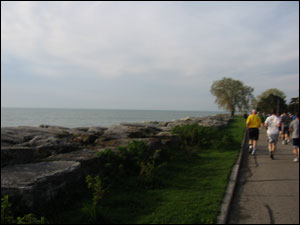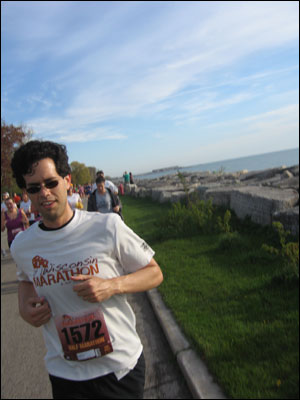 Unfortunately, right after taking these pictures above, around mile 2.5, I landed in a pothole and rolled my left ankle. Ouch. It made my knee hurt a bit.
We started to slow down on purpose at mile 4, 10:24. There were a few small hills (that I had forgotten about from last year!) and they were taking their toll. Also… the humidity. We had taken water at the first stop (at 1.5) and had already gone through one of our water bottles. We ended up drinking more water at the stop at mile 4 (I think we walked through this stop), and trading an empty water bottle for a full one from Steven's parents when we saw them after mile 4. Unfortunately, I dropped the water bottle when we did the trade off and I had to sprint up a hill to catch up with Steven. That made me feel very blah. (But, Steven's parents got a very funny video of it which I will post later!)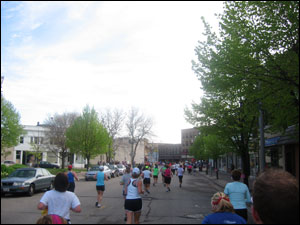 Right before the water stop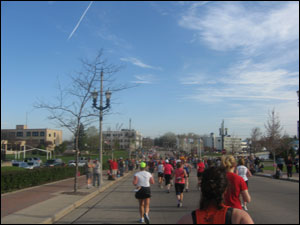 After catching up with Steven – it was SO sunny at this point!
The next four miles (4-8) felt great for me, 10:26, 10:29. 10:37 and 10:36. We were at the part of the course right next to Lake Michigan, where you could see people who had already turned around, and I was having fun looking for Erin. There were a few more hills I had forgotten about, but they didn't seem so bad at first.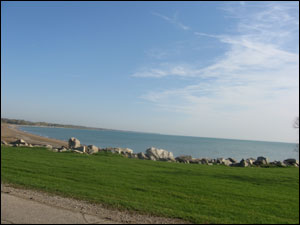 Lake Michigan
We both ate some jelly beans around mile 5.5. Around mile 6.5 I rolled my right ankle in another pothole! Damn, parts of the course were ROUGH. That made the area below my right hip hurt for the rest of the race.
We kept drinking LOTS of water, and I think, walked through every water station after this. Last year, Steven got dehydrated, and we were trying to prevent that, so I wore a belt with two bottles and we grabbed two cups at each station. Despite that, I felt parched.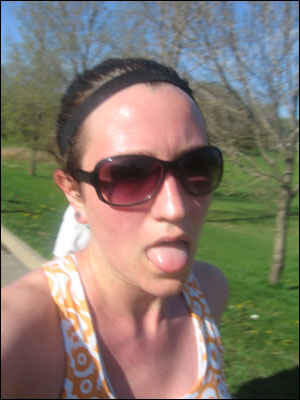 However, I was super psyched when we saw Erin!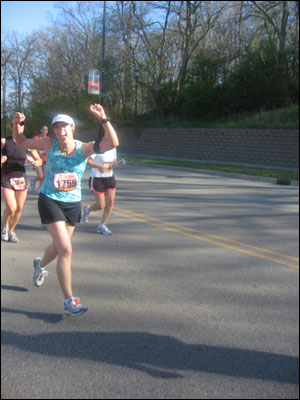 Awhile after we saw her, we got to the northern turn around point. There was a breeze that felt great and the sun had gone away for a bit. But a bit after the turnaround, it happened.
I bonked.
At mile 9, the watch beeped, I looked at it, and said to Steven "I am running out of steam." And boy, did I EVER! At that point, it was Steven pushing me to keep going, as I struggled big time (in the beginning, I was leading us). The hills seemed killer. We ate more jelly beans, but they didn't help. We ran on the gravel, since it was softer. I focused on making it through mile 9 and 10, 10:28, 10:44, because I knew I would get a rush when I saw all the spectators in the downtown area again at mile 11.
A little optimistic.
We did run through downtown (10:44 at mile 11) and everyone was cheering, and we saw Steven's family, but I was still struggling. We walked through another water stop right before we saw them, so I didn't trade off the water bottles, but maybe I should have. We drank our water right away, and there was not another stop until 12. We stopped to walk before it, then walked again through it (10:45 at mile 12). It was at the turnaround point, and I filled up the bottles again and started running. Apparently, I dropped one, and a full marathoner was nice enough to throw it to me as he went straight!
I kept saying to myself, "You can run one more mile!" but I was OUT OF STEAM. I crabbily told Steven to "get out of my way" (huh?) and asked that we walk again. So we walked, maybe for a bit at 12.5. Our last mile was 11:24. I just couldn't do it.
We did speed up a bit for the last .10 (actually .22) mile and finished it in 2:03, for a final garmin time of 2:19:14. I was actually very pleased with our overall time and average pace of 10:34 (despite positive splits) but felt awful for feeling so awful!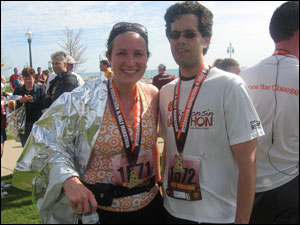 I grabbed my medal and 3 bananas. I ate two and a half of them. SCARFED them down. I skipped my morning banana (bad idea) and I think that was part of the problem.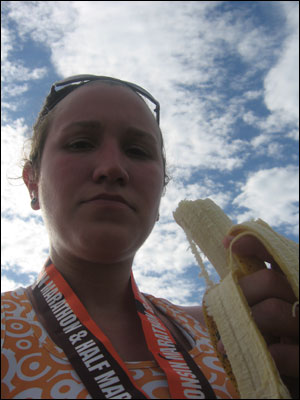 We met up with Steven's parents, Erin and Jason, and Erin's parents (who she didn't know would be there!). I took my shoes off because the bottom of my left foot (near the front outside) had been killing me for the last few miles (a picture that Steven's parents took confirms I do, indeed, land on the outside ball of my foot when running). And it felt like the ends and tops of my toes were covered in blisters (they were).
We walked around a bit looking at the (lame) booths. Erin got in line for a massage and I took a pic with this guy: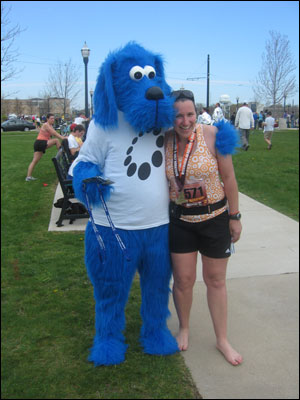 Then I met with this guy: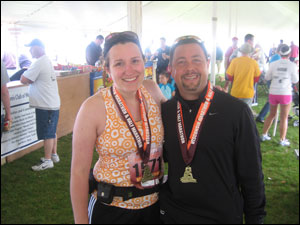 Tony!
It was so nice to finally meet Tony. I love meeting other bloggers, and could tell he is super nice! He lives pretty close to me and did really well at the race! I cannot wait to read his recap!
After I chatted with Tony, we waited a bit with Erin and Jason so Erin could get her massage.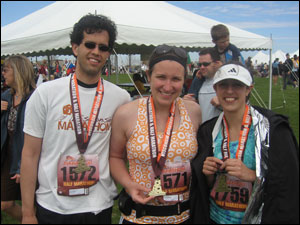 Steven, Kim and Erin
After she did, we hobbled (me) back to the car. Then went to the hotel and sat in the hot tub (wasn't that hot, which is good!) then ate a TON of Mexican food afterward. Well, I did anyway.
So, perks of the race:
I didn't have to POO!!!!!!!!!!!!!!!!!
Crap, is that all I can think of?
Okay, I still had fun, even though I bonked.
Meeting Tony.
Seeing Erin at the turnarounds!
Running with Steven, who did great!
The polka music at the end
My right shin did not hurt
And here is what I am thinking regarding my performance:
I have become too cocky of a runner. Not in the "I can run a fast pace" sense, but in the "I can run any distance and feel great" sense. It is TIME to refocus on NUTRITION. I have another one of these to run in 6 weeks.
I have gained too much weight. When I PR'd last year, I weighed maybe 20 pounds less. I've been eating too carelessly. Yep. I am not worried about the time, but think it would make me feel better.
When I was running, I kept thinking, "Why do I want to run a full again?" Ha. I think I just had an "off" end of the run!
And a few complaints:
The water spots were not where they said they would be, AGAIN.
The built-in bra (riiiiiiight) in my tank seems to have chafed a line across my back, even though I used body glide. It stings.
Updated to add: I wasn't planning on wearing this top. I had a new, orange Nike top to wear, but it was too hot. Well, you can't see my nipples, but let me tell you, they hurt!
My left heel hurts. Wah. (It hurt when I woke up).
I got a sunburn, despite putting sunscreen on.
Update to add: Someone running near us for the entire race had a watch that beeped a weird tune every 30 seconds.
In conclusion…
I had a ton of fun and am so happy Erin came out!
I will learn from this race and use that knowledge to hopefully NOT bonk next time.
Time to get serious about my diet!
Wisconsin Half Marathon | Distance: 13.22 | Time: 2:19:14 | 1: 10:07 | 2: 10:09 | 3: 10:12 | 4: 10:24 | 5: 10:26 | 6: 10:29 | 7: 10:37 | 8: 10:36 | 9: 10:28 | 10: 10:44 | 11: 10:44 | 12: 10:45 | 13: 11:24 | 14: 2:03

By
55 Responses to "Wisconsin Half Marathon"