Yesterday I ran the Round Lake Frost Footrace 5K. Even though the Frosty Footrace is in February, it is kind of my "goal" 5K race of the year because I actually stand a chance of placing in my age group (2nd place in 2010 and 1st place in 2009). The race is nice and small (although it's growing in size – up to 322 participants this year!).
Erin came out to run this 5K with me (as she did last year). I was really happy she was able to come, despite her recent shin scare! Racing is just more fun with a friend! And it was nice that Erin's husband came too – Steven actually had company during the race!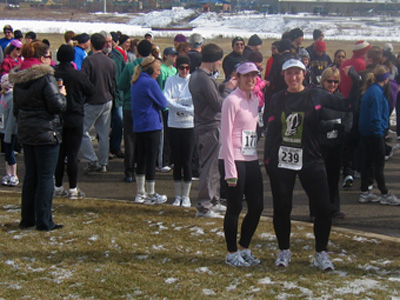 And of course, a ton of Grayslake Running Club members were there. It was so awesome to be a part of the club this year and have so many people to cheer on – and to cheer me on to!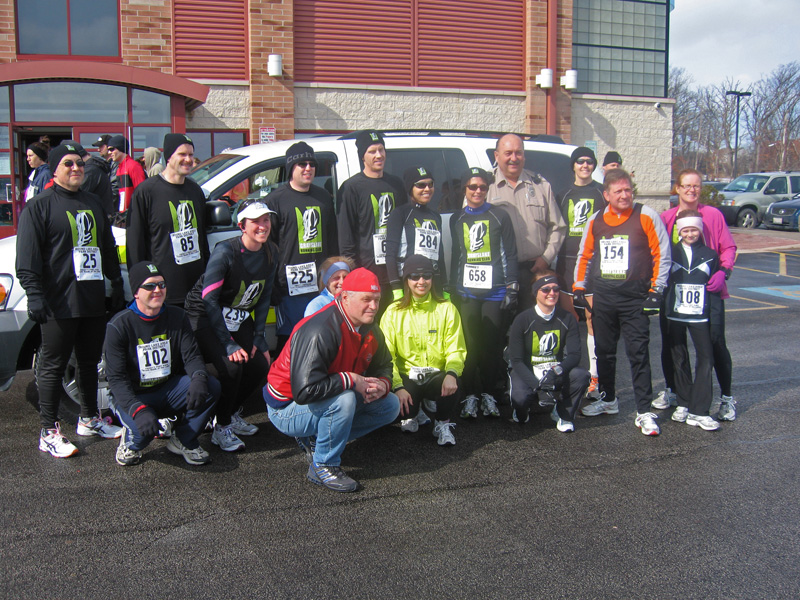 My goal was to run 8:00 minute miles and beat my previous PR of 24:51 (if you're doing the math in your head, you might see where this is going). I also really badly wanted to place in my age group. So, I was a bit nervous before the race. Even during mine and Erin's warm-up run, the jitters didn't go away.
But enough of the dilly-dallying. How did it all go down? I will give you the short and sweet.
Mile 1 – 7:42
Despite an initial hiccup at .3 miles (my shoe came untied!) and hills, I felt good. Erin and I stuck together.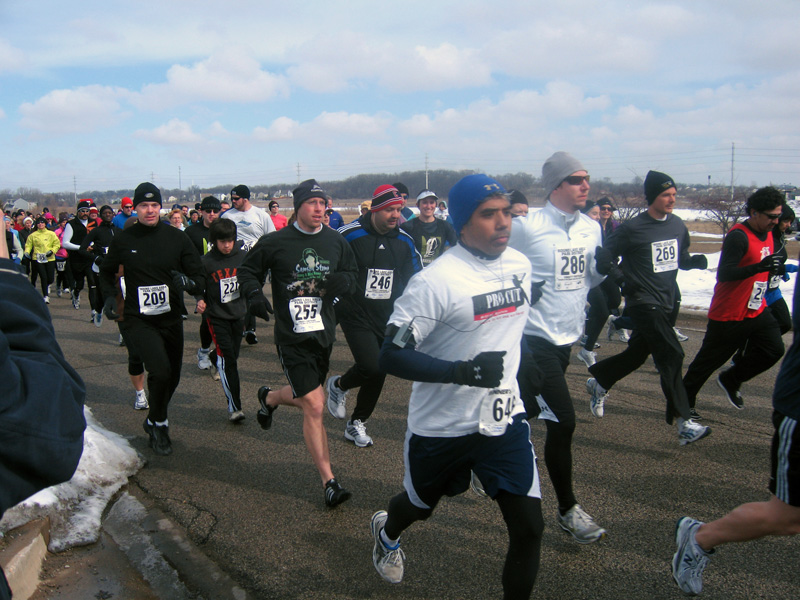 Do you see me?
Mile 2 – 7:51
I felt okay. I was starting to hurt in my stomach. Erin and I stuck together.
Mile 3 – 8:30 WHOA what happened?
So, there is this big hill about 2.2. After we ran past the boys and cheesed it up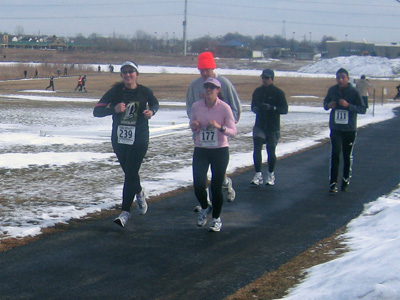 I seriously walked for 10 seconds up that hill. I felt like I was going to barf. I was kind of disappointed in myself, because I wanted to push the pain aside, but couldn't do it. I caught back up with Erin and we ran the rest of mile 3 together. I encouraged Erin to pass me in the end, I knew she had more of a sprint left in her!
Last .1 – 0:54 (7:18mm)
And she did. Go Erin go!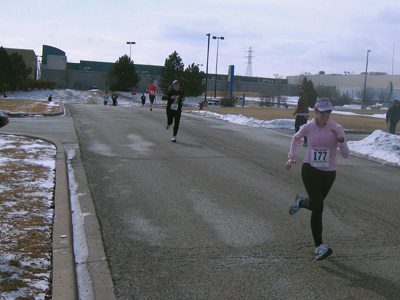 I finished strong. But as you may have already guessed, I did not PR! I ran 25:00, 9 seconds slower than my PR. Oops! (Garmin stats here, and I should note, it was in the 30s and kind of sunny).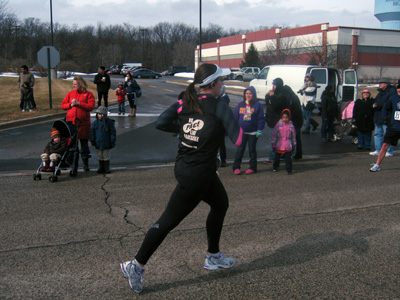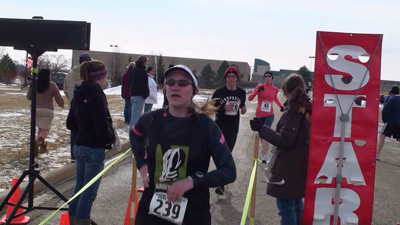 Photo Credit to GRC friend, Joe!
Erin and I held each other up after the race to avoid collapse: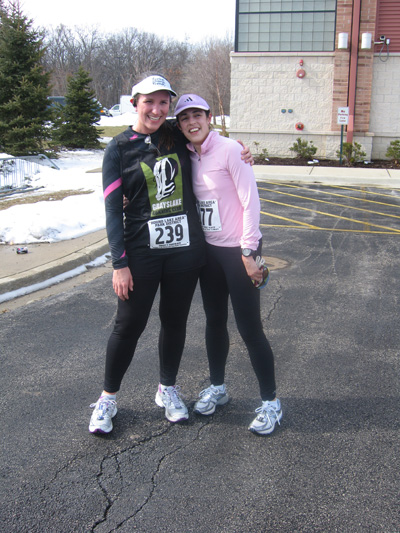 Just kidding! I cheered on some more running club friends, then we went inside for awards, and…
I got first place in my age group!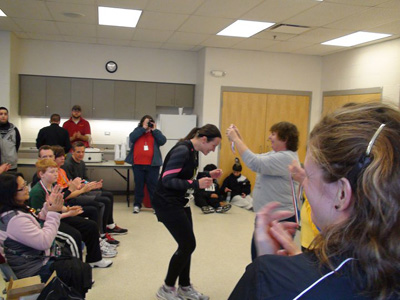 Photo Credit to GRC friend, Joe!
And Erin placed third in her age group! Read her post here!!! I am so incredibly proud of Erin!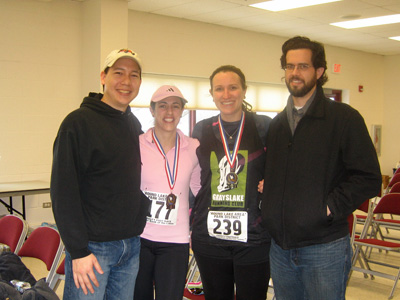 Thanks Jason and Steven for spectating, taking photos and generally being awesome husbands who put up with this running business!
We took one more running club picture, and took off to enjoy Steven's deep dish pizza!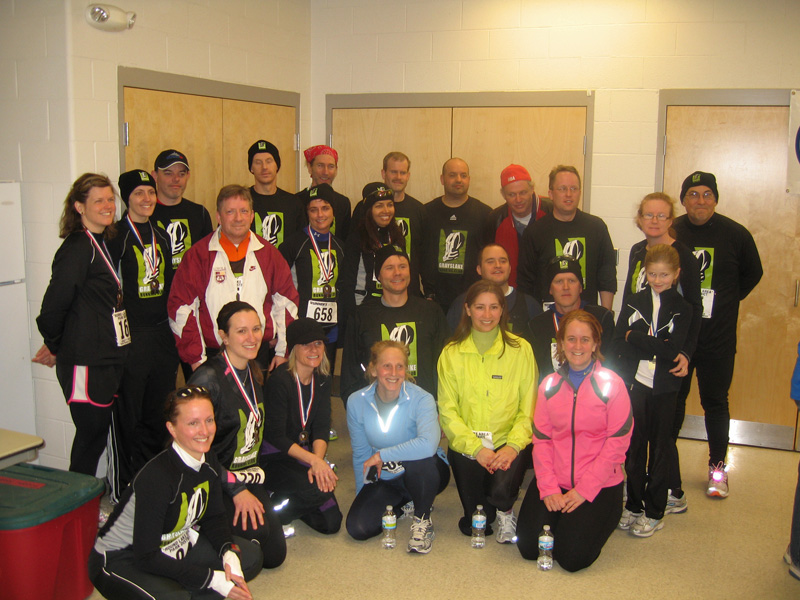 So, I am really happy with how I did in this race! So close to a PR, but I just missed it. Oh well! I was really happy to place.
Although, I have to say – 5Ks are fricking HARD. Seriously, in that last (slow) mile, I thought of saying to Erin, "I don't like running!" Maybe I am just built for endurance. Yeah, that's it. Endurance!
P.S. Check out my left foot. What. The. Eff?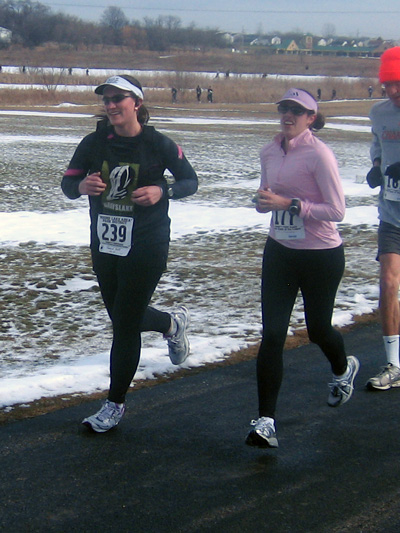 By
31 Responses to "Frosty Footrace 5K Race Report"