I received a pair of blue tooth enabled wireless headphones for Christmas and have had a lot of issues with them.  I emailed Adam to ask him what he thought of his Sony W-Series Walkman MP3 player, because I loved my Sony Walkman MP3 player, and though I might as well stick with a brand I knew and loved.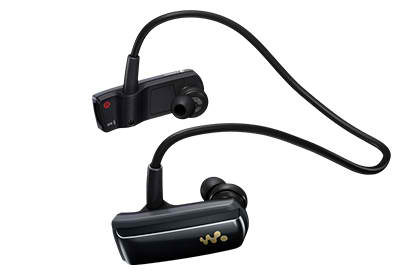 The Sony W-Series Walkman MP3 Player

Well, Adam loves the MP3 player. And, he hooked me up. And essentially, two of you as well. He contacted his Sony rep, who sent me a MP3 player to try out, and two to give away!
Below is what I think of the MP3 player. My review has a few interesting notes in it, because in my mind, I was comparing the MP3 player to the wireless headphones and phone combo I had been using while running before.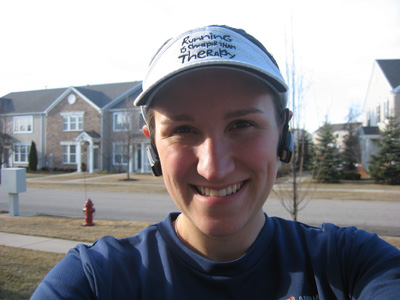 Me wearing the Sony W-Series Walkman MP3 Player
1.68 GB of music capacity (2 GB total)
playmodes: Normal/Shuffle/ZAPPIN (more on that below)
approximate battery life of 11 hours
1.5 hours to do a full charge (3 minute charge for 90 mins of music playback)
USB mini-B connector
format(s) Supported : MP3/ AAC/ WMA (DRM)/ WMT Capable
comes with S/M/L earbuds, and MP3 holder
Pros
comfortable/no bouncing/stays put
water-resistant
great sound quality
wireless
MP3 player built in
quick to charge/long battery
controls are intuitive and easy to access while running
turns on when you "pull apart" the two headphones (see picture below)
voice tells you what is going on (if on shuffle, changing playlists, etc.)
easy set up, no software required (option for content download manager for iTunes)
easy to make playlists/transfer music from iTunes & Media Player – just drag and drop!
no "skipping" (like my wireless bluetooth headset does with the phone)
quick song changes with jog lever (crucial – so you are not holding your arm up to your ear (while running) waiting for it to change!)
inexpensive – it's originally $60, but click on this link to get it for only $48.99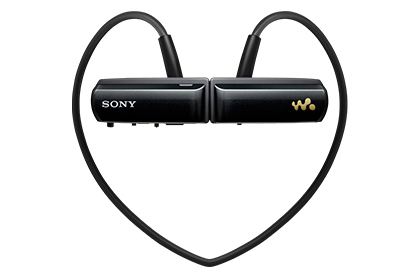 You just pull the two headphones apart and that is what turns the MP3 player on!
Cons
no radio
no screen interface (but this did not bother me – the voice in the MP3 player lets you know what modes/etc. you are selecting)
computer connectivity issues – this is probably JUST ME and my POS computer, but the computer did not recognize the MP3 player as a drive for the longest time – Steven had to fix it (and I still kind of have issues) – you can see the directions he used here
Don't Know
there is a feature I didn't check out that much – ZAPPIN – quickly scans songs so you can find the one you like with the tempo you desire
operating temp – the manual says it operates from 41°F-95°F – I run in very cold temps in the winter, and hope it works…
durability over time – I have only used it a few times
Overall? I love, love, LOVE this MP3 player! And am not surprised. Sony makes great products!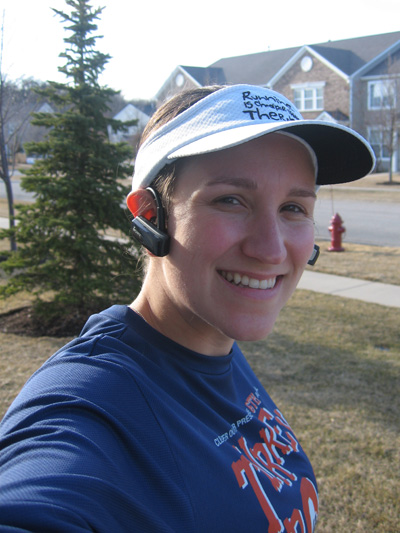 Sony W-Series Walkman MP3 Player Giveaway Rules
I will give away two (2) of the Sony W-Series Walkman MP3 Players
To enter the giveaway, leave a comment telling me when you would use this MP3 player, and what you would listen to on it.
To get an extra entry, "like" Sony's Facebook Page – https://www.facebook.com/sonyelectronics, and leave an additional comment letting me know you did.
This giveaway is open until 5:00 PM CST on Wednesday March 23. I will use random.org to select the winner. I will announce the winner on Thursday March 24.
This giveaway is open to all readers.
By
84 Responses to "Sony W-Series Walkman MP3 Player Review and GIVEAWAY"