On Friday and Saturday, Erin (check out Erin's race report here!) and I ran the Ilinois (Half) Marathon I-Challenge in Champaign-Urbana – a 5K on Friday night and a half marathon the next morning.  We received one medal each for the 5K and the half marathon, and a special I-Challenge medal for being extra crazy and doing both races (photo stolen from Erin's blog):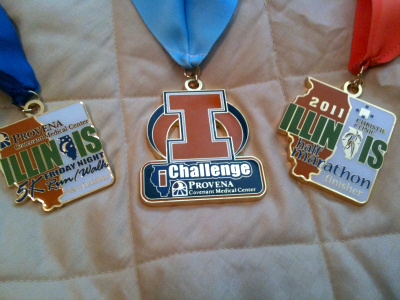 The 5K
Our goal was to run the 5K as a warm-up for the half marathon, and average 9:00-9:30 minute miles.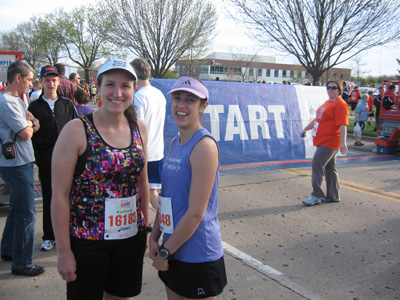 Riiiiight. Did you really think that was going to happen?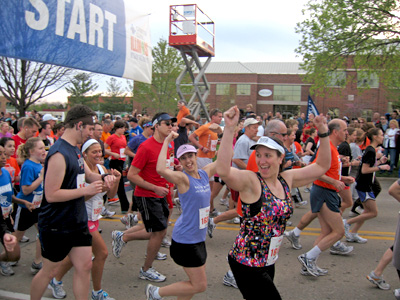 I think this is the ONLY 5K I have ever run negative splits – 8:51, 8:34, 8:23, 00:44 (6:48 pace) (garmin stats here) – and this is definitely the only 5K where I have said to my running partner (more than once) "We need to slow down." Ha ha.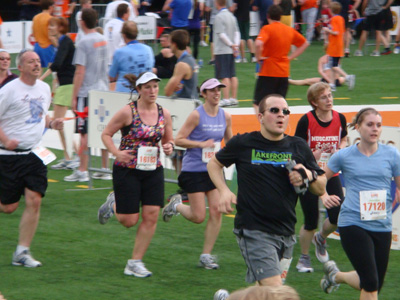 The race went through campus and ended in Memorial Stadium. The run was easy (although hot, in the low 60s) and my knee felt great. The only bad part was the steep decline into the stadium (where we saw two wheelchair racers run in to each other right before we went in). And it was a bit crowded, but with 4,700 runners, that is expected.
My official time was 26:31, which is an average of about 8:32 minute miles, a little bit off from our goal. 
The Half Marathon
I had a nightmare about the half marathon that night. Something about me getting in to several car accidents and my family putting me in an insane asylum and not letting me run the race. In my dream, I texted Erin to make sure she made her sub 2:00 goal. I felt guilty in my dream for not being there to run with her. This isn't foreshadowing, just me sharing the messed up dreams I have the night before a race.
Anyway, I woke up feeling optimistic about my knee, since it felt so awesome at the 5K, but it was bugging me during our warm-up mile. I put on my knee brace and tried to find my inner optimist. I knew it would feel better after running a few miles. I had been looking forward to this race for so long – I wanted to be with Erin when she ran her sub 2:00 half marathon – I wasn't going to let my stupid knee get in the way.
We took off with 7,500 runners a few minutes late. Our goal was to run 9:00 minute miles, and I had a pace band on to try to keep us on target. We had a lot of energy in the beginning, and I kept saying, "we need to slow down a bit." I felt like a total nag, but didn't want us to be totally zapped in the end.
We started on campus and ran all over Urbana. Our husbands saw us a few times.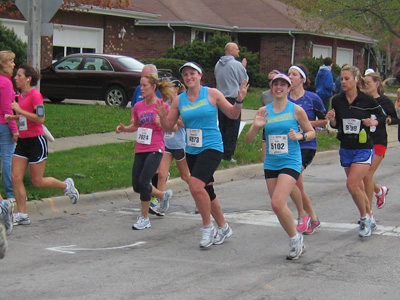 We even ran right by Erin's parent's home around mile 6ish. You can see how excited she was to see them in the photo below: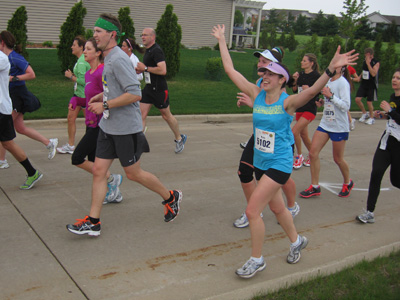 Mile 6 was one of the hardest miles – it was near open fields and it was crazy windy. But we pushed through.
I didn't feel like I really got in to the race until mile 8. My legs warmed up and I started to perk up. Other than that, I was mentally checked out. At one point, along mile 4ish, I told Erin I was going to talk so I had a distraction, but I just couldn't come up with anything to say. That is UNUSUAL for me. Usually, you can't shut me up. I've been a bit down lately, and just feel so blah.
I felt really strong from miles 8 to 10ish. We walked through water stops around 10 and 11.5 though, and that really bugged my knee. The last two miles were a struggle. The sun came out (it had been in the 50s and overcast until then) and I was just kind of out of it. I felt like I was holding Erin back. Sigh.
BUT! We finished strong. There was great crowd support along Memorial Stadium at the finish (and along most of the course!) and we saw our husbands again. We perked up and ran in to the stadium, knowing we were well under our sub 2:00 goal. Right before we entered the stadium Erin heard Mica cheer for us (!!!) and we sprinted toward the finish.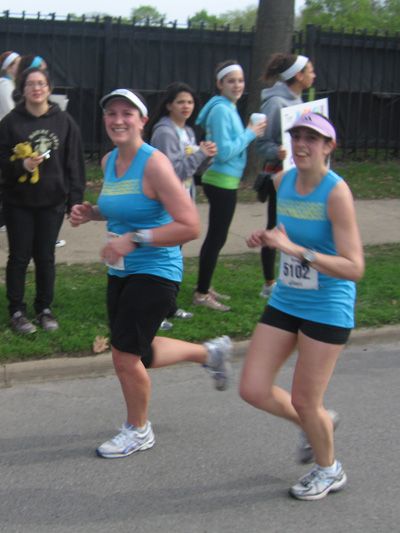 Our final time was 1:57:34 (well, for me, Erin was a second faster in both the 5K and the half marathon), an average pace of 8:58 minute miles. Right under our 9:00 minute mile goal. And our splits were pretty frickin' even (stats here):
1: 9:00
2: 8:56
3: 8:53
4: 8:52
5: 8:53
6: 8:52
7: 9:01
8: 8:48
9: 8:53
10: 9:08
11: 8:47
12: 9:07
13: 8:52
13.2: 1:30 (8:09 pace)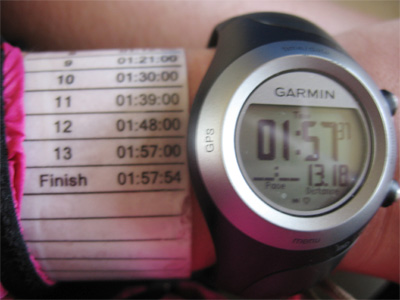 Woo hoo! I was so proud of Erin and excited that she made her goal! I gave her a big sweaty hug after we finished.
After the race we collected our two medals and made our way up the stadium to get some food. I grabbed a little bit of everything – they had a great spread – bananas, bagels, pretzels, crunchy granola bars, pasta, pizza… yum. Our medals clinked together with every step and I told Erin that was the sound of being a badass. Ha ha.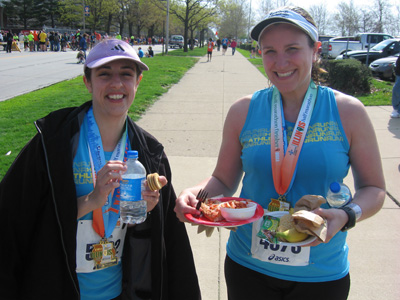 I think I was a bit dehydrated after the race. My fingers were really swollen. I didn't wear my hydration belt and had water at every stop (and GU at 4 and 8), but after the race, I drink an entire bottle of water and two cups of Gatorade before we left the stadium to get food. Oops.
So… yeah. This race felt much harder, mentally, than my half marathon PR on April 9th. I was just not in to it, even though I had been looking forward to it for so long. And… I put on a few pounds this month, so I am sure that didn't help! I felt heavy and blah.
But we did really well. And the course was great – minor hills, great crowd support, and music throughout. The race is well organized. It was a bit crowded for the first few miles, but I expected that.
And of course, I loved running withmy best friend, even though I was not all with it. Let's hope I am more chipper for our half marathon this Saturday, in Kenosha!
Thanks to our husbands for driving all over and cheering us on (some of these photos are from Erin's husband)! And thanks to Erin's parents for cheering us on and letting us crash at their place! And thanks to Mica for cheering us at the finish even though I was out of it and probably looked like hell!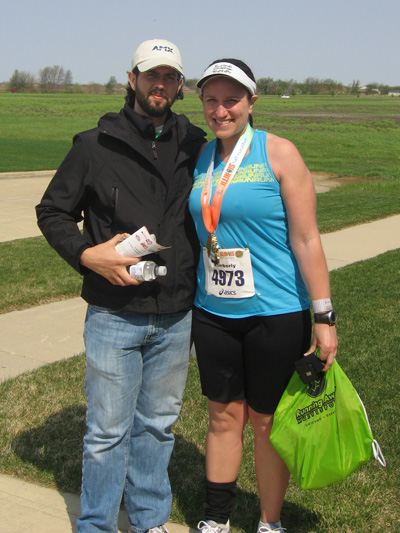 I felt really stiff Saturday, better on Sunday, and pretty good now. The knee pain comes and goes. I will have to be careful when deciding if I should do my next races or rest. I was expecting to get injured, just not this early in the year. But I have been running consecutively since the beginning of July. 10 months – that is a pretty long span for me to go without an injury.
By
23 Responses to "Illinois I-Challenge (5K + HM) Race Reports"