I was going to tack this on to the end of my weekly recap, but it was just too long. So… you get two posts today. Sorry! To make up for it, come back tomorrow for a sweet women's running apparel giveaway…
Maggie just started a Runner Photo Challenge – check it out here, and participate! This week's challenge: A picture of memorabilia (bib, shirt, medal, trophy, etc – can be just one thing or multiple things) from your favorite race. Include an explanation of why it's your favorite race.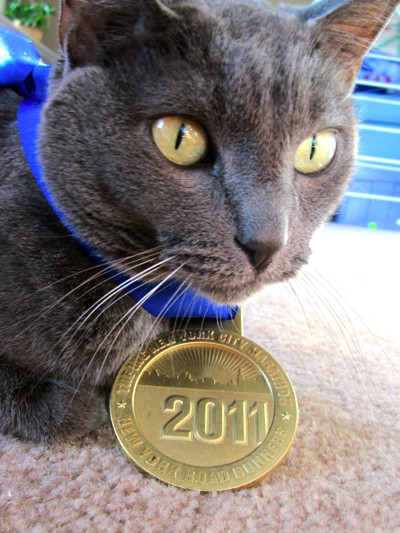 Hands down, my favorite race is the New York City Marathon. And not because I PR'd, or because it was my best race ever, but because it showed me the true spirit of running, and the amount of support I have in my life.
I got in to the NYC Marathon via lottery. Opening Day was 4/27 last year. It was the same day my NYC bff (Gina) had her son, and a day before my grandpa passed away. I really felt like someone was watching over me that week. That is kind of hard to explain, since I am not very religious. But it's just a feeling I had.
Everything said about how awesome the NYC Marathon is is true. The spectators, the race itself… the runners. I had a man from France, that I did not know, or could speak to, help me run the last few miles of the race. It's just amazing that all of those people (from all over the world!) come together on race day.
And support. My sister and her boyfriend came from Iowa to watch me race. My NYC bff and her husband housed us and spectated. All of my family wore "Team KIMBOT" shirts that day, even though they couldn't be there. I called my Chicago bff (Erin) when I finished and babbled/cried to her for a good 20 minutes. Bobbi was sending me encouraging texts during the race. A lot of my Facebook friends were really supportive. And Steven. I cannot believe he puts up with all this running. He is the best!
Anyway, the NYC Marathon was just a truly spectacular experience that reminded me why I love to run. I hope I get to try it again someday!
Opening Day for NYC is 4/25! Did any of you enter the lottery?
By
12 Responses to "Weekly Runner Photo Challenge: Memorabilia From Your Favorite Race"