This ended up being long, but I promise there is some good stuff in here!
All about ilaxSTUDIO
Don't forget to enter the Crazy Tan Lines Contest/Giveaway for a chance to win a prize of your choice! Entries are due Friday the 13th by 5:00 pm cst. It's okay if your tan is not "exercise" related – I love a crazy tan no matter how you got it!
On Monday someone from Runner's World contacted me about potentially using photos of mine and Steven's from the Corn Maze 5K (2011, 2010) for the Races+Places section of the October issue. Fun! I hope they use one.
If you do not already "like" ilaxSTUDIO on Facebook, you can here! I post a bit more there… ha ha. Maybe that is a reason not to like the page.
All about ZOOMA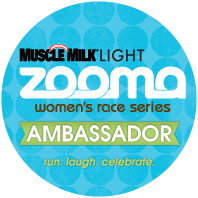 I wrote a post about body image and how I got in to running for ZOOMA this week. Check it out here!
The training kickoff for the ZOOMA Great Lakes training is next Thursday the 19th from 6:30-8:00 at Fleet Feet Chicago (1620 N Wells). RSVP to come! There will be yoga, massages and fooooooood.
You can meet the other ZOOMA Great Lakes Ambassadors in this post. I've met a few of the ambassadors and am super excited about meeting the rest:  Amy of SecondCityRandomness.wordpress.com, Courtney of RunCourtRun.com, Marcia of MarciasHealthySlice.com, Kimberly of OutsideMyHead.com, Jess of RunWithJess.com, Laima of Women's Endurance Gear, Meghan of The Perfect Compilation Tape, Bobbi of ZeroTo26Point2.blogspot.com, and Maggie of MagMileRunner.com.
Don't forget to use code GLAMB8 for $10 off the half marathon and $5 off the 5K!
Another blogger friend, Kelly the Culinarian, just registered! Yay!
All about FakeMeats.com
Like FakeMeats.com on Facebook if you don't already! I am a Facebook admin for Fake Meats, which means I post lots of fun pictures, like this one…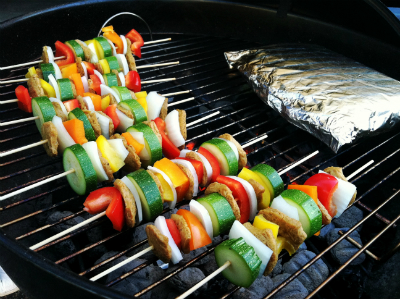 Fake Meat "Chicken" Shish Kabobs
And we are starting a fun new contest on Facebook – Fake Meats in Famous Places. We are posting photos of Fake Meats in Famous places (obvious) and asking a trivia question. A winner will randomly be selected from someone with the correct (or a correct) answer and win the Fake Meats in the photo! Today's photo is below. Look at Fake Meats on Facebook later for the question!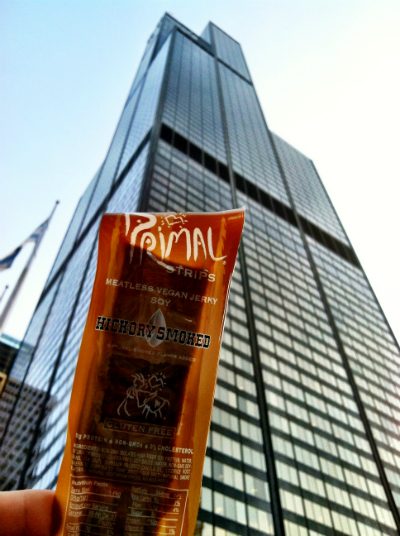 If you want to help take some Fake Meats in Famous places photos, let me know and I will send you some Fake Meats! We'll credit your name on Facebook when we post your picture!
Phew. I need a breather from all these links. Here is a picture of the grill master. Just kidding! I just hold the utensils and food.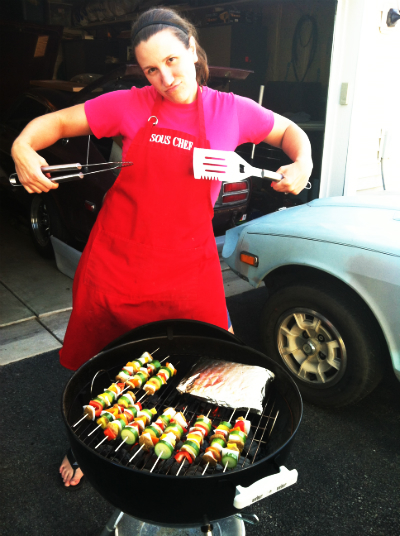 All about smartphones
I've been playing Zynga's Swipeout sometimes on my phone. It's like fruit ninja, but you are killing zombies instead of fruit. I don't quit understand how the coins add up, or what the object of the game is… but it's fun.
Another interesting game that Steven plays is Temple Run. You are being chased by monkeys and have to run, jump, slide under things, and collect coins.
I really love the PicFrame app for making fun collages. And it has a ton of settings to change things up. Check it out!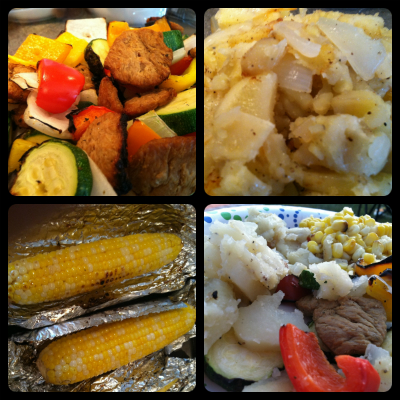 Erin told me about Foap, an app where you can try to sell your smartphone images as stock photos. I doubt any of mine will ever sell, but I have uploaded a few! After you upload them, they review them and may or may not accept them. I was surprised they did not accept my sunrise/sunset photos. I wonder if they will accept this one I took last night (below). Note: if you use this app, turn off email notifications for ratings and new followers – I woke up to 130 emails Tuesday morning from Foap.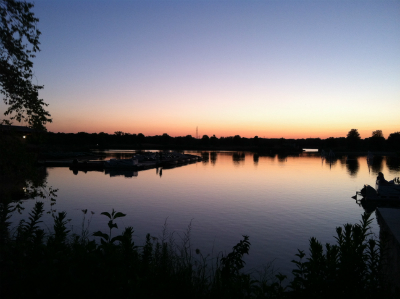 Random Random Random
Check out and like my trainer's Facebook page – Essential Fitness LLC. He posts good articles and videos and pictures from class. I bet you wanted to see me jumping on to a step with a kettlebell? No?
The Girl Scouts asked me to tell you about their Cookie Classic 5K on September 8th in Grant Park (in Chicago). Every participant gets a t-shirt and a box of cookies! NOM.
And lastly, a good infographic on how to foam roll like a pro.
Yay! You made it to the end!
By
19 Responses to "Midweek Links"