When my family was visiting two weekends ago, we were having a conversation on the train ride home from the city, and I said something along the lines of "We totes have to do that!"
Blank stares.
Totes?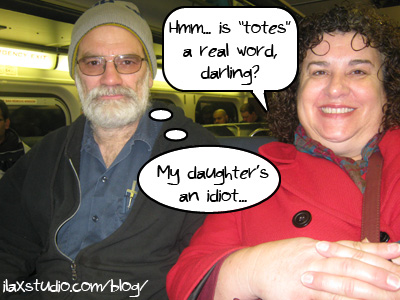 Yes! Totes! Like a shortened version of "totally" – it was added to the dictionary last year! (duh)
They didn't believe me. I had to look up an article saying it was added to the dictionary, and show it to them*.
I tried to get them to add it to their vocab while they were visiting, but I don't think it stuck. Darn. Maybe when I see them next week, ha!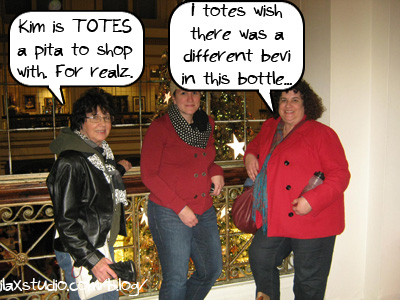 So I was thinking about all the stupid little words I say that are shortened versions of longer words. I knew I would be able to make a long list of them, but they just weren't coming to me. Muah ha ha. A few days with Gina fixed that. Because we sometimes** talk and act like children, and the words were coming out left and right!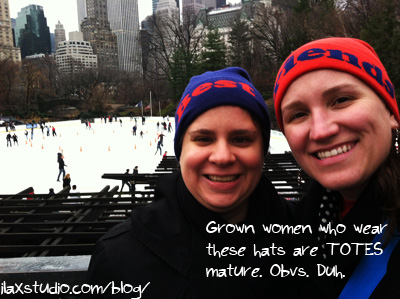 However, I think most of these are slang and some of them are made-up. So… you won't find them in the dictionary, Mom, Dad or Grandma Pete, but you will hear me saying them!
Kim's list of shortened words she uses that make her sound über intelligent:
totes
fab
deets
jeal / jelly
prezzies
obvs
cray
fave
bestie
brekkie
din din
pajays
fajayjays / fajays
fo sho
delish
hilar
coo
buh
selfie
adorbs
goob
graz
stats
compli / complis
girlies
pita
bevi***
Edited to add:
def
ridic
halfie***
legit
probs
vacay
merch
sammie
cardi
fam
inapprops
obnox
sig
pic
heli
rents
vid
cred
biz
temp
furn
cous
anni
bday
peeps
cell 
mug 
rec
rollies
hood
Do you say any of these words (or any different ones)? Or are you an actual adult, who thinks it is annoying and immature when people talk this way?
I also have a list of words that Steven and I pronounce incorrectly to each other on purpose… which is unfortunate, since I already cannot pronounce most words!
I bet posts like this make you REALLY want to meet me in person, if you haven't already. I just sound like such a delight to talk to! Oops! Totes a delight! Obvs. Fo sho.
For what it's worth, I don't talk like this all the time, and try not to be too ridiculous at work!
*Ahh, smartphones – can always use them to prove yourself right, or, err, sometimes WRONG!
**Meaning usually.
***A word Gina uses, but I don't. Yet.
By
43 Responses to "Totes is totally a word"