I hope everyone had a spectacular holiday! I had a wonderful time with my family and enjoyed being mostly unplugged for a few days.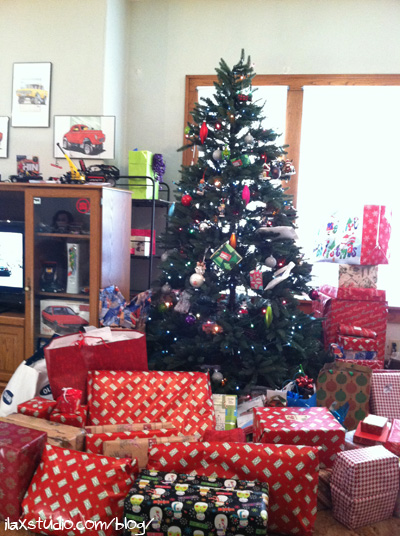 Check out my guest post on Loop Looks! It features my favorite color… you know what it is, right?! What is your favorite color?
Who is in for the Wisconsin Half Marathon or Marathon in Kenosha on May 4th? This will be my fifth year running the half marathon! I asked the race director if I could be an ambassador to promote the race for them. While they don't have a program like that set up now, they did give me a $5 off code – KIMRUNSWI. If 10 people register using this code, I get a free entry. Not sure if that will happen, since there are other $5 off codes out there, but I just want to promote my FAVORITE half! It's not too crowded, scenic, and has good support for it's size.  Prices go up Jan 6 so register before then if you can!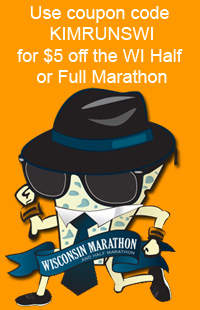 It was a bit colder in Iowa than Chicagoland. It was only 1° on my Christmas Day run! And was 0° when I ended it! Check out the frost on my hair and eyelashes! Did anyone else travel somewhere with a bit of a temperature swing?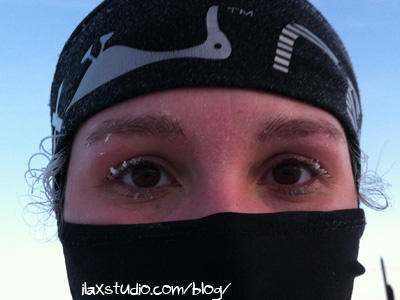 I don't think I will be winning Otter Mother of the Year award. First off – I am not an otter. But secondly, we spent the night in Galena for Steven's birthday and I forgot my otter baby, Kate, behind! Ahh! I felt like Kate McCallister leaving Kevin behind in Home Alone! Just kidding. Although I also did realize in transit (on the car ride) that I forgot my stuffed animal. I felt a bit odd calling the hotel… but they had her! Phew! Although, I am not sure she enjoyed spending Christmas IN A BAG. And why is the word otter in quotation marks?!?! SHE IS CLEARLY AN OTTER. Sigh. She is going to be scarred for life.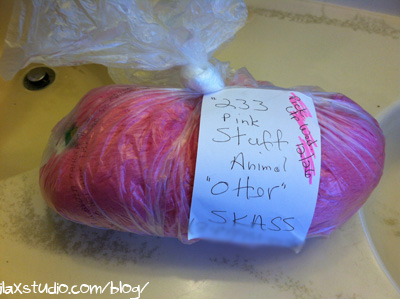 Reunited!
I received five puzzles for Christmas (one is a two-in-one). Which shall I do first, 1, 2, 3, 4 or 5?! Tell me below! I am craving some quiet puzzle time.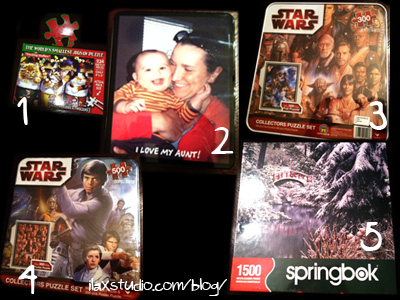 Other Random Thoughts Thursday Posts: XXVI, XXV, XXIV, XXIII, XXII, XXI, XX, XIX, XVIII, XVII, XVI, XV, XIV, XIII, XII, XI, X, IX, VIII, VII, VI, V, IV, III, II, I.
By
28 Responses to "Random Thoughts Thursday XXVII"