Damn you, Facebook! Ha ha ha. 
As I mentioned last week, it wasn't really clicking how many birthday celebrations I had going on. Despite making a trip to the store to get birthday cards on Monday night*, I failed to get a card for the Friday night party. Never fear! I am a card hoarder and have a plethora of cards to choose from. 
But, dammit! All I had was cat and dog themed birthday cards and I couldn't remember if my friend likes cats or dogs. 
"I know!" I thought, "I will consult Facebook!"
I looked through all her Facebook pics and did not see a single animal. Dammit, again. 
So I went with the default I thought made the most sense – the dog card. Would you have gone with the dog card or the cat card? There are so many cat haters out there, I didn't want to give her a cat card on her birthday if she wasn't a cat fan. 
Turns out she has three cats. Dammit. 
I suck. 
NO! Facebook sucks. Ha ha ha. 
All joking aside, it was no big deal. I mean, yes, it made me feel like a loser friend for not remembering, but I bet she didn't care… um, hopefully. 
I think it's funny/interesting that I use Facebook for informational purposes like this. I also use it to:
Grab people's birthdays for my google calendar

Grab people's pics for my google contacts
Look up people's names when I forget them**
Follow people's interests for gift ideas
What actual use do you get out of Facebook? (you know, besides wasting time and stalking people)
I was shopping yesterday and made sure to get some NON-animal birthday cards for my collection, even though it was very hard.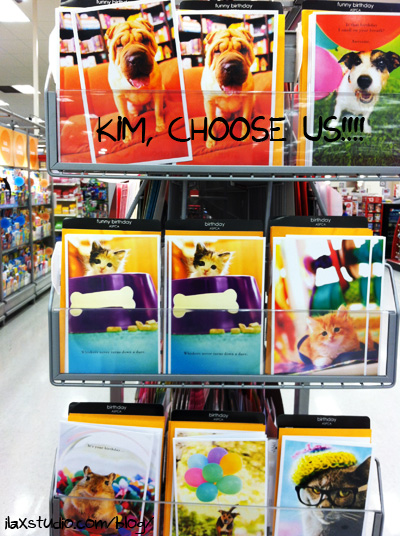 *To my credit, two were for birthdays that didn't even involve the Wed-Fri birthday party streak! I had a lot of birthdays on my mind. 
**This helped SO MUCH when I first joined the running club.
By
17 Responses to "Facebook failed me!"