I can't even come up with my own!
Creativity is NOT my strong suit. I am not a very clever person! Especially when it comes to wording – slogans, titles, team names… I stink!
And of course, I am on a few teams this year that require names. Preferably, clever ones. What do I do when I cannot come up with something on my own? Ask for suggestions!
My sister came up with Team AWKward for the Ironman 70.3 relay. Our participant order is Andrew, Will and Kim – hence the AWKward. And we're all awkward. Ha ha. 
It was tricky coming up with something for this month's 3-person 10-mile relay in NYC. I'm running on a team with Steven and his brother, and Gina is on a team with her husband and his brother. We wanted the same names for both teams, just with "Team Last Name" added on the end. We had a few ideas, and I even got a few suggestions, and… we had a few picky team members. Ha ha ha. So Gina came up with The Relayteds – Team Last Name. I loved it! Super clever, Gina!
One of the best team names I've seen was at RAGBRAI in 2005 – Team Megasuarus!!!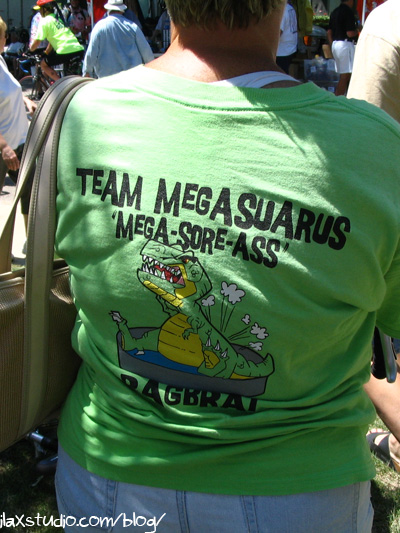 Are you good at coming up with clever names/etc.? What are the best ones you've seen?!
I do have to say, ONE TIME, I did have some good suggestions. Kayla was getting ready to run a Disney race and asked for slogan ideas for the back of her shirt.  She actually ended up using one of my suggestions, and that made me feel super cool. Ha ha. 
By
17 Responses to "Don't ask me to come up with your team name…"