The Chicago skyline looked much better during yesterday's lunch time run, compared to last week's!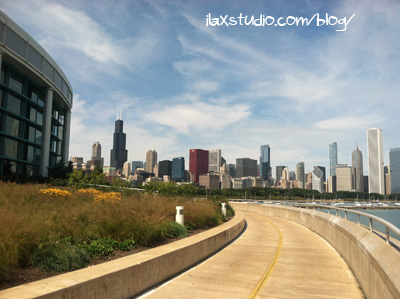 I'll be on the Chicago Lakefront trail again this week! I am running the Lung Run 10K with Anne and plan to run a bit before and after to turn it in to my long run. So I can sleep in on Sunday. Ha ha. Anyway. Maybe I will run in to a few of you out there…? Have you ever turned a race in to part of your long run? The last time I did this (that I can remember) was training for the Chicago Marathon in 2010!

Speaking of the Lung Run… I've mostly been bugging you guys to donate to Anne's donation page this summer, but I have one too, if you want to make a donation! Donations benefit the programs of Uniting Against Lung Cancer. UALC is dedicated to funding innovative research and raising awareness to find a cure for lung cancer. 
More money talk (heh) – the Wisconsin North Face Endurance Challenge is coming up in two weekends (September 14-15) and spots are still open! There is a 50M, 50K, Marathon Relay, Half Marathon, 10K and 5K. I am running the half with my favorite cat lady. You can use code KSKAFF13 for 15% off!!! North Face sponsored my entry to the half – a huge thanks to them!
Also… I have a code for my FAVORITE race, the Wisconsin Half Marathon and full again this year. Like last year, if 10 wonderful people use my code, I will get a free entry (full disclosure, yo). I think almost 100 people used it last year, which was pretty cool. Anyway, race registration opens September 15 and the code for $5 off is KIMSCODE. The race is May 3, 2014. I will put an ad up in the side bar closer to when registration opens.
The 5:00 am group strength class starts tomorrow morning! Yee haw! I've kind of been overdoing it with the early mornings lately. I try to wake up early to get everything in each day – a workout, work, time to help Steven with packages, time to teach class, time to hang out… we'll see how much longer this lasts! I may have to make Thursday a "sleep in" (until 6:20 am) sort of day so I am totally fresh for the Friday class! Sigh. I am discovering (duh) that it's hard to fit in teaching and my workouts, and life, and work. And duh. Duh de duh. 
Thanks to everyone who filled out my 10QRQ yesterday! It's fun to read your answers! 
Other Random Thoughts Thursday Posts: 47, 46, 45, 44, 43, 42, 41, 40, 39, 38, XXXVII, XXXVI, XXXV, XXXIV, XXXIII, XXXII, XXXI, XXX, XXIX, XVIII, XXVII, XXVI, XXV, XXIV, XXIII, XXII, XXI, XX, XIX, XVIII, XVII, XVI, XV, XIV, XIII, XII, XI, X, IX, VIII, VII, VI, V, IV, III, II, I.
By
32 Responses to "Random Thoughts Thursday 48"