Today was the Chicago Lung Run!
You know, the one Anne has been working her butt off for, doing MAJOR fundraising?!
I am so happy that I got to be on her team this year, and do my little part in fundraising. In the end, Team Take My Breath Away raised $2160 – mostly by Anne's efforts! That, is amazing.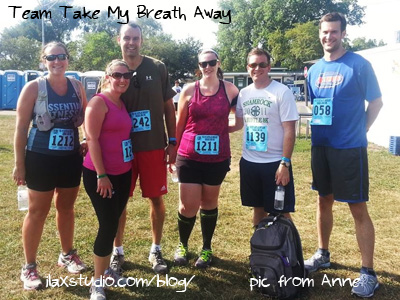 I felt like I should have been more reflective during the race, thinking about lung cancer patients… but I just couldn't stop thinking about how amazing it is that the team raised so much money for lung cancer research and awareness. The race felt like a celebration of everyone's hard work, to me. Thank you SO MUCH to everyone who donated!!!
Have you ever participated in non-required fundraising for a race?
I felt so good after the race, I decided to go home and register for two more races. Ha ha ha. 
Oh, and that was "felt so good" as in, spirit-wise. Ha! Not race performance wise! I had a fun time running the race with Anne and Melanie (and seeing Ian!), but I think I messed up my fueling during my warm-up run (part of which I ran with xaarlin!!!) and I had a little mini crash during the 10K where I had to quickly eat two GU then find water. But! I felt better after that!
This is a fab race and I hope I am able to do it again next year! It feels really good to support a cause so important to Anne. And really, this cause is now important to me, and I hope other people joined teams to support their friends/family and now feel the same way. 
By
12 Responses to "Chicago Lung Run 10K Race Report"