I can't stop thinking about this tattoo that I first saw on Facebook, then later found on this site: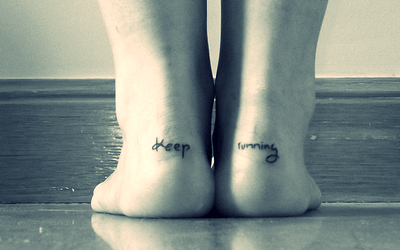 I don't have any tattoos right now. I've thought about getting one for years – something either Star Wars or running related – but could never think of one that was the right "fit" for me.  Then I saw this picture. And I just keep thinking about it, and how much I like the "keep running" phrase! Was it meant to be? Ha ha. 
So I am considering getting a tattoo after my marathon, if it goes well, as a celebration. Just considering it. I think I'd actually like a tattoo on my shoulder area (I really like my muscular shoulders/back) but am not sure if a running tattoo makes sense on that part of my body. 
Anyway. Just thinking out loud. Or in writing. Or something. 
Do you have any tattoos? Of what? And where?
By
54 Responses to "First tattoo?"