Highlight of the Week: Participating in the same 5K as my dad and older brother, in my home town! I am so proud of them! And very thankful that so much of our family came to spectate!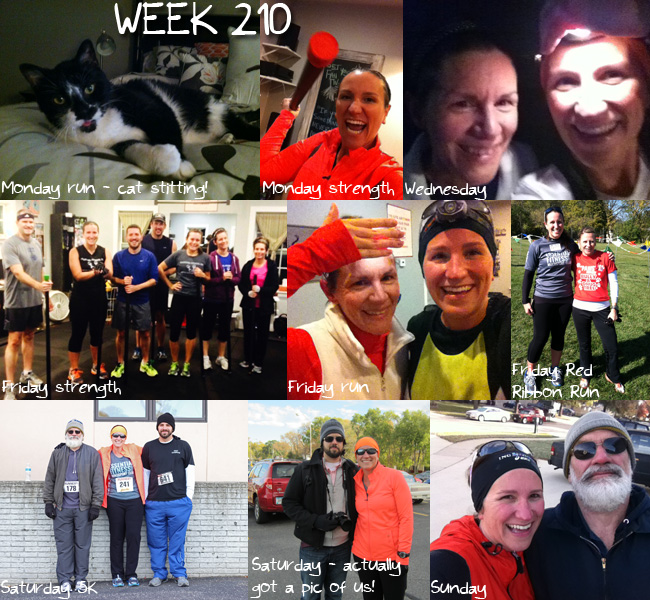 Monday | October 21, 2013: 5 m run + teaching strength class
Loc: hood, Temp: 46°/43°, Time: 47:56, Pace: 9:36 avg, Difficulty: easy, Felt: good
Strength: Body bars, Difficulty: medium, Felt: super hyper
Tuesday | October 22, 2013: rest (incl. 2.6 m walk w/Steven)
Wednesday | October 23, 2013: 5.2 m run (w/Bobbi)
Loc: hood, Temp: 41°/40°, Time: 51:44, Pace: 9:57 avg, Difficulty: medium, Felt: awful from eating too much that day
Thursday | October 24, 2013: rest
Friday | October 25, 2013: teaching strength class + 16 m run (first 3 w/Bobbi) + 1.4 m Red Ribbon Run (at Yvonne's school)
Strength: Body bars, Difficulty: easy, Felt: good
Loc: Grayslake, Temp: 28°/33°, Time: 2:52:32, Pace: 10:47, Difficulty: easy, Felt: sooooo not in the mood/MEH
Saturday | October 26, 2013: Run, Walk and Roll 5K + 1 mile of running in Dad and Nick
Loc: Cedar Falls, Temp: 41°, Time: 23:52, Pace: 7:54 avg, Difficulty: medium, Felt: GREAT!
Sunday | October 27, 2013: 10.5 m run (w/Dad while he biked)
Loc: Cedar Falls, Temp: 22°/31°, Time: 1:49:42, Pace: 10:27 avg, Difficulty: easy, Felt: like I should be running faster than that

Notes:
Do you feel like you have a good grasp of your exercise limitations? I feel like I do when it comes to cardio respiratory. But man, every once in awhile, I overdo a strength workout, and it's especially embarrassing, when I am the one who designed it! Ha ha.  I design the workouts I teach to be whole body, but sometimes I leave class with one area of my body really sore. Or two areas. Ha ha. This week, it was my glutes and my left ITB. The funny thing is, I talked to the other students who took my class, and they were sore in different areas! We all have our weaknesses to work on! Also, damn you, DOMS.
Yeah, so those Tuesday and Thursday unplanned rest days (Wednesday is supposed to be my new rest day) are due to the soreness from Monday's class (I hope that's what it is). I woke up in the middle of Monday night, with a low intensity throb in my left ITB. I got up and iced it. The same thing happened Wednesday night, and Friday after my run. So, running doesn't make it feel better. I got a mini massage in my left leg after the 5K on Saturday, and that made it feel better! I hope to get a longer massage this week. 
I felt frustrated in the middle of the week. I felt cranky from not working out. And annoyed with my body. But after a somewhat shitty long run on Friday, I just felt happy that I could run at all. That I can be active. Gah. I haven't had to sit out a few months since summer of 2010 (due to stress fractures) but MAN, did that ever suck, and whenever I feel pissy about my workouts, I think back to that and remember to be grateful I can move at all. 
So! The mopiness was over for the weekend! Which is great, because I got to spend it in my hometown, working out with my family! My dad, older brother and I all ran the same 5K on Saturday, then my dad rode his bike with me during my run on Sunday. 
Oh! Almost forgot! What was I thinking volunteering to run with middle schoolers on Friday? That is speedwork! Those kids are fast! Ha ha!
By
11 Responses to "Training Week 210"