My dad's goal 5K was this Saturday, in Cedar Falls, IA – the Run, Walk and Roll for a Drug Free Community 5K! 
Heh heh heh. Dad can't catch a break – his first 5K was all trail, and his sub-30:00 goal 5K race was partially on grass! Hmm, maybe he is just meant to be an off-road dude* because he SMASHED his goal and ran a 29:13 and placed third in his age group!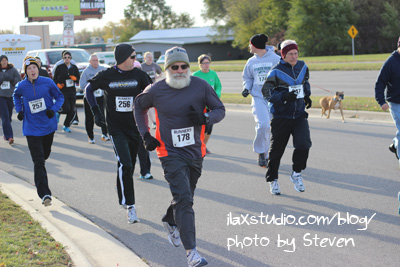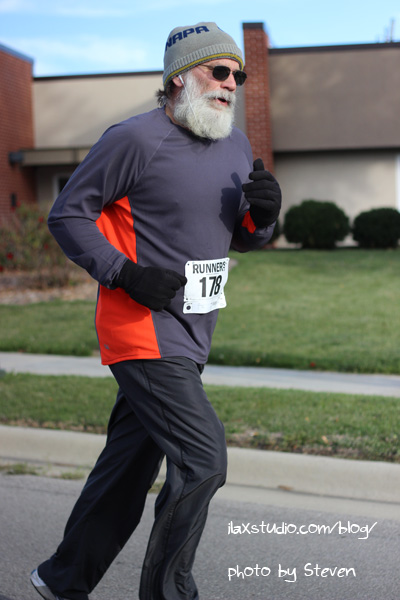 Dad said next year we'll have to run in costumes and he will be Santa.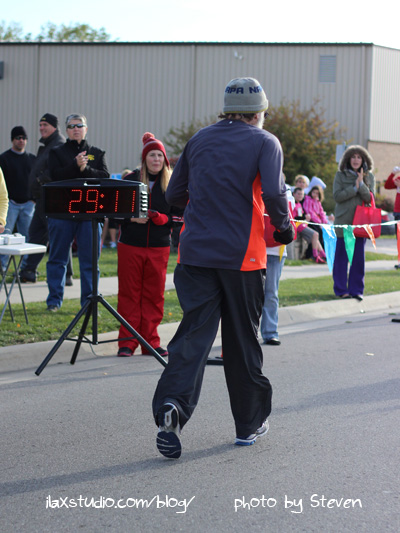 Yay! I am so proud of my dad. He trained well for this race. He ran several times a week, did a few runs over the 5K distance, and a few runs at race pace. He also biked and ran the race course to become familiar with it. Is my dad becoming an obssessive runner dude? I think so! Do I like it? No, I love it. Ha ha. 
My older brother, Nick, also participated, and did a run/walk for the race, and placed first in his age group! Nick cracks me the eff up. He ran this race with me in 2010 and 2011 on NO training, and basically did the same thing, this year. I just love that he gets out there and does it!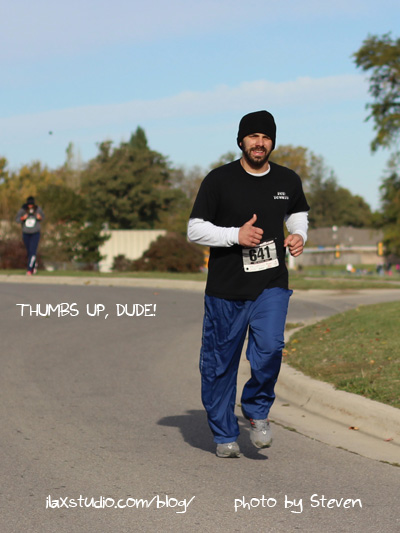 ALSO! I must share with you, that my brother and dad both supinate, like I do. Sigh. They have it bad on their right foot, I have it bad on my left. Runs in the family? (har de har har)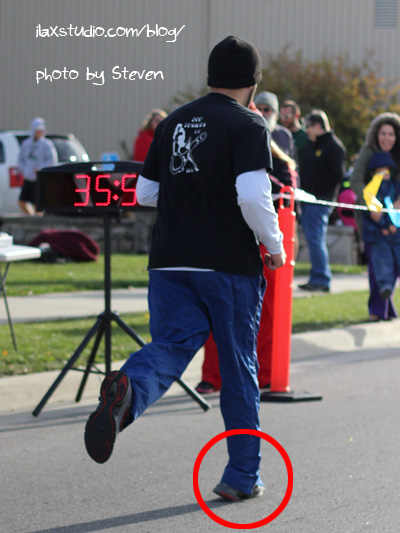 So if you recall, this is the race where I was not sure if I would pace my dad, or "race." My dad told me he would let me know the day of the race. So, while Steven was driving us there the night before, I looked up my times for the past three years – 28:34 in 2010, 27:21 in 2011,  and 26:18 in 2012. I told Steven I thought I could run a 25:00, or faster. He said I had to run something in the 25s, since I took a minute off my time each year, and needed to sandbag it for next year, and run something in the 24s, then. Ha ha. 
We all met 45 minutes before race start to get our packets, warm-up, etc. SO much of our family came to spectate – Steven, my mom, Christina and Will, Nick's wife and his two kids. Very cool that they were out early, on a coldish (41°F and windy) morning to watch us run! I feel so grateful they came!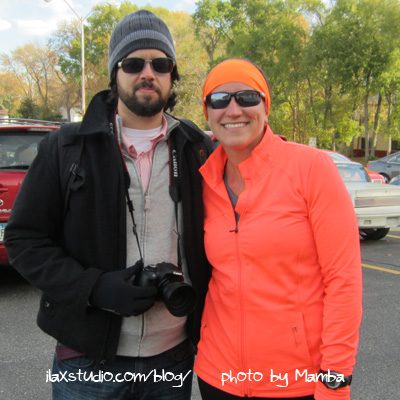 Gosh! I am really dragging this out. Okay. Time to cut to the chase. So I ask Dad if he wants me to pace him, and he says, "No, give em, hell." Hee hee. 
So I took off at the start!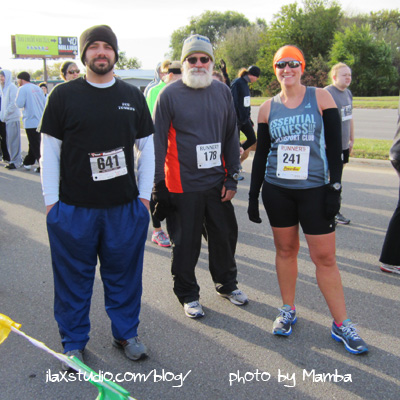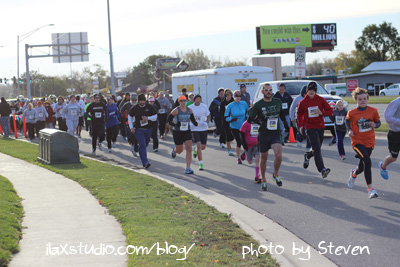 The silly, bumpy grassy hill made me feel a bit weird in the beginning, but after that, I was good to go. Well, minus someone running with their dog, and him jumping on my back legs. Ha ha. Luckily, I didn't fall! But I ran a decent sub 8:00 pace for the first downhill half (even had some deer cross in front of me in the woods) and a little over 8:00 pace on the uphill on the way back. It's fun that the course is out and back, because I got to see Dad and Nick and give them high fives, and cheer other runners on.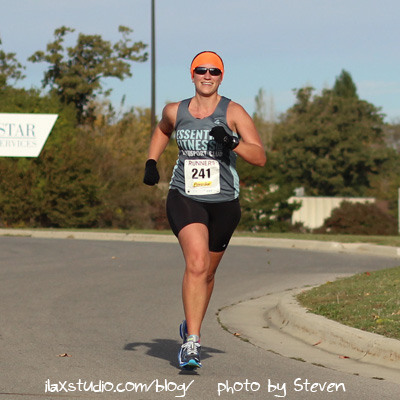 I ended up running 23:53** which was fourth overall, and first female overall. That was pretty neat, to finish first female!
After I finished, I put my jacket on and ran back out, with my oldest nephew, to run my dad in to the finish, then my brother. Running with my nephew was a lot of fun. We put a mile in together, and he was gassed at the end. I kept reminding him that we didn't have to sprint. Ha ha ha. Is that the only speed kids have?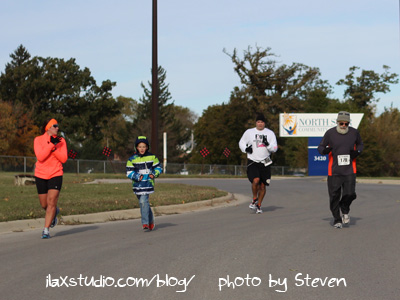 After we all finished, we hung around for awards and massages (well, massage, for me). 
Every single year that I have done this race, I have won a door prize! And all three of us won door prizes this year!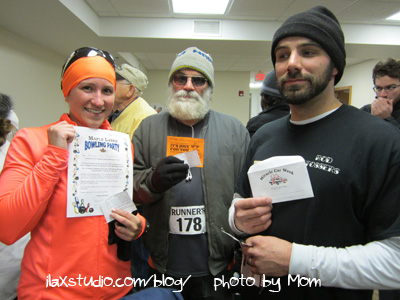 And that is one of MANY reasons I keep doing this race! It's inexpensive, for a great cause (proceeds go toward a substance abuse and mental healthy counseling clinic), it's a small field, they have awesome food after, the people are super nice, and the timing usually works out. 
Oh! And this year, since I placed first overall, I also got a $25 gift card to HyVee! Woo effin' hoo! We always stop there when we go to Iowa anyway. FREE FOODZ!!!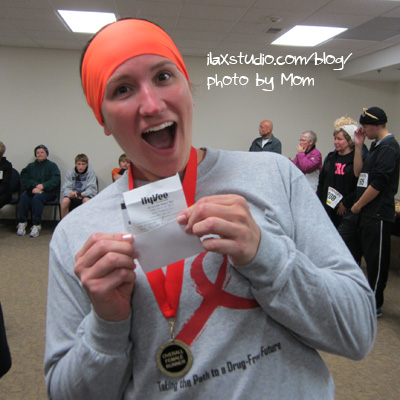 I really hope I am able to do this race next year, too! It usually coincides with my younger brother's birthday, and all of us going out for Halloween***. It's a great weekend to go back to my hometown!
Time to find another race for Dad, right? He said he is done racing this year. I don't think so… he mentioned dressing like Santa, hmm…
*Ha! In the running world, and driving world.
**Gah! My cursed 5K PR record from 2011 that I never beat in 2012 (but finally did in 2013).
***Pictures coming later this week! 
By
48 Responses to "Run Walk and Roll for a Drug Free Community 5K Race Report (2013)"