Typically when a visit with Gina and family ends, I feel super down because it will be so long before I see them again, or worse – I don't even know when I will see them next!
But not this time! We know we will see them in LESS THAN A MONTH(!!!!!!!) when they come to Chicago for the Soldier Field 10 Miler. And after that, we will see them in two and a half weeks at my snister's wedding! Okay, don't even ask me how I will feel when we part in June. I will probably be a basket case. 
Our trip this past weekend to Dallas was perfect. It coincided with many celebrations – Gina's birthday on Friday, Easter on Sunday, the Boston Marathon/Śmigus-Dyngus on Monday, and an early birthday for Luca on Tuesday! Oh yeah, the title of the post: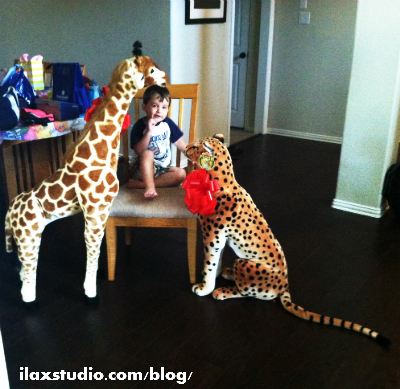 Raffie needed a friend! Raffie, meet Guntherrrrrrrrrrrr* (said with rolling Rs and purring noises). Ha ha. 
Guntherrrrrrrrrrrr showed up at the doorstep late Saturday night and it was too hard to just leave him in the box until we gave him to Luca on Tuesday, so we had a bit of fun hiding him in places to scare Gina and Steve. 
I think the bathroom may have been the most successful hiding spot, based on the scream I heard from downstairs when Gina saw him in there, and, um, based on Guntherrrrrrrrrrrr's rapid decent from the second level to the first level. Ha ha ha!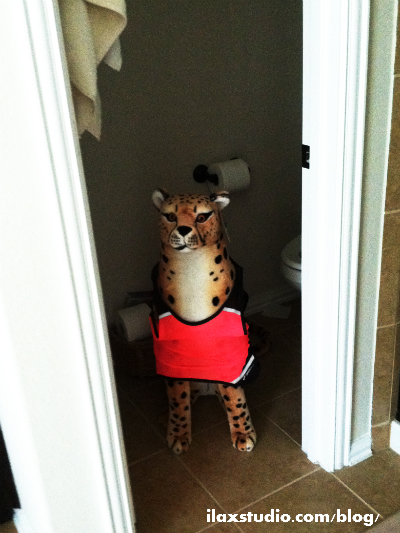 The sad thing is that he's too big to come to Chicago in May. I am sure we will find something else to be goofy about – we always manage to!
And that is one of the things I love about spending time with Gina, Steve and Luca – all the jokes and goofiness. Our time together is so upbeat, care-free and stress-free! I always feel so relaxed around them. Then it's back to the grind… but only for a bit!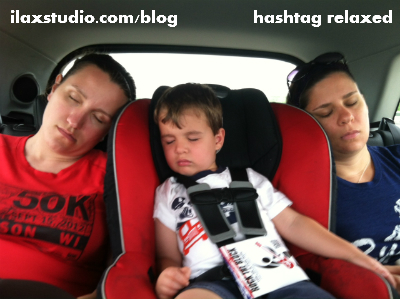 I love sharing nap time with Luca! I hope he never grows out of naps…
*5 out of 5 moms interviewed said getting Luca another giant stuffed animal was a good idea. Or, at least, that I should do it. 
By
16 Responses to "Then there were two"