It became more apparent to me, how much magazines are struggling, when I saw this blurb in the January/February issue of Runner's World: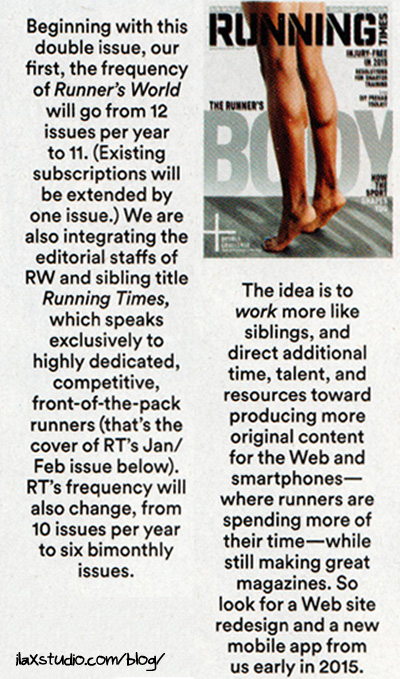 I was actually confused when I got the issue – confused that it was a two-month issue. I had recalled them printing every month. So that explained it.
That blurb made me feel disappointed (and it made me laugh – I always feel like an impostor reading Running Times since I am not "competitive" or a "front-of-the-pack" runner) – first, that they were shifting their focus more toward online content (which I struggle to read), and second, that they are really cutting back even more on my favorite running magazine, Running Times.
I realize it's odd that I have an aversion to reading articles from a magazine online, since I read so many blogs and other news stories also, online. But, the ones I can pay attention to, all the way through, are on the shorter side. There's just something about magazine articles (and books) that makes me lose focus.
I'm currently reading Michael Harris's The End of Absence: Reclaiming What We've Lost in a World of Constant Connection, and highlighting the hell out of it. Right away, two blurbs in the beginning of the book gave me some insight as to why I struggle with longer online content: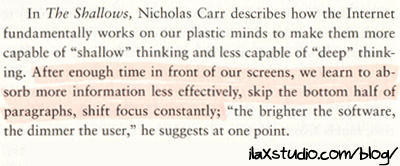 (apologies for these being out of context)
To Manguel's point – yes, I do feel like I "speed" through digital text with urgency. There is so much of it – and for that I am grateful – but I also have that "NEED TO READ ALL THE THINGZ!!!" feeling, which, yes, makes me want to rush, from one thing, to the next. What am I missing out on while I am reading this right now?! Hurry and go find out!
Carr's paragraph is really out of context, but in that section of the book, Harris is discussing how our minds are constantly adapting, changing, and molding to the world/stimuli around us. So, our brains have been taught to absorb online content differently than a "real" book or magazine. As Carr says, we absorb information less effectively, skip to the bottom of paragraphs, and are constantly shifting focus. Yeah… that definitely describes my online reading habits, from time to time!
I honestly did wonder why I lose focus on longer online articles and books so much before, and reading those two blurbs helped me understand it. I am not sure if it's something I want to "fix" though! I just tend to get more out of something I can physically hold, dog ear, highlight, make notes on, put down and come back to… The content sticks with me longer when I read something that way. It's completely fantastic to have some much information online for reference, but it just doesn't "stick" as well as when I read it in hard print.
And I am not even getting in to the "feel" of reading something. A magazine or book feels warmer to me that reading something online. And look at online articles – if you are reading on the website and not in some rss aggregator that filters out all the ads and links to other articles, it feels so busy, and spammy! Of course, the rss aggregator feels cold and sterile (but that helps me focus, more).
So… I will continue to read magazine and books, even though they seem to be dying out, and even though all of that content is eventually online (and usually, for free!).
Do you still subscribe to magazines? Do you feel like you rush through online articles, or skip around the content while you are reading them, and lose focus?
By
37 Responses to "Why I still read print magazines and books"