I'm participating in Hilly's Third Annual Self-Love Day! This is my second year, hence the "ii' in the title.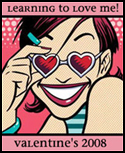 The rules:
1. Post a banner on your blog and declare February 13th/14th as the day you not only love your one and only, but the day that you love yourself!
2. Post one nice thing about yourself……then ask others to post one thing that they really like about you.
3. Enjoy yourself!
It's kind of weird to come up with a nice thing about myself, then ask you all to say something nice about me. So, if you did last year, you're off the hook! Unless you're family, then you have to say something! Ha.
So, I love my one and only, Mr. Steven-0, and of course, Sir Data-Lor, but I also love my family and all friends. Life is all about relationships, and having fun. I am lucky to have so many people to love.
Which brings me to what I love about me – I'm easy-going, approachable, and love to have a good time (with family and friends, as well as coworkers and other acquaintances, when appropriate). Okay, at least, that is how I see myself 90% of the time. Life's too short to waste by being a negative, judgmental, pessimistic snob. I work hard to have an upbeat attitude. I try not to let things phase me, even though I sometimes can't help it. The point is, I am conscious of my attitude, and realize that having a good one, as well as a positive outlook, is going to make me happier in general.
So… I like that I figured that out. And I like that it has allowed me to have a lot of fun this past year.
Yeah. Did that make any sense whatsoever?!
I can't wait to read all of your self-love declarations! And leave my comments about what I love about YOU! It is going to take me awhile to get to them, since I am in Denver all weekend, but I'll get there!
Oops, I just realized I used the wrong banner! I'll have to fix that later!
By
21 Responses to "Self-Love Day II"