Being vegan, I choose legumes as my main source of protein. And lucky me, there is a huge variety to choose from – and I've never met a legume I didn't like (to consume, ha!).
Since we have been cooking so much with legumes lately, and loving it, Steven and I decided to do a series here sharing some of our favorite legume recipes!
Before I get in to the first recipe though, I have to ask, do you know how to prepare dry beans? That is what we will be using in most of our recipes (instead of canned beans, but I will give the equivalent), and I would be happy to write a post on it, but only if want to read it! I put in a little poll below if you want to answer.

Loading ...
On to the recipe!
---
Roasted Chickpeas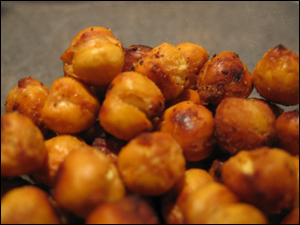 If you like crunchy, filling, slightly-salty snacks, you are going to love these! And guess what? They taste just like Corn Nuts!
Ingredients:
3 1/2 c. prepared dry chickpeas or 2 cans chickpeas
3 tbsp. olive oil
1 tbsp. garlic powder (updated to fix typo)
1 tbsp. onion powder
1/2 tsp. salt + more to taste
1/4 tsp. cayenne pepper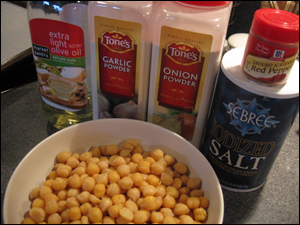 Directions:
Turn oven on to 425°.
Rinse and pat dry chickpeas.
Mix olive oil and spices in a bowl and whisk together. Add chickpeas and mix together with a spatula.

Evenly spread chickpeas on a baking sheet lined in parchment paper.

Cook for 30-40 minutes, stirring every 10 minutes. Once you hit the 30 minute mark, watch them to make sure they don't burn.
These are such a satisfying treat! I love taking them to work to have as a snack. My only advice? Bring some gum to chew afterward!
Kate has an almost identical roasted chickpea recipe on her blog, but uses different spices and tosses them with the chickpeas after roasting.
Do you think you would like roasted chickpeas? What spices would you put on them?
By
37 Responses to "Loving Legumes: Roasted Chickpeas"