We were in the middle of moving in on Saturday and a neighbor came over to say hi! How nice!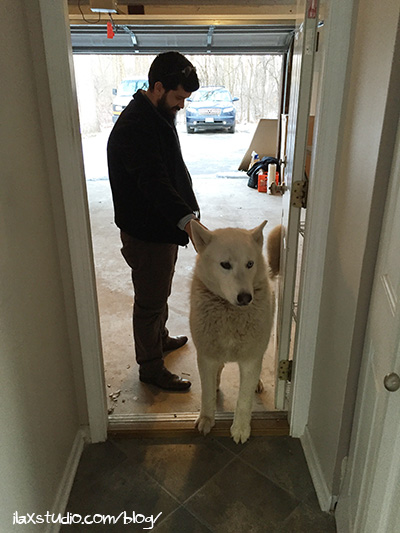 The problem with this neighbor though, is that they weren't accompanied by a human! Ha ha.
When I called their owner to tell them where they were, they weren't concerned that the dog, Denali, wasn't home and just told me "Yeah, they roam x street, y street, z street…" (Denali doesn't actually live on our street.)
So that was all fun and games on Saturday, then Denali showed up again Sunday night. And Data saw him/her.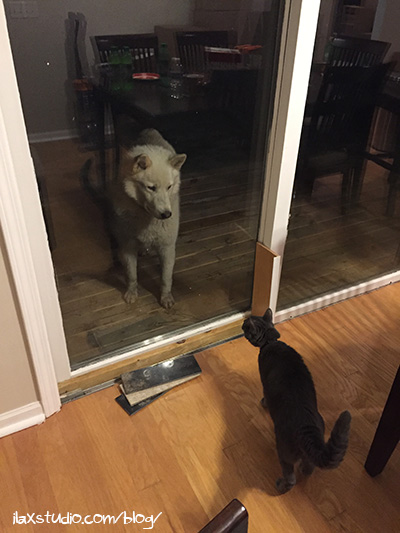 Then again yesterday morning.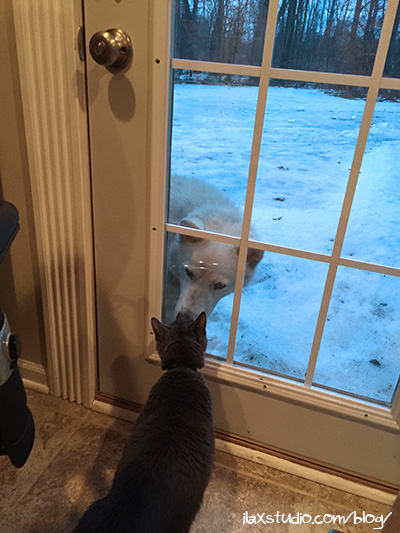 And now I see Data walking around the house, sometimes (not all the time) on high alert, looking for Denali. So far, when Denali shows up, and Data sees him/her, Data gets tense, and bats at the window and hisses.
Maybe Denali will lose interest in our house. Maybe Data and Denali will learn to be friends.
But I don't think I want someone's dog randomly roaming my yard (even though Denali is very nice). It's creepy when Denali just shows up at the window. (I know, get curtains – but that is the nice part about living in the country – I didn't think I needed many – ha!).
And cleaning up Denali's poop isn't that much fun either.
We'll give it a few more days before I call the neighbor again. Hopefully I don't have to call animal control. Eek!
By
36 Responses to "Meet Denali"