But just down to our first floor/basement. Demolishing the second floor ceiling requires removing EVERYTHING from the second floor, hence, why our basement looks like a consignment shop: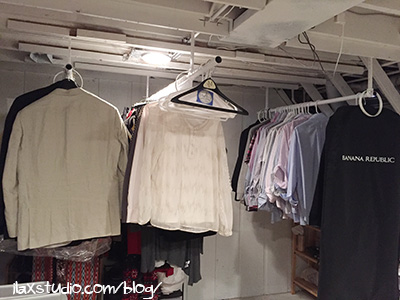 Thank goodness we have a basement at all, to put all this stuff in!
So here's the (condensed, I left some things off) plan:
Thursday
move furniture off second floor
remove ceiling fans, can light trim kits
remove ceiling
remove can lights, ducts & vents, insulation
vacuum attic, clean soiled spots
remove screws/nails/glue from bottom of joists
Friday
repair electrical wiring
install 3-way switch for master bedroom fan (it's never worked)
install new ducts, vents & duct insulation
Saturday
install new can lights
install new joist in basement
Sunday
all the stuff that didn't get done and a few other extra projects
That's a lot to do – wish us luck! We will have some extra hands on and off throughout the project, thankfully!
By
12 Responses to "Moving, again"