We had another weekend of house work, and my parents came to help us! We've been really lucky to have friends and family help us with this project – Steven's dad and two of his friends were up here last weekend, and our friends Eric, Bobbi, John, and Troy have all been here a few days. It's so helpful to have extra hands, and especially people like my dad, who've been doing stuff like this for years.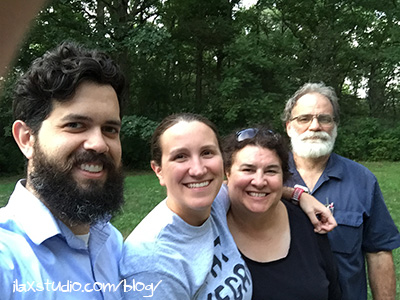 Steven, me, Mom and Dad
We tackled the ductwork this weekend. We took out all of the flexible ductwork when we demolished the attic. It was in bad shape – animals has chewed holes through it and it was barely held together with duct tape. We bought rigid ductwork to replace it, hoping that if animals get in the attic again (nooooo), that they can't chew through (as fast?).
Our plan, which Steven did a "sh*t-ton of research and maths to figure out" (<—- that's a direct quote):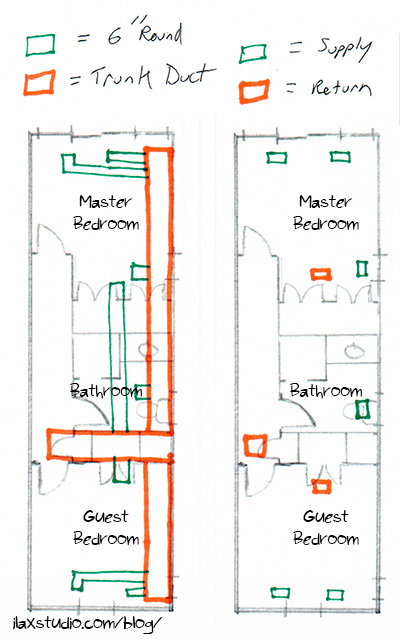 No bathroom return because you don't want those fumes circulating around the house!
It's A LOT of metal parts and pieces to put together: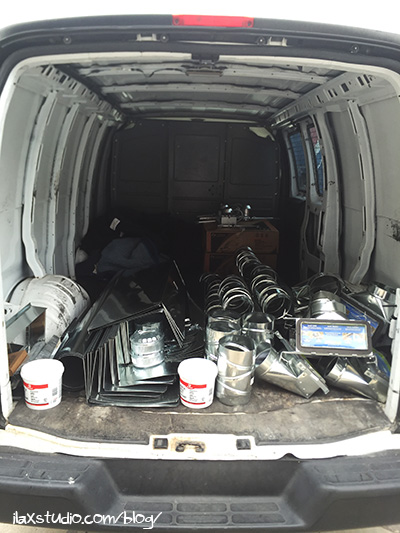 Eek!
(I'd like to mention, we tried to get MANY companies to come out and do this for us – if they returned our calls, most wouldn't come visit. If they visited, they didn't want to do it/never got back to us. Um, the ceiling is down, making it MUCH easier to work on. Why doesn't anyone want our business?! Frustrating. I GUESS WE'LL JUST DO IT OURSELVES IF YOU DON'T WANT OUR MONEY.)
On Friday night, Dad and Steven got right to it, and started putting the ductwork in.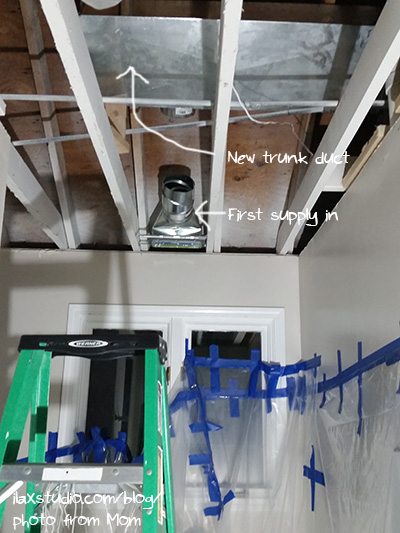 Troy replaced the nailers for the new drywall that's going in (Steven cut them all), Steven worked on getting another (grrrr) nest out of a rafter, and mom and I cleaned up the nest, and the mess it made, and started vacuuming and checking all the drywall tops for animal smell. Oh! And I got to take some of the plastic down (it was time – it had so much stuff on it) and vacuum! I've never been so happy to vacuum – I hadn't seen the carpet in over a week! And I was pleased to see the tarps and plastic protected it.
Dad and Steven continued working on the ducts and supply and return vents – we picked new locations for them – on Saturday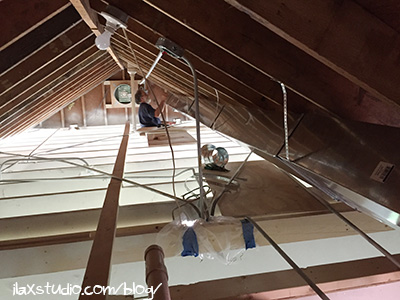 Installing the trunk line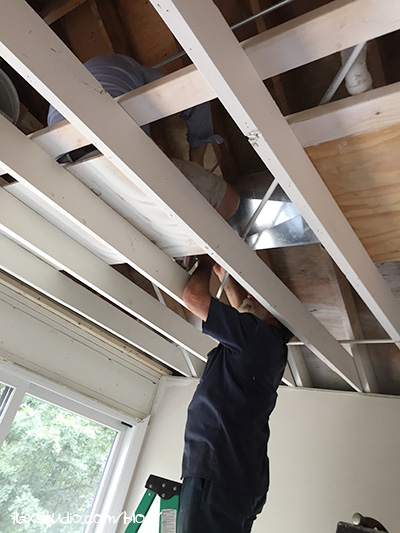 Putting in the east master bedroom supply vent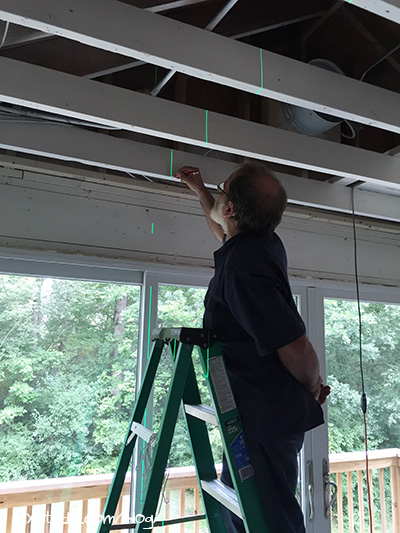 Marking for the west master bedroom supply vent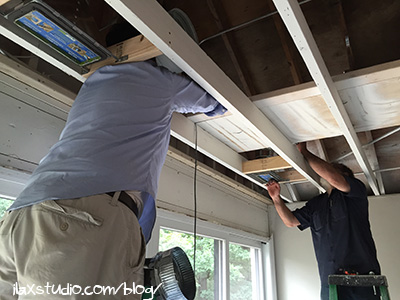 Supply vents up, and starting to add the ducts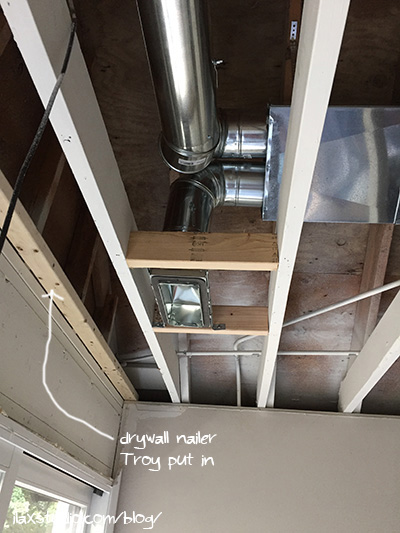 Installed (and pic of a drywall nailer)!
and I continued vacuuming the drywall tops and checking for smells.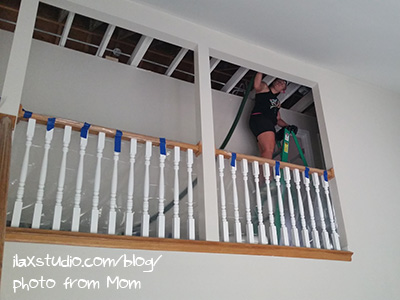 And found another spot that needed to be entirely ripped out (plus Steven had found another in the am!).
Gah. Good thing we found it though! Mom painted the first layer of Kilz on it and I did the second.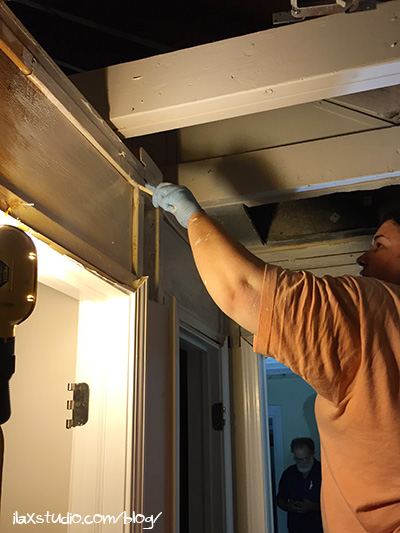 And I put a small layer of plastic up on Saturday. And decided I never want to see blue painters tape again. I kind of reached my breaking point on Saturday. No surprise there.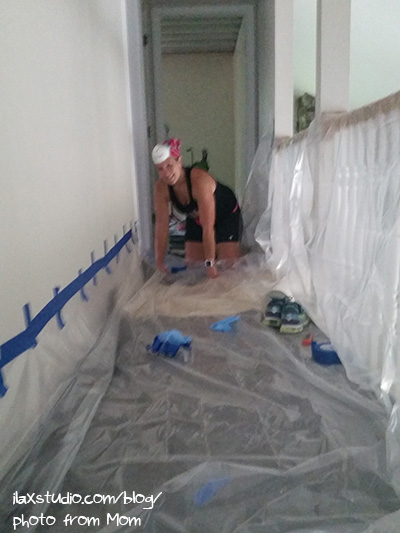 On Sunday, Steven and Dad finished up the ductwork install, and moved on to lighting and electrical. They got a few lights up, and fixed a few switches.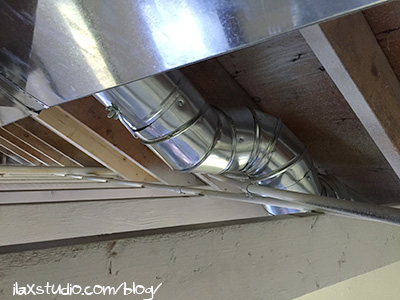 Ductwork leading to supply vent in bathroom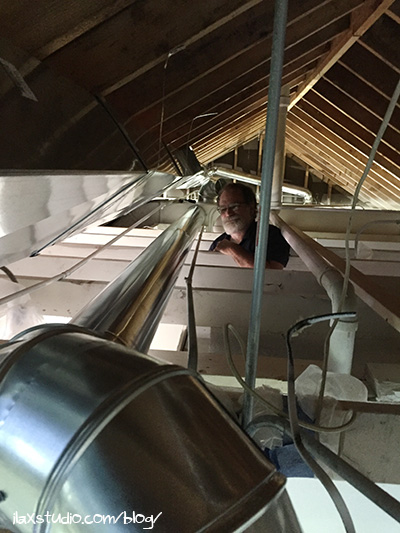 Hi, Dad!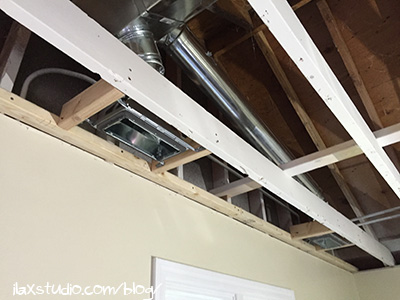 Guest bedroom supply vents
I spent most of the day sealing all the connections with acrylic duct sealant. Gawd, it took forever.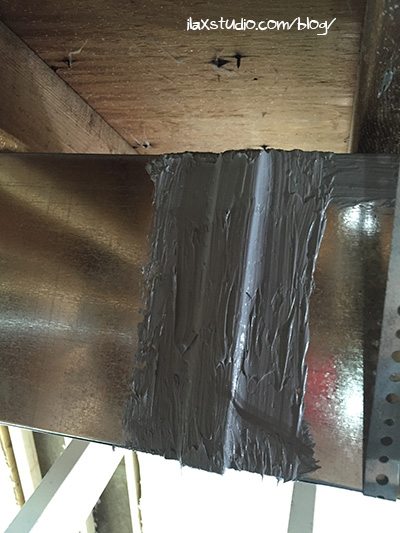 Partially completed sealant work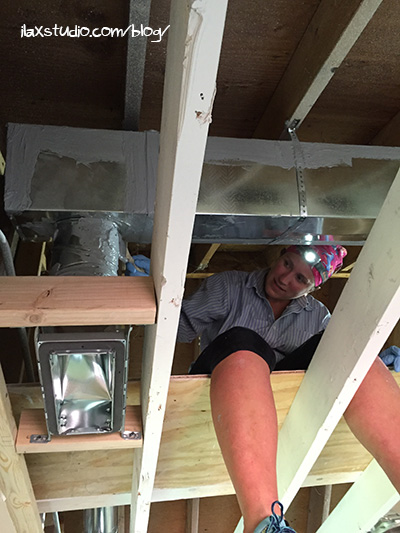 I don't know all the details of the work Steven and Dad did to put up the ducts since I was busy doing other stuff while they did that. But man, I was impressed that they got most of it up in a day and that it looked so nice (before I painted it)!
The ductwork is what I felt most concerned about because we'd never done it to that volume before. But Steven and Dad seemed to whiz through it! Even though we have so much left to do (including cover the ductwork with insulation), I feel relieved that is done!
My parents were so helpful when they were here! We worked all day and in to the night, and Mom cooked all the meals, which saved me time driving to get them, and more importantly, made me feel better, physically, eating less take out!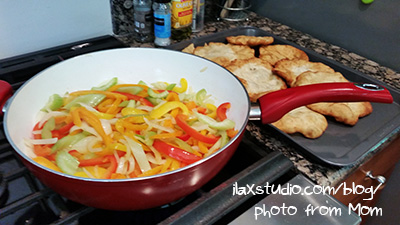 Fajitas and naan!
This weekend felt like a big help to getting us on track for the new ceilings in one week (on August 22). And this will be another week of work. We still need to put the insulation around the ductwork, install some lights, fix electrical, install a catwalk in the attic… and much more.
We're all ready for this to be done! Especially Data. Um, he was not too happy this weekend…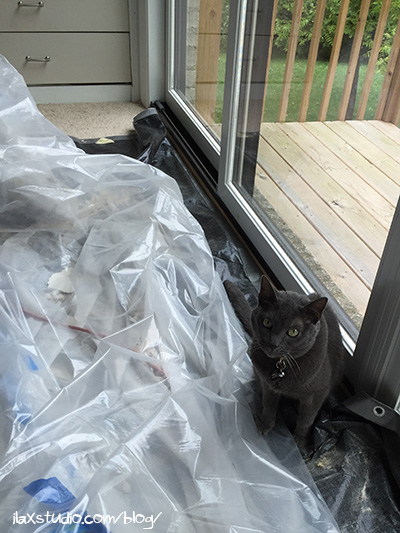 By
14 Responses to "The ducts are up!"