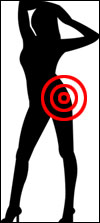 Ever since we started bowling so vigorously three months ago, my left hip has been in a lot of pain. It usually begins to flare up towards the middle of the second game. By the third game (and there's almost always a third game), I am almost hobbling back to the seating area after I play.
Then, for the next few days, I am in quite a bit of pain whenever I get up out of a chair, or sometimes even when I am just walking around. The pain never really goes away completely, because we go bowling almost every three days.
Everyone keeps telling me I need to stretch out before I play. Fine. I'll stretch out. BUT HOW to I stretch out my hip area?! (No perverted suggestions – you know I'm talking to you!)
I imagine that if I got rid some of the extra weight I am carrying around it wouldn't hurt so much. But what am I supposed to do in the meantime?
By
18 Responses to "Bowler's Hip: It's for real"