When I went to bed last night, feeling like I was going to throw up from sugar overload, I said, "I don't want to bake, see or eat another cookie EVER again."
But when I woke up this morning with a splitting sugar-induced headache, and went downstairs to feed Data, I almost ate one of the cookies sitting out on the counter.
What is that about?
We ended up making 7 different sweets this weekend – caramel popcorn, frosted sugar cookies, caramels, kringla, snickerdoodles, fruitcake and no-bake cookies (we also had toffee and crispix mix to put in all of the gift baskets).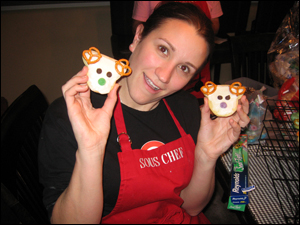 My favorite treat we made – Sugar Cookie Reindeer!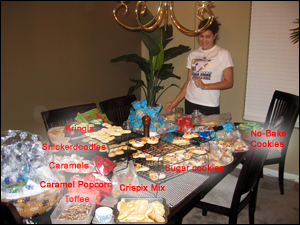 All the sweets we made
Some of the wrapped gift baskets
We had a few issues though. And that made the day a lot more stressful. The first batch of caramels took over an hour to make and turned out too hard. The fruitcake wouldn't bake, so that ended up being a waste. The kringla got burnt because the temperature was too high on the recipe – only half the batch turned out.
Ugh. At the end of the day, I think all of us were thinking, "Why did we want to do all this?" We still had a ton of fun, but it was too much work. My back has hurt all weekend from standing on my feet so much. And I am dead tired. Oh well. That's why I took the day off – to catch on rest.
We talked about getting together again next year around this time – but not doing all the baking. Ha!
And now…
… so forget everything I wrote on Saturday about being in control of my eating. Yeah, I was on Saturday, but yesterday was like a free for all with the cookies and sweets we made. I don't know WHY I thought I would be able to resist. I tried for awhile, but that didn't really amount to anything.
I am sick of thinking about it and writing about it, but it really helps. So bear with me.
I loved Diane's comment on my post on Saturday:
Try not to worry too much about gaining weight. I mean, I think it is sort of inevitable that we are all going to do that this week, and that lots of sugar and comfort foods will bloat us up a bit. But real substantial weight gain happens over a long period of time. Get back to your routine as soon as you can and you will be fine!
I felt a lot better after I read that. Because it's true. I AM going to eat more during the holidays. If I didn't, I would feel deprived. And all I need to do is get back to my routine as soon as possible.
I realized that there are at least two patterns to my overeating – my crazy, "out-of-control" binges where I stuff my face with whatever is in the house for a short amount of time (like 30 minutes), and the all-day free for alls where I pick and eat at things all day long – never getting uncomfortably full, but always eating, eating, eating.
I'm actually excited that I am learning what is bringing on these beahaviors. I just wish I didn't have to deal with them to begin with. I think we all have problems though. It's just… being human. Or… American. Or something.
By
20 Responses to "No more cookies please"