Today was the big day… Steven and I ran the Wisconsin Half Marathon! I am still waiting to get our official time. I think it was 1:57:45 or something like that. Update: Official time is 1:57:47.
It was a beautiful, perfect day for a half marathon! Clear blue skies, weather starting in the low 40s and moving into the mid 50s – we couldn't have asked for better weather!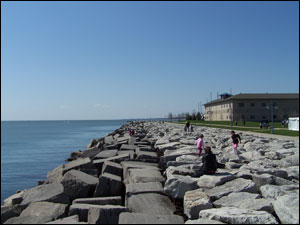 The beautiful scenery! We got to run along Lake Michigan for much of the race!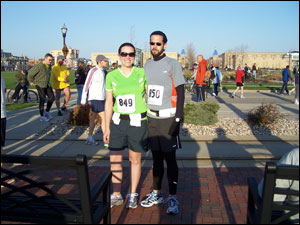 The calm before the storm (Check out all those tissues! I didn't use one!). I am happy I wore green – it was very easy for people to find me!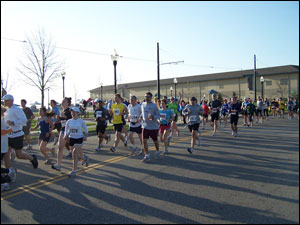 In the beginning, we looped right past the start and I yelled to my dad (as a joke), "I'm tired!" He yelled back, "Quit your whining!" Ha ha. (Click to enlarge – see me waving in the green?)
The race went really well. I felt great most of the time, despite spending half of it feeling like I had to go poo. I finally succumbed and went at mile 10. Talk about a load off! It took me a full mile and a half to catch up with Steven, which was kind of a bummer since it was so close to the end of the race and I wanted to run with him.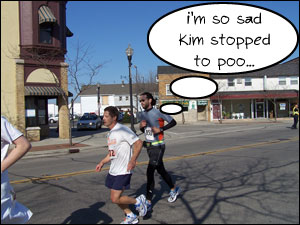 Ever wonder what Steven is thinking when he has to run alone?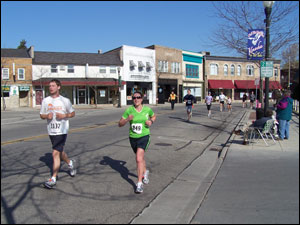 I had just handed my hydration belt off to my mom before this photo – I am so happy my parents were there!
The Jelly Bellies worked really well for me! I ate 25 of them around mile 6 and they tasted great and maybe gave me a little boost? I am not sure. I would definitely use something with electrolytes in it for a full, but they worked fine for me for this half.
Steven got really dehydrated in the last couple of miles, and I felt so awful there was nothing I could do for him. We still finished strong, together!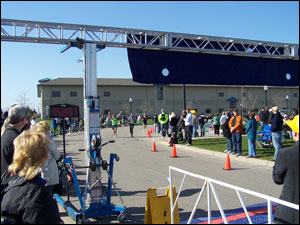 Crossing the finish line!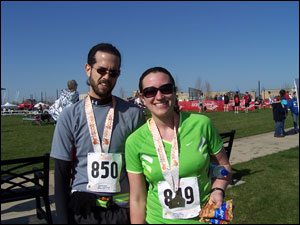 Still nipping out after 13.1 miles! Check out the cheese medal!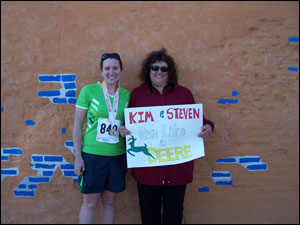 My mom made this fun sign for us. When she got here last night I asked if she made me a sign. She said, "I didn't know people did that!" So I happily supplied her with paper and markers. Yeah. I'm kind of lame.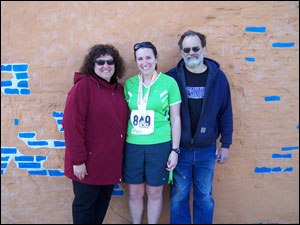 Me and los padres (doesn't that background look like something bobbiandmike would like?).
My legs immediately felt sore and tired after the race. I quickly changed out of my race clothes and into my "frump" outfit to walk back to the finish line to watch other runners and check out the booths. And dance on the rocks.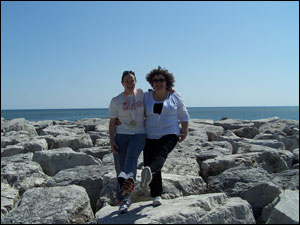 They were planning polka music at the finish line so my mom and I had to do some dancing.
We saw my coworker finish her half, and well as Susan BOSTON QUALIFY! You rock Susan! I am so impressed!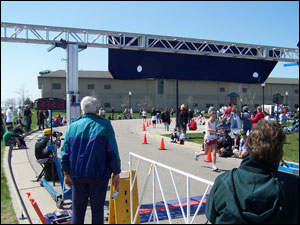 Go Susan Go!
This race left me totally pumped. I was really energetic throughout it, talking to the spectators, making jokes… I definitely see a full marathon in my future!
By
35 Responses to "13.1 numero uno: Wisconsin Half Marathon"