Highlight of the Week: Meeting baby William!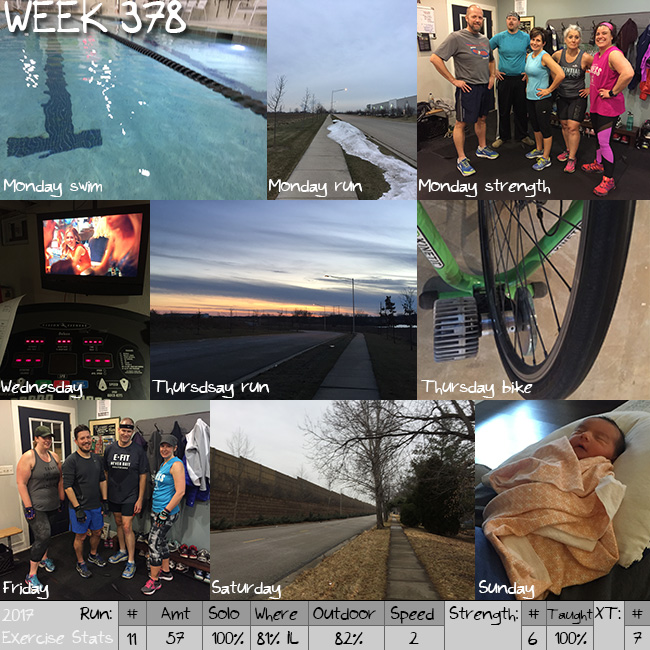 Monday | January 9, 2017: 1,008 yd swim + 6 m run + teaching strength class
Loc: FitNation, Time: 20:30, Pace: 2:02 min/100 yd avg, Difficulty: easy, Felt: awesome (but cold)
Loc: hood, Temp: 28°/28°, Time: 1:02:11, Pace: 10:22 avg, Difficulty: easy, Felt: good, legs a bit tired
Strength: body bars, Difficulty: easy, Felt: good
Tuesday | January 10, 2017: rest
Wednesday | January 11, 2017: 3 m run
Loc: treadmill, Time: 31:24, Pace: 10:27 avg, Difficulty: easy, Felt: good
Thursday | January 12, 2017: 12 m ride + 5 m run (incl. 3×800, 3×1:00)
Indoor Ride Time: 49:03, Pace: 14.7 mph avg, Difficulty: easy, Felt: good
Loc: hood, Temp: 23°, Time: 49:47, Pace: 9:58 avg, Difficulty: easy, Felt: good
Friday | January 13, 2017: teaching strength class
Strength: Airex pads and medicine balls, Difficulty: easy, Felt: good
Saturday | January 14, 2017: 1.4 m walk (w/Mom) + 4 m run
Loc: Overland Park, Temp: 30°/30°, Time: 41:54, Pace: 10:28 avg, Difficulty: easy enough, Felt: good
Sunday | January 15, 2017: rest

Notes:
On Sunday Steven and I both got the TDAP booster and I was pleasantly surprised Monday when it didn't bother me during my swim! Ha, later in the day? Not so much. It was like DOMS – my arm ached the rest of the day Monday and a lot of Tuesday!
I liked running 800s this week for speedwork. I think it's because I didn't feel like I had to go as fast as 400s. Maybe I'll learn to like mile repeats soon? Or maybe I'll quit being lazy with speedwork and go faster for 800s too! Ha!
The strength workout I taught Friday morning was really challenging on the legs and boy could I feel it Saturday am! Whoa! I haven't felt sore like that from a class I taught in awhile! And usually when I'm that sore it's because we used the tall plyo boxes and are going up and down a lot. This time, we were going up and down a lot but toward the ground, because we were using low AireX pads. Ouchie! <— in a good way.
I was supposed to teach fitness boxing today but missed it to meet my new nephew! So you get a picture of him for Sunday!
I keep forgetting to mention, but my knee had been tight since we did all our house work in August and I spent so much time on my knees. I had issues bending it while sitting cross legged, and going down stairs. The good news is, it's feeling back to normal. Yay!
By