Today I got to run my favorite type of route – a point-to-point! I was able to do it because after Steven finished working he waited for me in the next town over from ours to give me a ride home. Thanks, Babe!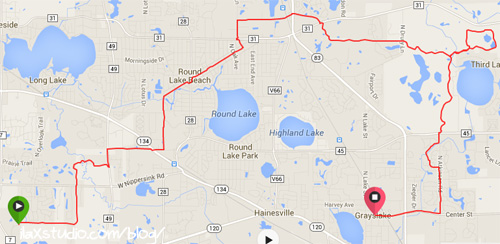 What is your favorite type of route for every day exercise and races (point-to-point, loop, out and back, continuous loops, figure 8, something else)? Is it the same or different? 
I discovered during the Chicago and Madison marathons (which are both kind of wonky loop courses) that I really don't like doing races where I can see a major landmark marking the finish during parts of the race. It's kind of a mind, um… let's say trip, for me. In Madison, I could see the capitol for most of the end and it killed me that I had to go out of my way to get there. In Chicago, it made me bonkers that we ran very close to the finish at the half way point. 
I like to think I am a stronger runner now than when I ran those races in 2010 and 2011, and that doing something similar wouldn't bother me… but, eh. It probably would.
So I've come to prefer point-to-point. My second preference is a loop, which I especially enjoy if the course doesn't double back on itself. I like to feel like I am running someplace I haven't already run that day. Ha ha. 
And then there is the out and back. My favorite half marathon, the Wisconsin Half Marathon (see sidebar for coupon code, ha ha), actually has two out-and-back portions in it. I actually really enjoy it at that race, because I usually know a ton of people doing the race and it's a fun distraction to look for them! I've never done the full though, which does the same thing as Chicago – go very close to the finish, at the half way point. 
Of course, having a race be a certain type that I don't prefer won't stop me from doing it! I've just come to learn what I prefer! How about you?
By