Guys! I just found out about this awesome 5K training plan! And my older brother, of all people, told me about it.
In fact, he developed it! Here it is!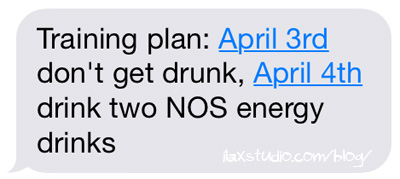 Of course, you'll need to swap out your own dates for your race. Nick, my brother, is considering a April 4th race, so he wouldn't get drunk on April 3rd, then he will drink the two NOS energy drinks before the race on April 4th. If you were considering a race this Saturday, March 7th, for example, you would make sure to not get drunk the night of the 6th, then drink the two NOS energy drinks before your race on the 7th.
I have to admit, I did question this a bit, but Nick has the credentials to back up his expertise:

Well, there ya go! I should give this a try for the 5K I am considering on March 14th*! It sounds a lot easier than actually training!
Ha ha ha. The full story is that Nick mentioned he wanted to do a 5K when he was in town for mine two weekends ago, so I found one in our hometown on April 4th, and asked him if he needed help with a training plan. To which he replied with all this. Ha! Only… I am laughing, but he is NOT joking. Which makes it even funnier, to me. He did give me permission to share his awesome training plan, and even offered to answer questions!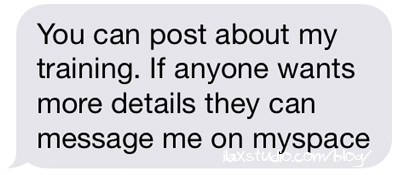 *I think I would rather race this flat course in Iowa on April 4th than my course out here on March 14th. We'll see what happens!
By