We actually have a close date – tomorrow! FINALLY! We have movers set up for Saturday! THIS SHIZ IS GETTING REAL, YO!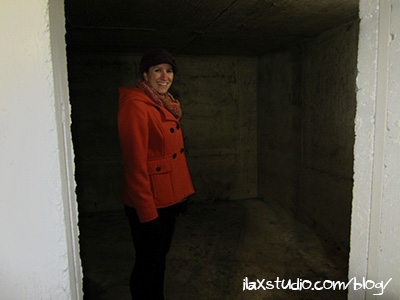 Why yes, this creepy room is in our basement!
Work has been nuts for a few months, but it's reassuring to know that I can always let my boss know when I'm overwhelmed – and that she'll get it and help me out. She's been so understanding about the house and health stuff. I hope she's my boss for as long as possible (people move around a lot at my office).
I haven't run with anyone yet this year! But I have cycled six times with Steven and twice with Tina (and once with class). I think the run stat will change soon – my parents are visiting this weekend to help with the move, and it should be warm enough for my dad to cycle with me while I run. Yay! (Other than that though… I really enjoy my solo runs.)
Since I know you guys are super interested in my first no chip manicure (ha), I have to report it is no more. By Sunday five of the nails had peeled off, so I picked the rest off (which you are NOT supposed to do!!!). So it lasted two weeks and a few days. Even though it didn't last a long time, I would think about getting it again, because it was nice not to have to worry about my nails chipping (just peeling off).
Do any other iPhone users have issues receiving texts from Android phones? Every few days I won't receive an Android text, and I'll know because a group convo won't make sense, and because the messages show up a day later. Restarting my phone helps, so I need to remember to do that each day. But… wtf. It's annoying.
By