This weekend, while the boys were doing this,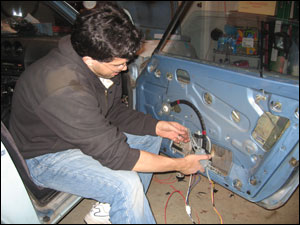 Steven working on the Datsun
this,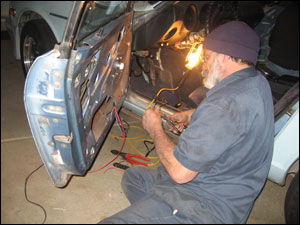 Dad working on the Datsun
and this,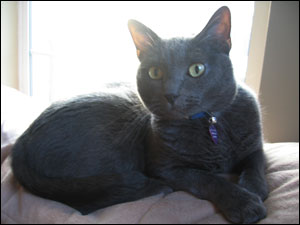 Data watching over us
my mom, grandma and I were doing this,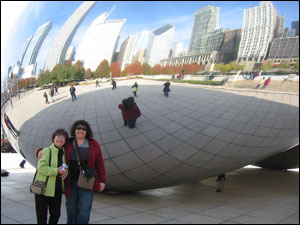 Visiting Millennium Park (and downtown Chicago)

this,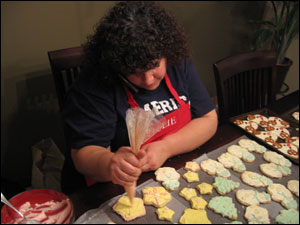 Since Christina couldn't be there, mom talked to her on the phone while she frosted cookies.
this,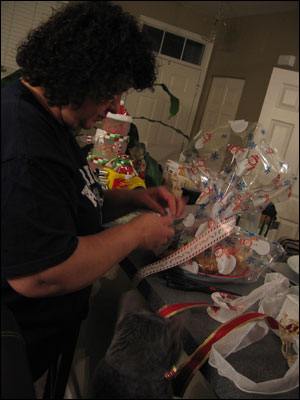 Mom wraps the gifts while Data watches

and this,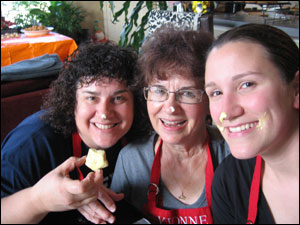 Posing for silly photos so we won't lose our minds
with finished products like this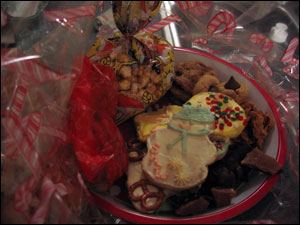 Sample plate of goodies
(We ended up making vegan sugar cookies, vegan chocolate chip cookies, peanut butter kisses, peanut clusters (some vegan), caramel popcorn (some vegan), butterscotch num nums, vegan chex mix, and (pre-made) toffee)
and this.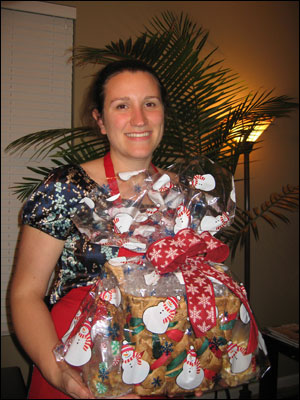 Mica's Prize
And now it's all over! I'm always sad to see family (or friends) go – it's a fun change of pace to have more people in the house. But I would be lying if I told you I wasn't looking forward to resting and sitting on my ass tonight!
It's funny how spending two whole days with my mom and grandma really made our similarities and differences stand out. And you could say that about spending concentrated chunks of time with anyone – not just family. Take college roommates for example. After just a full day or so together, you realize whether or not you have the same methods of doing things and whether you were raised with the same values. It's things as simple as how you clean, or how often you clean, and how you communicate about it.
Obviously, I have more specific examples from this weekend, but I don't think it would be nice to talk about them here. It was just interesting to me to see which family traits (or values and methods) I've held on to, and which I have modified. Some of it has to do with food choices, like the on-going (for years) butter vs. margarine debate, and some of it had to do with conflicting personality characteristics – not conflicting because they're different, but because they're the same. Maybe I can write about that at a later date.
These last two paragraphs make it sound like I didn't have a great time, when really, I did. It's just that I don't see my family very often, and I rarely get them all to myself, so I just feel like our interactions are more intense, because they're so rare.
Anyway, have you had an experience with someone else that really made your similarities and differences stand out?
And now it's time to tackle google reader and email. How long will it take me to read 340 new posts? Ha. I'll get through them, but don't be surprised (or offended!) if you see me commenting on posts a few days old. I haven't logged in to reader since Thursday night, or even spent much time on the computer.

By
14 Responses to "Similarities and Differences"