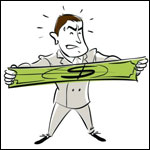 What are your tips for reducing spending?
Two Mondays ago, I mentioned that we cut back on spending in 2009, and Chez Julie asked me to share some of my tips. What a great idea!
I have a lot of tips and I bet commenters will too – so don't feel bad if you can't read them all – PLEASE SHARE your ideas!
I broke my tips into three categories: Shopping, Entertainment and General. Click "more" to read (skim, really) on.
Shopping Tips for Reducing Spending:
First things first – cut out unnecessary luxuries – for us, this was bottled water. We used to use one new bottle of water a day, and we started using reusable water bottles instead. Better on the pocketbook AND environment! For other people, this may include something like cutting back on the daily Starbucks and making coffee at home, or buying soda in bulk instead of from a vending machine.
Figure out where to buy the most economical necessities – we started shopping more at ALDI. We used to do all of our shopping at Super Target. I think we save at least $50 a week by shopping at ALDI. And if you have one of those stores where you have to have a "club card" to get the items at a discounted price, you are probably not getting the best deal overall. We have Dominick's, Meier and Jewell Osco out here, but have compared prices and they are more expensive on everything.
Try the "off brand," it's probably less costly – related to the last tip. We thought we would hate the ALDI "off brand" food, but it is fine! We mostly buy produce there anyway.
Buy in bulk when it's a great sale – when we see an item we purchase regularly on a heavy discount, we buy it in bulk, saving us money (and time) in the long run.
Use coupons and watch for good deals – I like to use coupons.com to see if any of the things we buy are on sale at Target before we go there. We also look at the ads to watch for items to go on sale. And, I am not sure if other stores do this, but sometimes Target will have a deal that if you buy 2 or 3 of an item they will give you a $5 giftcard. In December, we saw that the paper towels we like were on sale for $10 each (normally $15). If you bought two you got the $5 giftcard. Score!
Entertainment Tips for Reducing Spending:
Instead of meeting friends for dinner, host dinner in your home
When meeting friends for lunch, bring your own – my friends know I do this ALL THE TIME. You save money, eat a healthier lunch, and still get to chat!
Look for coupons for things you like to do – Steven and I never go bowling unless we have a coupon. If you sign up at Brunswick, you get coupons once or twice a month. Instead of paying $5 a game, we pay $1.29!
Use Giftcards – ask for giftcards for birthdays and holidays if you can! At my office, we have a rewards program, and I use it to get movie giftcards.
Make small sacrifices in quality to get something for less – we found a theater that sells $4 tickets! It is not as nice as a normal theater, but it saves us about $20 a trip!
Use Netflix instead of Pay-Per-View or going to the movies – if you watch a lot of movies like we do, Netflix is VERY economical!
Stop paying to run races – look for those you can run based on a donation, or just run for fun (this one was hard).
Volunteer – it can be fun
Look for free events – watch for speakers at your library or find a website like Explore Chicago (but local for your area) that showcases events (both free and not free).
Visit local parks/forest preserves for fun – we have a massive forest preserve system out here, and there is so much to do!
Take classes at a community center instead of at a gym
Use the office gym, instead of paying for a separate membership – if you can, of course.
Go to the library instead of buying new books (or borrow from a friend!)
Choose a vacation location somewhere where you can stay with friends or family
Travel in the off-season
TRY NEW THINGS AT HOME! – we love cooking and trying new things at home… I think we like it better than eating out!
General Tips for Reducing Spending:
See if you can cut back with your bills – we looked into our Verizon bill to see if it made sense to switch to a smaller plan. Ironically, we found out we were on a great plan that is grandfathered in and we would be screwing ourselves if we changed it. Ha ha. We tried!
Stop using credit cards – only use them in an emergency.
Pay off higher interest bills first
Develop a monthly budget and stick to it – it will help to see where you are actually spending your money!
Save money by working from home – this may not be an option for everyone, but since Steven works from home, we are saving money on gas, insurance and I-PASS. In 2011, I will be allowed to work from home one day a week and this should help a tiny bit (my work already pays for my transportation to work).
Look into pre-tax pay deductions at work – some offices offer programs where you can take money out of your paycheck pre-taxes and use it for transportation or hospital bills.
And I believe you should  SPLURGE A LITTLE BIT and treat yourself everyone once in awhile! To stay sane!
By
40 Responses to "Friday Question #95"