Well, after keeping it the same for over 2 years… I finally switched up my wordpress theme! Many of you asked to see more color here, and to make the text easier to read, so I hope this is a step in the right direction. Click over from reader and let me know what you think! (Also, I am still working on the questions you left for me.)

I came up with (what I thought was) a good idea for a giveaway – a "My Favorite Things" giveaway. Not, not the Julie Andrews' My Favorite Things, but my personal, favorite things!
I thought it would be fun to share some of my favorite snacks with a reader! And I am not sponsored by any of these items (ha!), I just love them and want to share the love. These are snacks that always hit the spot for me (yes, even the fifth item, if I can stick to one serving!).
Included in this Giveaway*:
Iced Oatmeal Raisin Luna Bar
Chocolate Peppermint Stick Luna Bar
Original Mild Stonewall's Jerquee
Chocolate Chip Peanut Odwalla Bar
Dots**
Cinnamon Raisin Swirl Peanut Butter from PB&Co.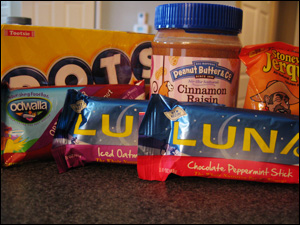 I wish I could include more! Like my favorite hummus and some carrots or some Soy Dream French Vanilla! Hee hee.
Contest Rules:
To enter the contest, simply leave a comment below telling me what you would include if you were doing your own "My Favorite Things" giveaway!
To get an extra entry, link to the giveaway in your blog, and leave me another comment linking to your post.
This contest is open until 5:00 PM CST on Sunday, January 31st. I will probably use the old "name out of a hat" drawing to select a winner on Sunday evening. I will announce the winner on Monday, February 1st.
This contest is open to readers everywhere.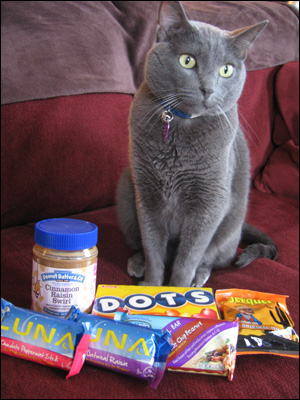 Shall I include the gray cat? Ha ha.
*All items are vegan
**I really wanted to get a package of Brach's Jube Jel Cherry Hearts but I cannot find them ANYWHERE!!!
By
68 Responses to "My Favorite Things Giveaway"