I am really excited about this giveaway! A few weeks ago, I was thinking about how much I love my "running gal" necklace I purchased myself from Tarma Designs in 2008.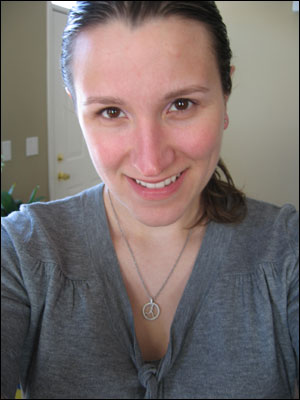 The running gal necklace (click to see larger)

"I should contact Tarma Designs and see if they will give away a piece of jewelry for my website!" I thought. That thought was immediately followed by "yeah, right." I have tried contacting companies I like to see if they will sponsor giveaways and have had no luck.
But, by chance, I got Tarma Design's monthly newsletter in an email the next day, and took it as a sign that I should contact them… which I did, and they immediately replied that they would be happy to have me select a piece to give away! They even looked at my site a bit and we chatted about Chicago architecture.
So, I selected the "Love to Run" Pendant!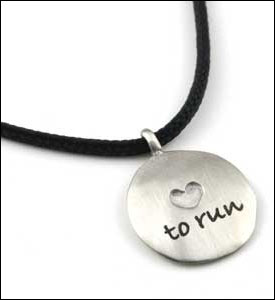 Here is the description from the Tarma Designs website:
Tarma's Love To Run series offers a new cast collections that's lightweight and fun to wear. Can also be worn as an anklet. Pendant is about the size of a dime on a 2 mm cord with Adjustable Button Toggle. The pendant is 316L recycled stainless steel (min 60% post consumer content). The RePly cord comes from recycled PET bottles made in the same mill that produces Patagonia's recycled fleece program.
I found out about Tarma Designs from an ad in the back of Runner's World. I was intrigued by their focus on spirit and adventure in their jewelry and also by their earth-friendly manufacturing process, re-use of materials and shipping methods. I'm sure if you check out their site, you will find many beautiful pieces you love!
So, how do you enter this awesome giveaway? Read below!
Contest Rules:
To enter the contest, visit the Tarma Designs website, then leave a comment below telling me what your favorite piece of jewelry is from the website. Make sure to check out all of the different categories – my favorites are "Running," "Tagua," and "Nature."
To get an extra entry, link to the giveaway in your blog, and

leave me another comment

linking to your post.
This contest is open until 5:00 PM CST on Sunday, February 21st. I will probably use the old "name out of a hat" drawing to select a winner on Sunday evening. I will announce the winner on Monday, February 22nd.
This contest is open to readers everywhere.
By
62 Responses to "Love to Run Pendant Giveaway"