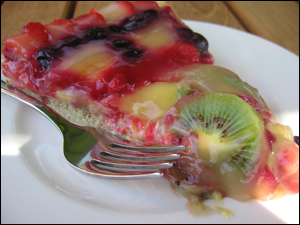 We haven't tackled the fruit pizza recipe for about a year and a half. It's a time consuming project, but oh so worth it.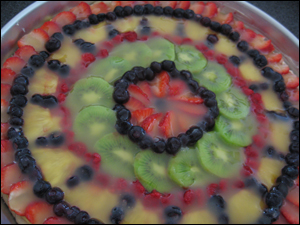 I've actually posted the recipe for this in the comments section here, but I thought I would show you the step-by-step!
It's basically a GIANT sugar cookie, with a creamy base spread on it, topped by your choice of fruit, then covered in glaze. Sounds wonderful, right? Separately, these ingredients don't sound that spectacular, but once they come together, it's like an orgasm a wonderful explosion of flavor in your mouth.
The base is made of cream cheese, whipped cream, powdered sugar and vanilla, but as you will see, I made one half of one of these vegan (yes, we made two – but the recipe below is for one pizza) by using pudding for half of the base.
Ingredients:
Your favorite homemade sugar cookie recipe or 1 (18 oz.) pkg. Pillsbury sugar cookie dough
Fruit of your choice (I usually use strawberries, kiwis, pineapple, blueberries and raspberries )
BASE:
4 oz. cool whip
1 (8 oz.) pkg. cream cheese
1/3 c. powdered sugar
1 T. vanilla
To veganize it: skip the cool whip, cream cheese, powdered sugar and vanilla. Use 2 packages of JELL-O vanilla instant pudding. Only add 1 1/2 c. soy milk total so it is thick.
GLAZE:
½ c. sugar
2 T. cornstarch
Pinch of salt
½ c. water
½ c. orange juice
½ c. lemon juice
Directions:
Roll cookie dough out until it is about 1/4 thick. Put it on a lightly-greased large pizza pan or cookie sheet. Follow baking instructions (takes a bit longer since it is so big); cool.

We made one pizza in a pizza tin and the other on a sheet, so the second one had to be trimmed. Don't bother trying to get the shape right when it goes into the oven – make it a bit big then trim it. Who knows, you might end up with a big cookie smile.

Cut up fruit while the cookie is baking (warning: cutting up the fruit takes F-O-R-E-V-E-R!!!).

For two pizzas, we used 2/3 of a pineapple, 3 kiwis, half a bag each of blueberries and raspberries, and bits of 3 boxes of strawberries (there were leftovers – we're picky about which pieces we use). I recommend fresh fruit, but I did have to buy some frozen this time.

Blend cream cheese, cool whip, powdered sugar and vanilla, and spread over crust. OR, make pudding mix and spread over crust.

Non-vegan base

Vegan base

Place fruit on base mixture.

Here's a little animation for you!

For the glaze, mix dry ingredients together, gradually add water and juices, heat over medium heat to boil. Boil 1 minute, stirring constantly. Cool and pour over pizza. Cool pizza in the fridge a bit (if you can wait!) then serve.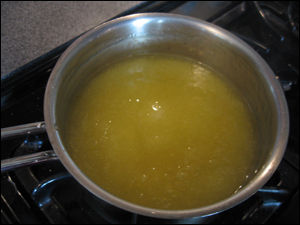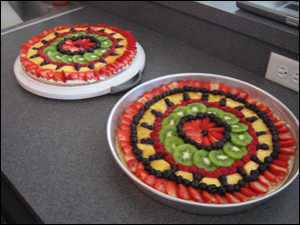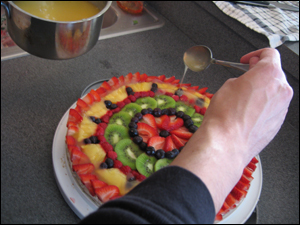 Be careful not to "brush" the glaze on, because it smears the colors of the fruit together!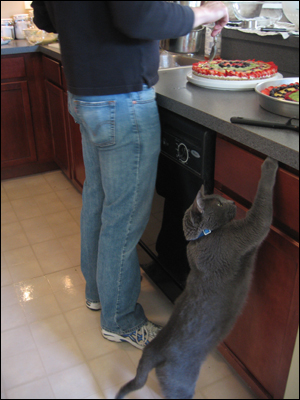 Data wants to help. Sorry Data. You don't have a hairnet on.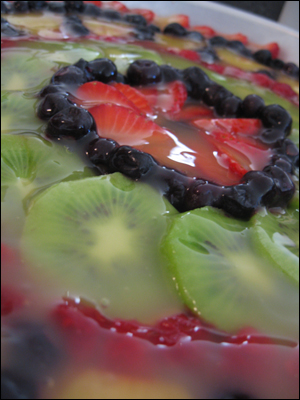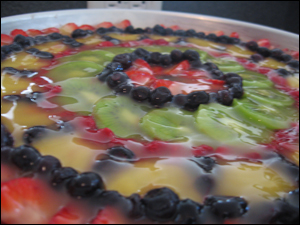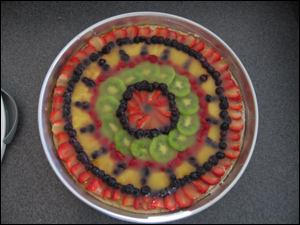 Like I said, very time-consuming*, but worth it for a great treat!
Does this sound good to you? What fruit would you put on it?
*It took Steven and me about 3 hours to make two of these. But I enjoyed it!
By
51 Responses to "Fruit Pizza – the recipe!"