Do you like being surprised (by good surprises – parties, gifts, tickets around the world…)? Why or why not? If yes, what is your favorite surprise to date?
I ask, because I know some people HATE being surprised! I know Steven doesn't like it. I don't think my dad does either, but we threw him a surprise party when he turned 50 anyway, muah ha ha.
I, on the other hand, LOVE being surprised. It makes me feel so special that someone would go out of their way and think of a way to make me feel good.
Today I was outside walking Data when the UPS guy showed up. Data got freaked out and ran toward the house (lame) but the UPS guy followed us with a package! I asked Steven if he ordered something… nope. It was for me though!
My second cousin (my dad's cousin) Denise, sent me an early birthday gift… the COOLEST cookies cutters ever…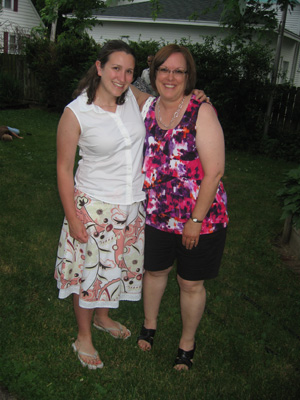 Me and Denise.
Are you ready for this?!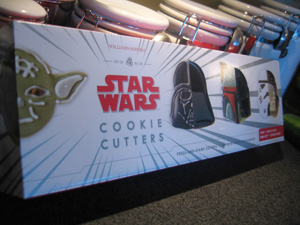 Star Wars cookie cutters!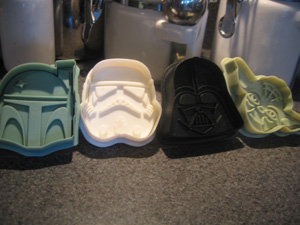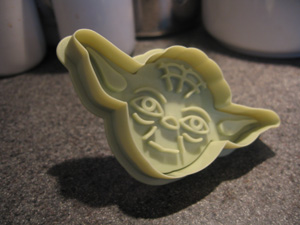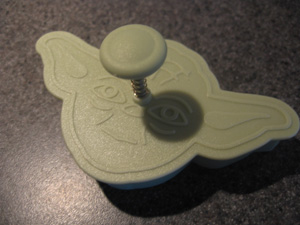 How cool are those?! Yeah, I know you're jealous. Ha ha.
Too bad we are going out of town. Otherwise I would be whipping up some sugar cookie dough and getting to work. Now I know what I am doing next weekend.
Thanks Denise – you made my day!
I know I asked for a favorite surprise but it is hard to pick one! I loved that my sister surprised me last year on my birthday (by being there), that my brother-in-law and Steven's friends bought us tickets to do the Chicago exotic car tour for our wedding, that Steven got me a wii and Rock Band a few years ago and put the drumsticks in the bathroom so I saw them in the middle of the night… I could go on and on and on…
By
30 Responses to "Friday Question #122"