The Corn Maze Run was SUCH A BLAST. I will definitely be running it again next year if they host it. And if you live in Illinois or Wisconsin, I recommend that you run it too! There's no other race experience like it!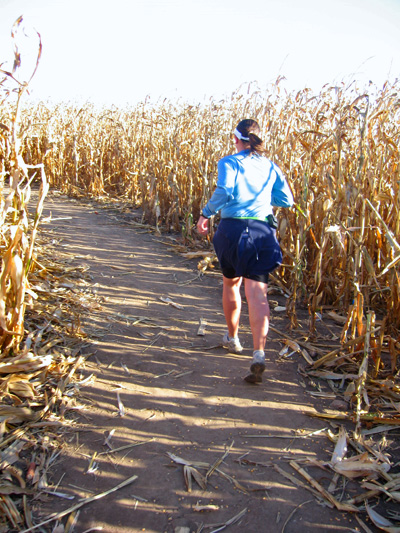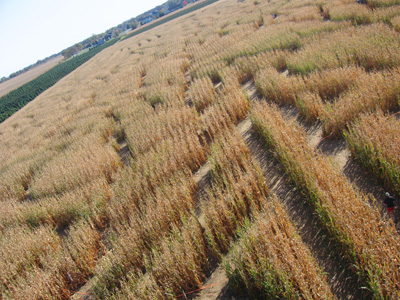 I must say though – it is quite dangerous. The ground is uneven, and there are pieces of corn and corn stalks all over that present potential tripping hazards. So, watch out!
On to the fun and games!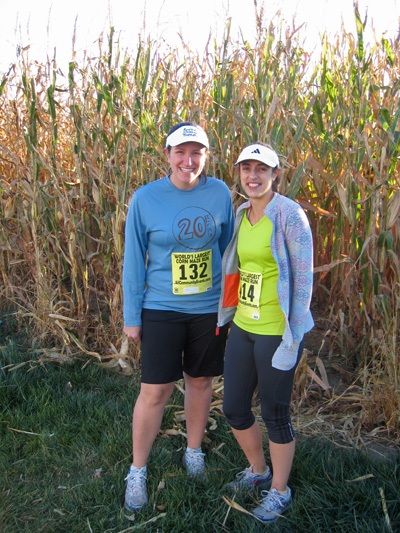 Me and Erin pre-race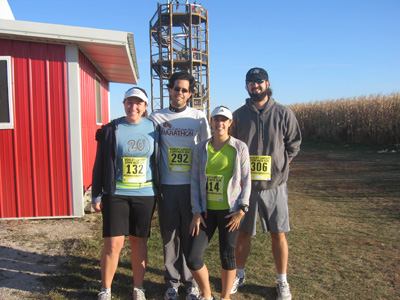 Me, Steven, Erin and Andrew
This was the inaugural year of the run, but I get the impression that Richardson Adventure Farm, in Spring Grove, IL, has had a corn maze for quite some time. Besides the maze, the farm also has zip-lining, ORBiting, pig races (sorry we didn't get to stay for those, Erin), paintball, what looked like a petting zoo… you get the idea. We didn't stay for any of that stuff, because it was an additional cost. I think zip-lining sounds fun though. Maybe someday…
Since the course is narrow, they let one runner off every 5 seconds instead of letting everyone go off at once. They requested estimated finish times when you registered, to try to put people in order by speed, but it got a bit messed up for our group. Depending on when you registered online, different finish times were offered to choose from (if you registered later, they offered longer distances). Long story short, I was bib number 132 and Steven was 292! So he started over 13 minutes after me (add 5 seconds for every number between ours). They wouldn't let me cut in with him because of how they were tracking our overall time. So I ran on to the course, then stopped and hid in the corn stalks to wait for him! Ha ha.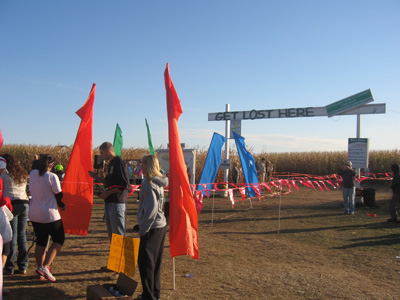 The start line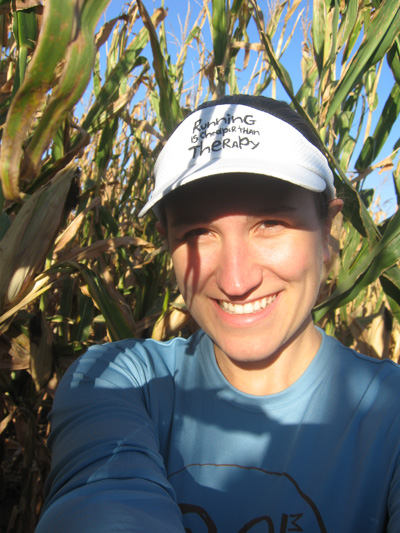 Waiting for Steven in the corn stalks
And since Erin registered on site, she was number 414 and didn't get to run for more than 30 minutes after the start time! It wasn't really a big deal though. It was mostly easy to pass people. And while this is a fun race, I wouldn't recommend trying to run it with a bunch of friends at once! The course is too tight!
Enough talk about that! What was it like to run in a corn maze? Besides the tripping hazards (I rolled my ankles a few times) it was SO MUCH FUN. It was just such a unique, new experience, that I loved every bit of it. I had no idea where I was or where I was going, I was just focused on running and having fun. And sometimes, you should just run a race for fun! I rarely looked at my Garmin, and didn't even notice that the course was marked until I got to mile "3." And they even had a water station on the course!
And I thought it was so fun that I got to do this with Steven, Andrew and Erin*. I am already talking to Steven and Andrew about our next family run (and am always talking to Erin about our "next" run, ha ha).
*I ran with Steven, but Andrew and Erin ran on their own.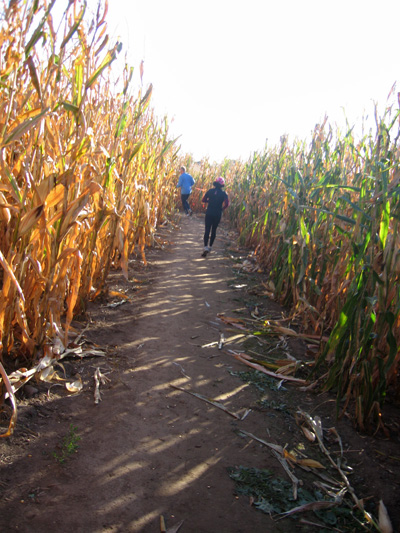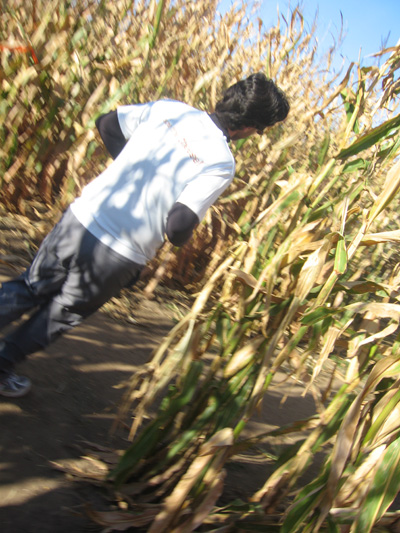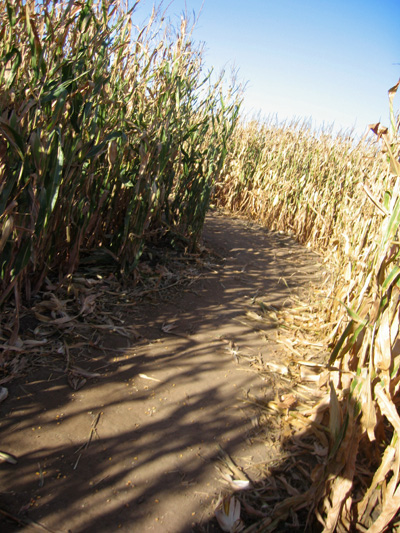 I made some videos to show you guys what the course was like. The course had 250 turns in it, and two sets of stairs!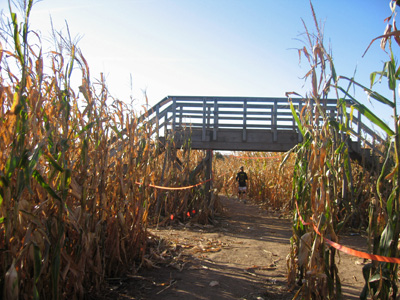 And check out the Garmin map! Ha ha: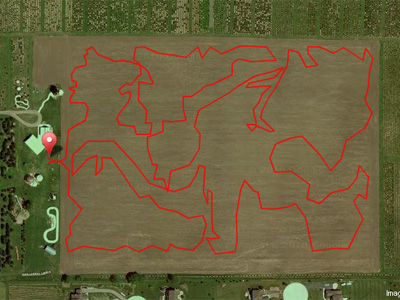 Here are the Garmin stats if you are interested – 2.61 miles in 29:15.
The course ended up only being about 2.6 miles long (it was supposed to be a 5K)! I was disappointed to be done so soon! It was a beautiful, sunny day (in the 40s) and I was really enjoying myself.
I thought this was pulled off great for being the inaugural race. My only complaints are that:
There was not more of a warning about the course being dangerous (this sign was not very visible):

You could not change your estimated finish time on race day.
General Admission to the Farm was not included for after the event (we did not have to pay to get in, but if we wanted to do anything, we had to pay general admission then pay for the thing we wanted to do). I thought that would have been a nice perk! Ha ha.
I have many many positive things to say:
I LOVED the course. What a unique experience!
The course was very well marked.
I LOVE the race shirt. Love it!

They had a water station.
They had water, gatorade, cookies (Steven's favorite kind – Matt's cookies), bananas and bagels after the race.
The volunteers were nice (whether or not they were knowledgeable about the race is another question).
So, who is running the Corn Maze Run with me next year?
I love doing goofy races like this. There is such a great spirit at the event; it seems like everyone is just out there to have fun.
What is the goofiest race you have ever run?
Steven and I once ran a race where everyone dresses up as Santa! I plan to do that race again this year!
After the race, we went up in to the Observation Tour to take pictures of the maze. And of course, we took other goofy pictures too.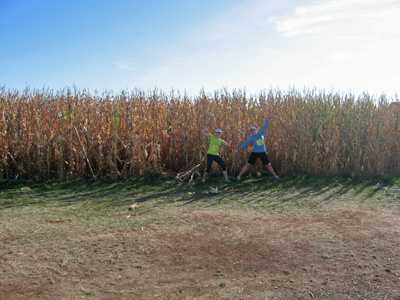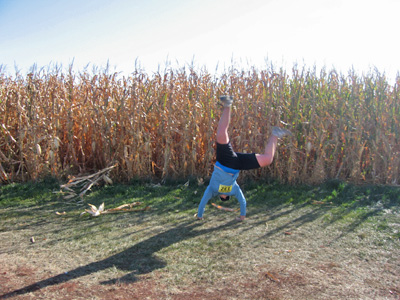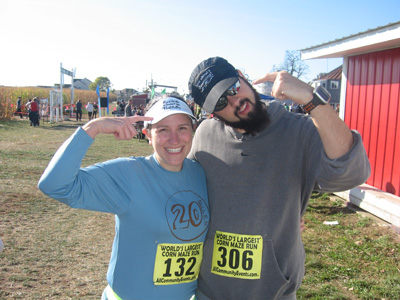 (We're pointing at our One More Mile hats!)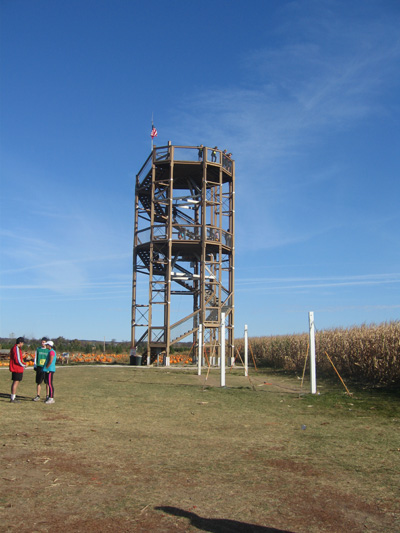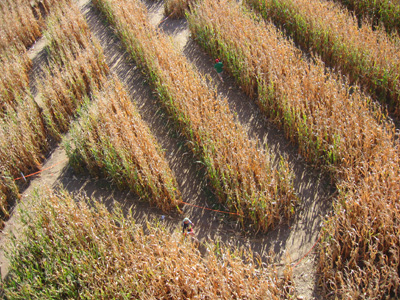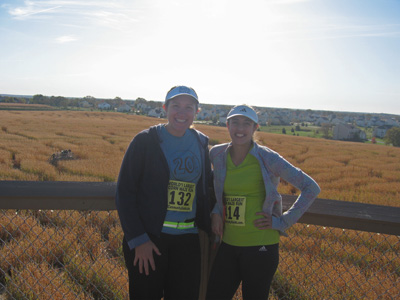 By
50 Responses to "World's Largest Corn Maze Run Race Report"