Awhile ago I stumbled across the RelaxReflect Clothing Company when RunToTheFinish wrote about them. I think their idea is so cool (text is from their about page) – 
RelaxReflect's Mission is to be the world's most recognizable graphic clothing brand to combine cool design with functional purpose. Featuring retro, edgy and innovative reflective graphics that illuminate when exposed to light, our customers can relax in the notion that they are always seen in the coolest clothes on the planet. RelaxReflect™ is also about clothes that feel and look great while utilizing attractive designs that inspire our customers to choose to be seen and those who value individualism and uniqueness in their daily lives.
All of their clothing has reflective graphics on it, so you can be outside in the dark (for me, working out) and worry a little less about not being visible. 
I contacted RelaxReflect the same day I read that blog post and inquired about doing a review of one of their products. They responded right away, and we had a fun conversation about their inspiration for the company and how they got started.  I ordered the Badass reflective running leggings as a Christmas gift to myself, but they also recently sent me a reflective skull cap to review!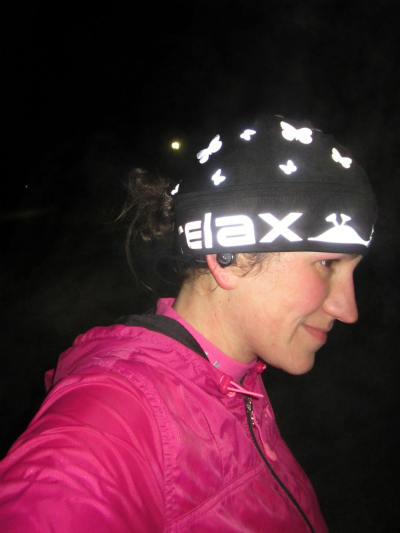 Here is what it looks like not lit up (UA Hood mine, not part of hat):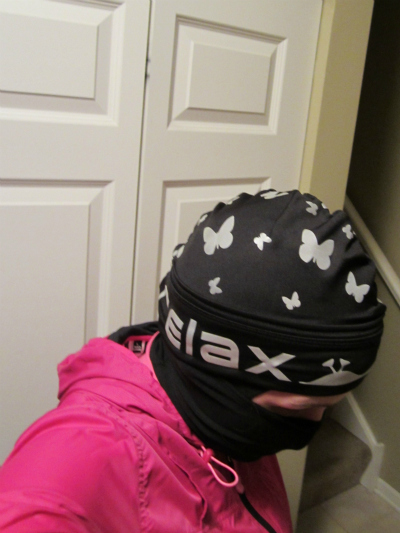 I really like the hat. It comes in a few different materials (and colors!), and this one is Brush Dryflex – it wicks wonderfully and still keeps my head warm!
Relax Reflect Skull Cap Review:
Pros:
snug
comfortable
pony tail slot
cute design
reflective!
Cons: 
does not cover my ears when I use my headphones
no sizing – I think my head is too big!
I ordered one of the skull caps for Erin for her birthday, and asked her to take some pictures so I can show you that the hat does fit people with normal sized heads (and actually, Erin said her head is very small, so it will fit a medium sized head person perfectly!).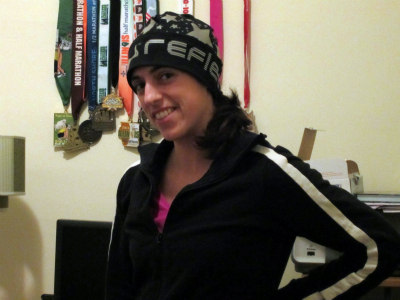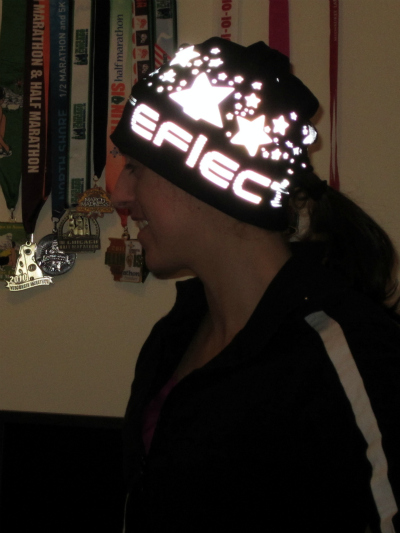 I've been really excited about RelaxReflect, because running in the dark makes me nervous, but I feel better about it when I run with my reflective leggings and skull cap (and headlamp) and know that it looks cooler than wearing a vest. Ha ha.
So! To share my love for the company, I am sponsoring my own giveaway (they sent me the skull cap, but I am buying one for one of you!).
One reader will receive a Skull Cap of their own. There are four styles to choose from – All American, Criss Cross, Honeycomb and Stars Stars. See them here for women and here for men. 
RelaxReflect Giveaway Rules
One reader will receive a RelaxReflect Skull Cap. 
Required to enter the giveaway: visit the RelaxReflect website and leave me a comment telling me which product is your favorite! 
This giveaway is open until 5:00 PM CST on Wednesday January 25. I will use random.org to select the winner. I will announce the winner on Thursday January 26. 
This giveaway is open to all readers.
Thank you to RelaxReflect for sending me this skull cap to review!
By
32 Responses to "RelaxReflect Review and Giveaway"