Along with many other Chicago bloggers, I was offered a personal free entry and ONE free entry to give away for the 13.1 Chicago [half] Marathon® on June 9th. That happens to be my mom's birthday, and if my mom taught me one thing in life, it's "say yes to free." Sorry Mom! Won't be home for your birthday this year! Instead, I will be running a half marathon in Chicago with 4,999 other runners, many of them bloggers (it seems).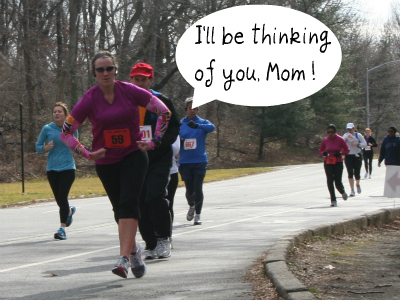 This is actually a really cool opportunity for me (and you!) to run in the beautiful city of Chicago, and it sounds like this course is going to be neat-o (from here):
The Allstate Life Insurance℠ Chicago 13.1 Marathon® starts and finishes at the Historic South Shore Cultural Center (SSCC) on Chicago's south side. The SSCC offers beautiful views of both Lake Michigan and the Chicago Skyline and has hosted many notable events, including the wedding reception of President Barack Obama and First Lady Michelle Obama. The 13.1 mile course takes you along the Lake front Path past La Rabida Hospital. After passing the hospital, you will run through Jackson Park, home of the 1893 World Columbian Exposition, the Osaka Japanese Garden, a strolling garden on Wooden Island. You will then pass the Museum of Science & Industry, the only original building remaining from the 1893 Columbian Exposition, and one of the largest science museums in the world. You will then head back to the Lakefront Path to almost 35th Street before heading back south, past the 63rd Street Beach House and finishing at the SSCC. This course is 13.1 miles of perfect Windy City experience.
This race is actually the fourth stop on a eight-city tour across the states. Sign me up for that (for free, too!):
13.1 Marathon®, America's Half Marathon Series, is the series of half marathons serving some ofAmerica's top running communities with a stand-alone half marathon for locals to embrace and visitors to experience. The series kicked off the 2012 calendar in Los Angeles with Los Angeles 13.1 Marathon® (January 15) and will follow in beautiful Miami Beach (March 4), New York City (March 24), Chicago (June 9), Boston (September 26), Atlanta (October 7), Dallas (October 26) and Ft. Lauderdale(November 11).
Here are the details for the where and when. Maybe there will be an expo the day before too:
7 a.m., Saturday, June 9 South Shore Cultural Center, 7059 S. South Shore Dr., Chicago, IL 60649
I am excited about this race. It will be my first half marathon in Chicago, and if it is not as hot as last year, I may even try to PR. Maybe. Either way, the medal is frickin' schweet (I imagine it will say Chicago on it):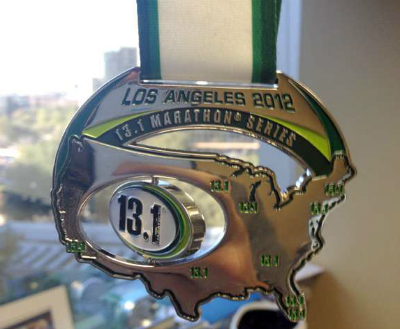 Other items of note:
Gender specific tech shirts (wish I would have read that before I ordered a M)
20 party stations along the course
Bash with live entertainment and refreshments at the end
Walker friendly course – 3.5 hr time limit (that's 16 min mile pace)
Free shuttle service to start
13.1 Chicago [half] Marathon Giveaway Rules
One reader will receive one (1) free entry to the 13.1 Chicago [half] Marathon® on June 9th in Chicago, IL, USA.
Required to enter the giveaway: tell me why you would like to run this race.  
This giveaway is open until 5:00 PM CST on Sunday April 1. I will use random.org to select the winner. I will announce the winner on Monday April 2. 
This giveaway is open to all readers. It's just up to you to get to the race. 
By
25 Responses to "13.1 Chicago [half] Marathon Giveaway"