I finished reading Eat and Run: My Unlikely Journey to Ultramarathon Greatness by Scott Jurek and Steve Friedman this week (thanks again, Gina!).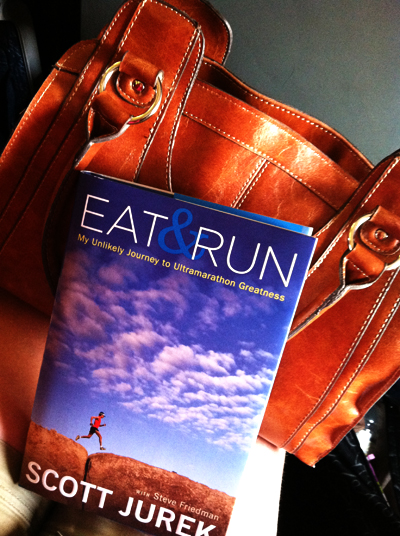 The book is basically the story of how Scott Jurek was raised, got involved in ultra marathons, started experimenting with (and eventually switching over to) a plant based diet, and dominating ultra marathons (there are also some recipes, tips and facts thrown in).  I knew a bit about Scott Jurek before, but this book really gave a lot more insight in to his life, the characters in it, and his personality. I was surprised reading this and thinking, "Wow, he deals with a lot of deep, sometimes dark, thoughts." Yet he has so much control over his mind and body. And I loved reading about feeling connected with the earth when doing this long runs and that's all it is – you and the earth. And also how we get to a point where we can no longer meet our goals and just have to run for the experience (unless you are him and you keep breaking records? ha ha)
These comments don't make sense if you haven't read the book, and hey, maybe they don't make sense if you have. Has anyone read it?
But there were a lot of good things to think about in there, and maybe when I get more organized I'll write about some of them. Maybe. 
For now, the obvious takeaways are:
Scott Jurek is a badass
Scott Jurek knows how to run through pain (I mean, seriously, he has done some races with sprained ankles and broken toes and stuff like that. Cray cray.)
Scott Jurek can do it all on a vegan diet
Scott Jurek probably wouldn't even consider a 50K an ultramarathon…
Scott Jurek is confident and doesn't doubt himself
Let's say I was inspired. 
Okay, really, let's say I read this book about a man running 100+ miles through crazy conditions and then thought about how I have been waffling back and forth on my decision to run a trail 50K (31 miles) on a course the race organizers describe as (bold emphasis mine):
The forested area, massaged by monstrous glaciers many millennia ago, contains wake-up-call hill climbs of 200-300 feet and enough undulating terrain to challenge even those granite-legged mountain runners. Overall, the soft, forgiving course is 80% singletrack, with slightly wider, equestrian sections sprinkled in between. This is the least technical of all the Endurance Challenge courses.
Least technical? What is my problem? Why have I not signed up yet?
I am sick of telling people I am thinking about signing up for a 50K (I bet they are sick of hearing it). I know I can "run" it. It has a 9-hour time limit, for Pete's sake. It's less than 5 miles more than a marathon. 
So I f-i-n-a-l-l-y signed up. 
North Face Endurance Challenge 50K on September 15, here I come (slowly but surely – I just want to finish before the cut-offs at the aid stations!)!
By
34 Responses to "Is a 50K even really an ultra?"