WARNING! This post may be very triggering as it talks about purposefully trying to reconnect with the feeling of hunger. Please skip this post if you need to!
I've been wanting to write a post about my strange fear of hunger, and how it makes me act, for awhile. I swore I started a draft of this a long time ago. Instead, I found an actual published post – "The first time I discovered hunger" (from November 12, 2008). Geesh. That was raw. And… it pretty much all still applies. Damn. Don't you love it when you go back in your blog archives and realize you are still struggling with the same damn crap?!*
I did find a draft post (from July 23, 2009) about how I was trying intuitive eating. That never got published, because it didn't work for me. But there was a cute picture of me in the post, to which I had said "the only time I am not eating is when I am sleeping." Ha ha ha.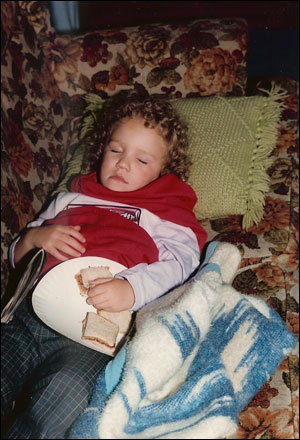 Anyway. I've felt hesitant writing about this, as I have never experienced real starvation or hunger, and don't want to offend anyone who has. But I feel like I need to get this out there, because maybe someone can relate!
So, are you the type of person who packs snacks for work, road trips, flights, etc. –  the type of person who always has a snack in their bag or in the car? OR! Do you fly by the seat your pants and just pick up things as you go… or maybe wait to eat when you get home?
Just as I am an over planner, I am over prepared. I always have a snack on me, or near me. My thought logic is that I don't want to become hungry and be caught with something "unhealthy" or not have any vegan options.
But you know what happens? When I get the tiniest tingling of hunger (and usually it's mental, not even something I feel in my stomach), I consume all the snacks. Then, I am left with no snacks. So I go buy the unhealthy things anyway. And nom nom nom away.
Examples:
I pack homemade trail mix for a flight. It's all I can think about on the flight, so the moment I feel any hunger, I dig in.
I have a "just in case" LUNA bar in the car. I get a slight hunger on a longish drive and eat it.
I have a snack drawer at work. Sigh – who else has the snack drawer? When I feel anxious at work, I dig in (after telling myself I am hungry).
I go to the city to hangout and pack a bunch of things to eat throughout the day… and find myself eating them to prevent hunger.
So in all cases, I justify my snacking by telling myself I am preventing hunger. But… I never got hungry. So what is with the need to constantly feel satiated? What kind of weird, messed up privilege is that?!
Mica and I have been talking about this, and I think she summed it up well:
It's such a weird thing. It's not like I'm afraid in the way that I'm afraid of plane crashes, but I definitely feel a strong compulsion to avoid hunger. And then when I work through my hunger or manage to make it to dinner without snacking a lot, I think, "Hmm, that wasn't so bad." But in the moment, I feel SO DESPERATE.
So why is hunger so bad? Why are we so desperate NOT to feel it?
And not to be disordered about that. We should NOT starve ourselves. But, there have been months where I have gone without EVER feeling hungry. Because I am constantly putting food in my mouth. What am I so afraid of? A slight hunger headache? Would it be bad to feel that?
Earlier this year I tried to quit overeating so much, and ended up feeling hunger. I would get to the end of a run and feel famished. I did need that LUNA bar in the car. I did need those snacks then.
I've started feeling hungry for lunch and dinner again (my stomach actually makes noises!). I started enjoying food more. It was weird, what a little true hunger could do. But that doesn't mean I don't still struggle not to eat ALL THE SNACKS to prevent hunger, still!
See, it feels so odd writing this, because a lot of people struggle with under-eating and not purposefully being hungry all the time. And I don't mean to be insensitive to that either. I guess wanted to share this weird thing I am trying to stop.
*I felt bad about that for a minute. Then stopped. I am pretty easy going on myself.
By
49 Responses to "Fear of hunger"