I am really excited to share a guest post from one of my favorite people – my girl, Chris!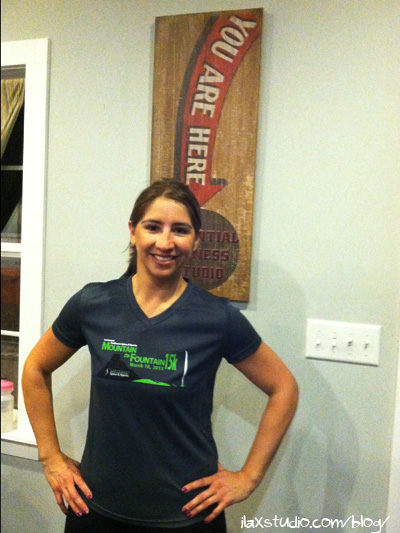 You may remember Chris featured in such posts as "Long Grove Turkey Trot 5K Race Report." Hee hee. Chris and I first met in our running club in 2011, and have been taking the same Wednesday night strength class together for quite some time. Chris is one of those girlfriends you always want to spend more time with, because she is so damn sweet, nice and funny. Very funny. Very silly. We could get in a lot of trouble together. 
But I digress. Chris is also inspirational. She was in an awful car accident a few years ago. It left her in a full body brace for four months (and confined to a wheelchair for a brief portion of that time). She had a broken lower lumbar spine, face, ankle, toe, right clavicle… and lost a few teeth and part of her tongue. Her mouth was wired shut for three months and she had to re-learn to walk (due to the muscular atrophy). She was a runner before the accident, and quite devastated by it. The doctors weren't sure if she would run again. Yet, here she is, kicking ass and taking names. I am proud to know someone like her! Have you ever had to deal with a huge recovery like that?
Okay! On to the post, as told from Chris (bold text from me)…
Destination races are one of my favorite ways to enjoy the area that I am visiting while on vacation.  And, while many people laugh at the fact that I race over my vacation – I realize that my runner friends out there would understand my insanity.
In January, I tossed out my top three choices for races in the Phoenix (AZ) area to a few of my friends to get their opinion on which race they thought I should attempt while on vacation.  One was a local 5K , another was a 4 mile race close to the area, and the third option was a 15K (9.3 miles) that was about 35 minutes away from our time share.  Needless to say, every person that was affiliated with the running and/or multisport club that I belong to selected the Mountain to Fountain 15K (on March 10, 2013).  While I was concerned by taking on that level of mileage a couple weeks early in my half-marathon training, I was definitely not let down by their suggestion.
In addition to the mileage concern, I was a little unsettled by flying in on Saturday afternoon, and running the following morning (due to potential dehydration from the flight), yet my mind was more settled after talking to one of my friends.  I was scheduled to arrive in Phoenix on Saturday afternoon, which would have given me some time to stretch my back and legs for the race the following morning.  For me, this is an important part of my race preparation, as I have a spinal fusion in my lower lumbar region and a herniated and bulging disc in my cervical spine.
What steps do you take to prep for a destination race?
While the race began at 8:00 am, participants were required to arrive early, because they had to transport everyone by bus to the start line inside of the McDowell Mountain Regional Park.  The first bus left at 5:30 am, and the last bus left at 7:15 am.  The plan seemed like a good one, until United Airlines delayed our flight; leaving an hour later than originally scheduled.  The delay meant that our flight would arrive in the early evening versus the later portion of the afternoon.  However, that was just the beginning of the eleven total delay notices that I would receive on my cell phone while waiting to board the plane.  Our plane eventually departed Chicago at approximately 10:30 pm, and due to the time difference, we arrived at around 11:30 pm in Phoenix.
After a long wait in uncomfortable chairs at the airport, and a three and a half hour flight, my legs and back were rather sore.  While my plan to stretch and visit the swimming pool for some hydrotherapy was foiled, I was determined to participate in the race, as I had been looking forward to it for the past couple of months.  The race description intrigued me, as it seemed different than most races, and offered "an extremely fast downhill" for the first 5K, a steep climb for the second 5K, and rolling hills for the remainder of the race.  Needless to say, I had decided to try to remove any time-related goals that I had created in my mind for this particular race due to the physical discomfort that I had experienced from the flight delay, and focus on my primary goal, which was to finish the race.

Elevation profile from here
On race day, we had to leave the Phoenix area at 5:00 am, in order to allow for enough travel time, in case we experienced any challenges with driving instructions.  Once I arrived at the staging area in Fountain Hills, I knew why everyone was wearing warm-up pants and long-sleeved jackets, as it was in the low 40's in town.  Plus, the temperature dropped even lower once we reached the start line, near the top of the mountain, where it was in the 30's.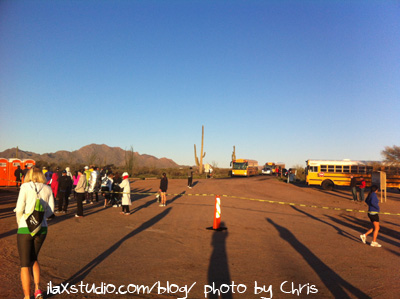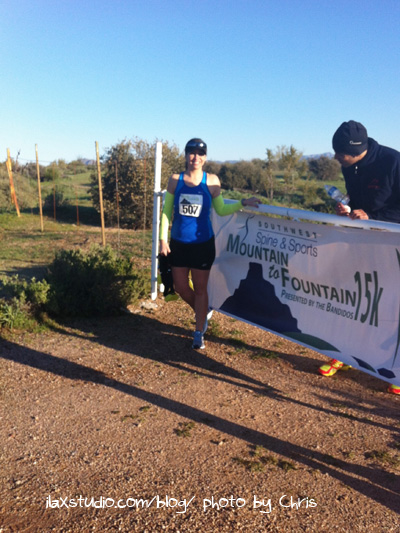 However, it did not take long (around mile 3), and I was peeling off my arm bands due to the heat.  We were on the main road to McDowell Mountain Regional Park, which was in the full sun.  It was beautiful, and a welcomed change from the snow and cold weather in Chicago (especially now, since winter seems to NOT want to go away!).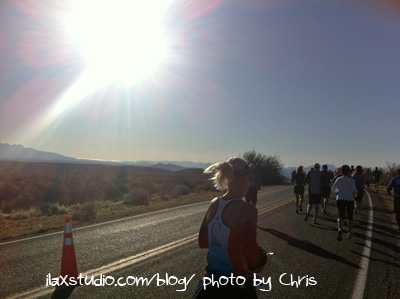 The race had a great group of volunteers staffing each of the water stations, and emergency medical responders in multiple locations on the course for precaution.  There were individual runners and teams that participated, which added a higher energy to the race.  The teams were competing for the first place prize in their respective divisions, as they won the weight of one of their teammates in beer – Kilt Lifter beer, to be exact (image below).  Each race participant also received a can of Kilt Lifter beer at the party following the race, as well as a complimentary massage from a local massage therapy school.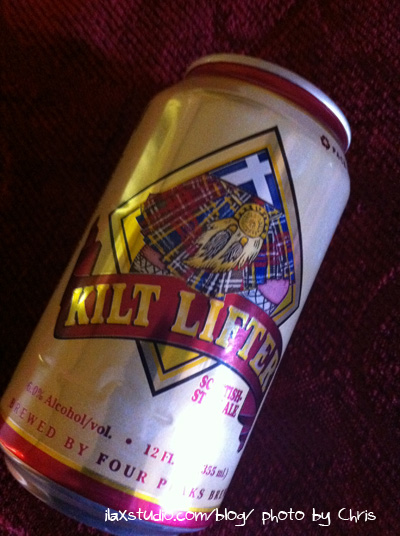 I originally wanted to complete the race in 1:30:00, and had kept my pace intact until about mile eight, when I ran out of fuel (both electrolyte drink and gels), and began to have a headache.  I knew at that point that I was dehydrated from the high sun exposure.  As many would say, I was "running on empty."  However, I still had a little over a mile to go, and a few hills left to conquer.  Then, at about mile 8.5, the hunger pangs began.  I immediately knew that I had to conserve my energy, as it was apparent that I had burnt many more calories earlier on the course than I had initially anticipated I would throughout the race.
Also, the two coyotes that crossed in front of me on the course definitely gave me the ambition to carry on, and brought a smile to my face, as it reminded me of similar experiences that I had with some of the members of the running club on one of our training runs in a local forest preserve.  It quickly became another 'coyote run' or training run for me, and took my mind off of the lack of fuel.  It made me smile, and their crossing was perfectly timed.
It was one of the most peaceful and beautiful courses I have experienced thus far in my running career.  It was exhilarating.  I could not tell if it was being surrounded so fully by nature that made the experience so grand or the fact that I did not have to race anywhere afterwards – just "enjoy the ride," or possibly a little of both.  Whatever the reason, it was a race that I will remember for many years, and would recommend to anyone staying in the Phoenix or Mesa area in the springtime.  It was amazing.
What was your favorite destination race and why?
By
37 Responses to "Guest Post: Mountain to Fountain 15K Race Report"