Yesterday I got to do something I've wanted to do for a long, long time…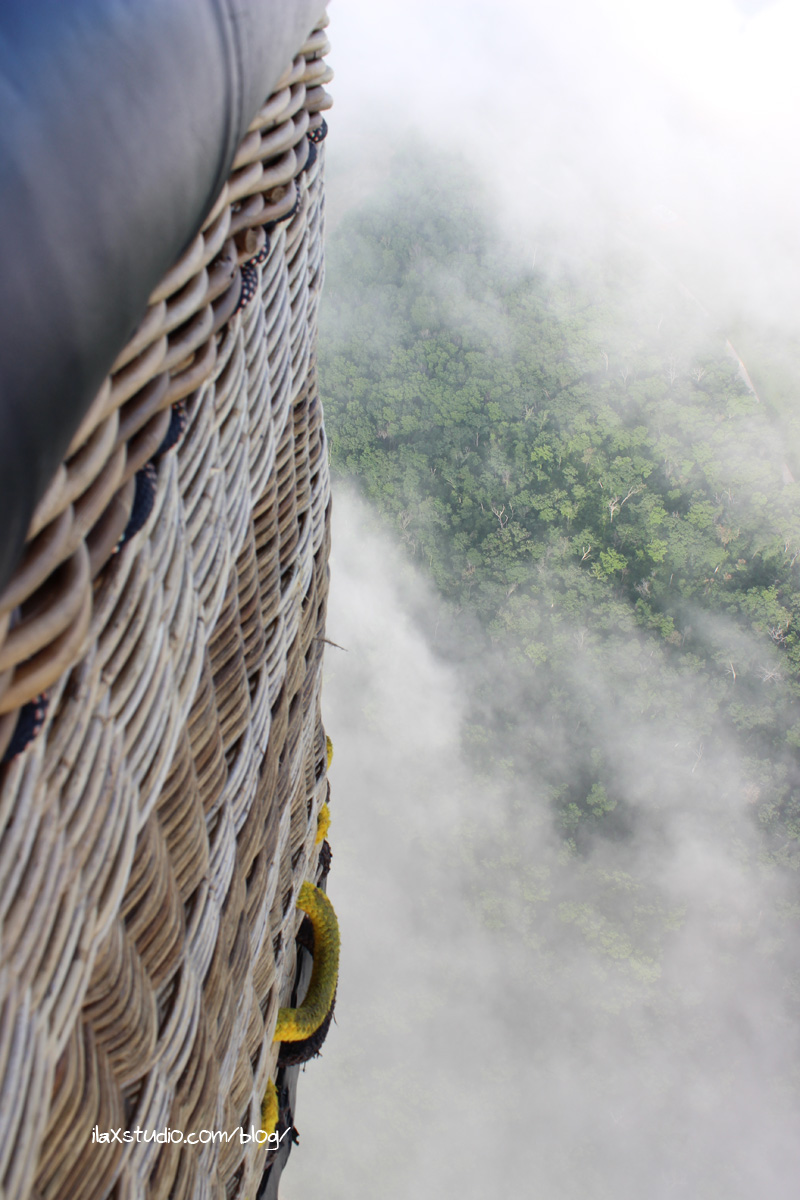 go on a hot air balloon ride!
Note: most pictures by Steven (can you guess the smart phone ones?). Click on most pictures to see larger.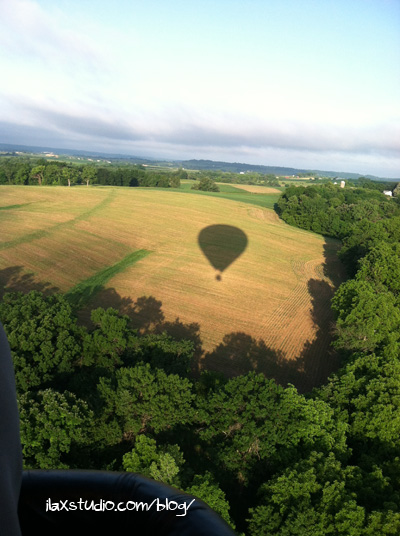 Somehow, Steven and I heard about the Great Galena Balloon Race, and were excited when we saw it worked out for us to make an overnight trip out of going to the event. At first, we thought we would just watch the balloons launch, go the associated car show, and enjoy the festival… but a few days prior to going, we decided to actually sign up for a balloon ride as well. 
Squeeeeeeeeeeeeeeeee! I was so excited, I couldn't contain it.  I am not sure why I am drawn to spending time in the sky (plane rides, helicopter rides, skydiving, hang-gliding later this summer…), but for some reason, I am! Are you drawn to these "air" activities as well?!
We arrived at the event Saturday night.  Because of weather conditions, not as many balloons were able to launch – just the two main ones that people were getting rides on that evening. We both really enjoyed seeing how the balloons are inflated.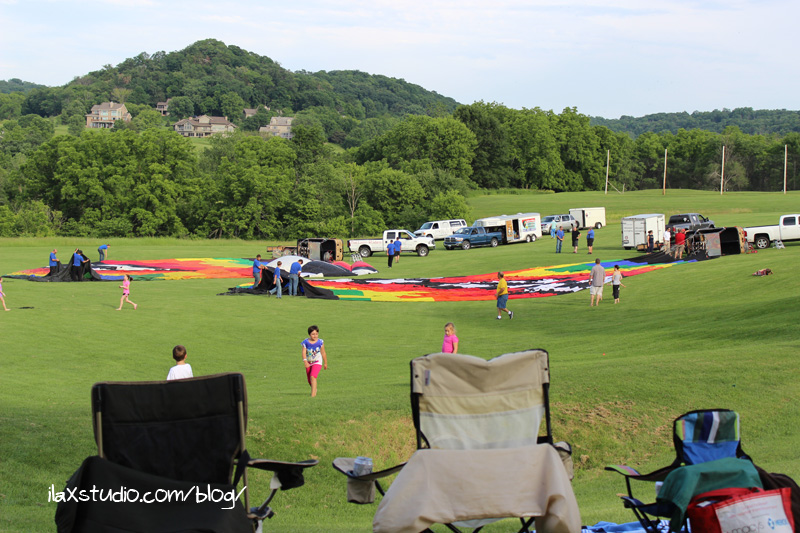 They lay them out,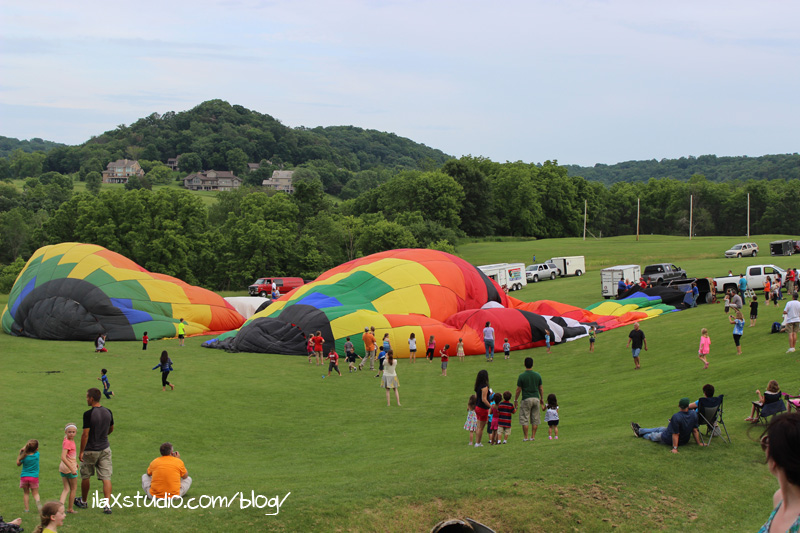 use gas powered fans to fill them up with air,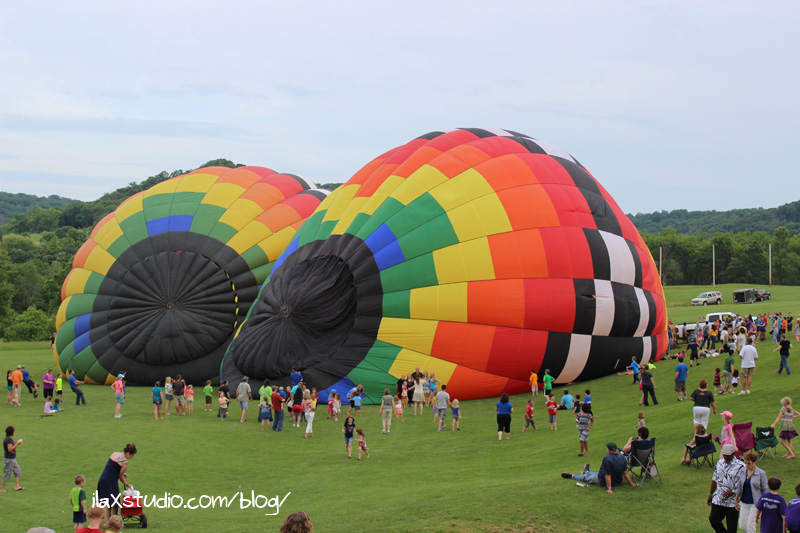 then being filling them up with hot air from propane tanks (closer picture of this below).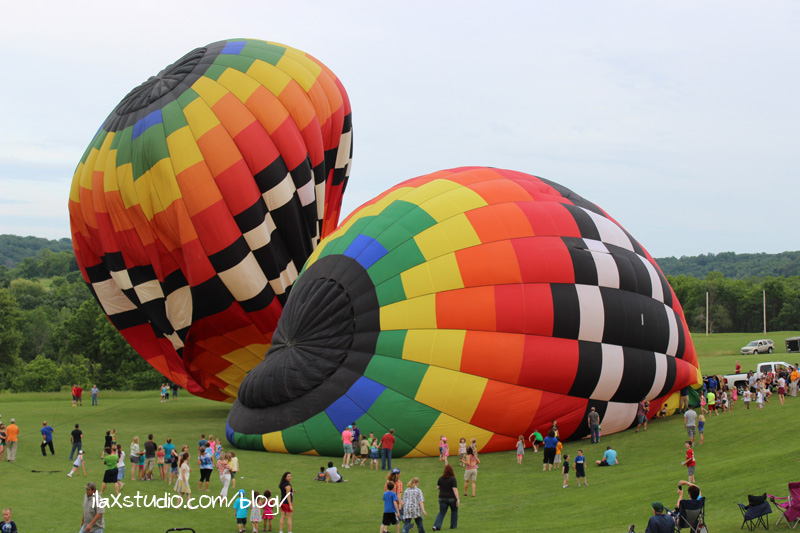 Once they are up, the people have to bust a move to get in the basket!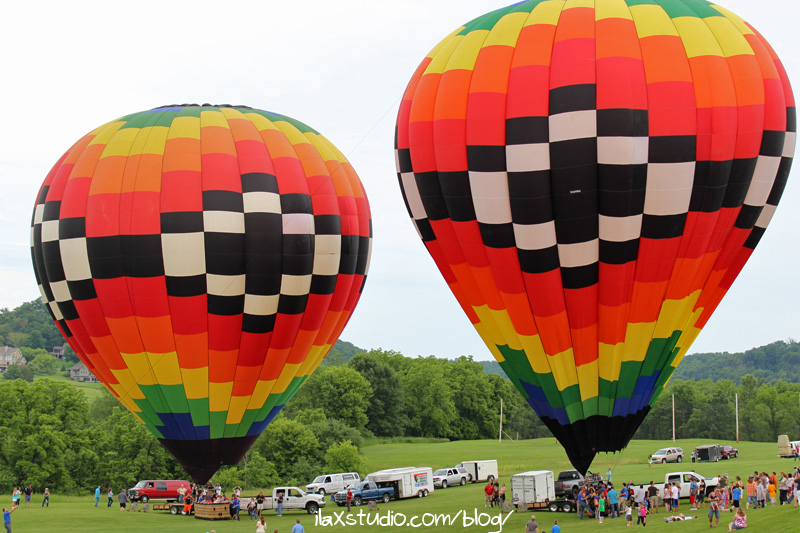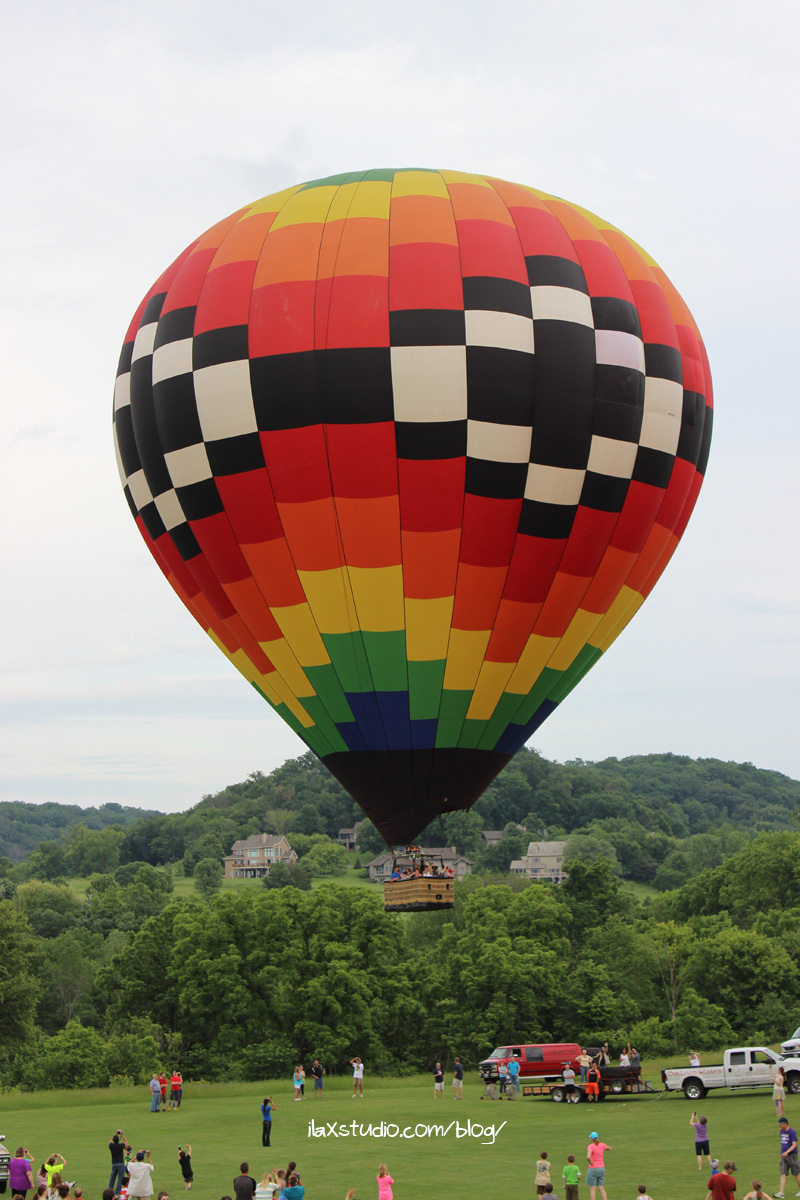 I had never been so close to a hot air balloon or seen how one was inflated, so I was really enthralled by the whole process!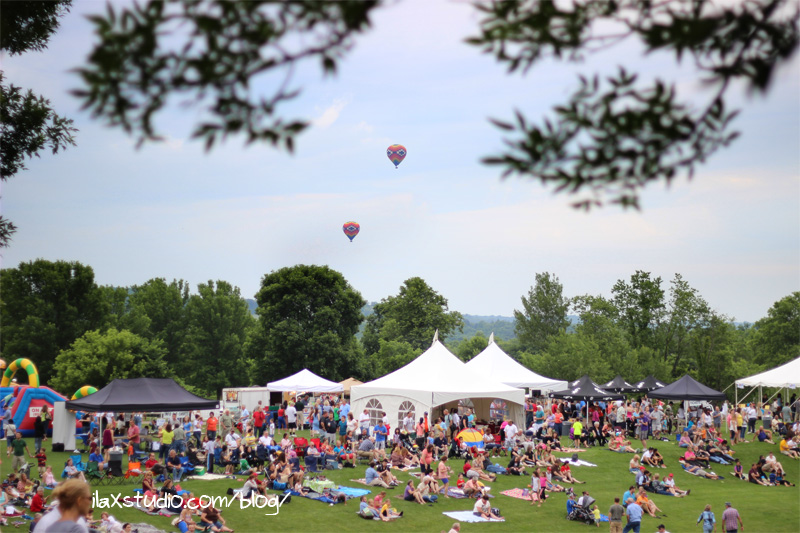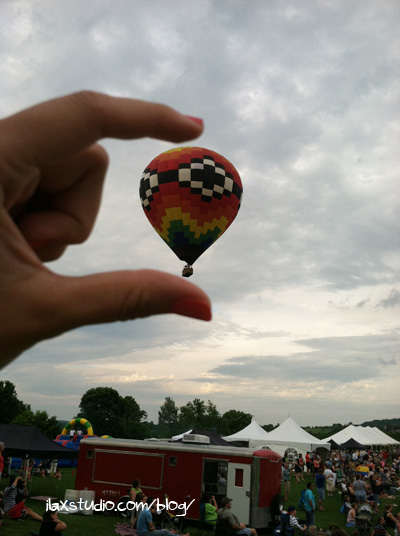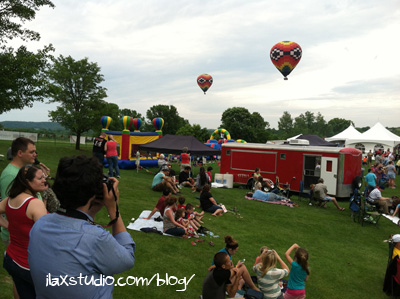 We had a sunrise balloon ride scheduled for 5:00 am on Sunday. As hard as it was to get out of bed after only a few hours of sleep, I was excited about the spectacular views we were going to see. 
Only! One problem. There were supposed to be two sunrise balloon launches, but when landing one of the balloons the night before, its basket got damaged by a fence. So we had to do what they call a "hop" – the first group would go off in the (non-damaged) balloon and we would chase them in the van (I told Steven we were like storm chasers <— me so funny…)  then they would land in a field and we would quickly unload and load one person at a time and take off. 
I was disappointed that we were in the second group and wouldn't have the sunrise views, but it turned out for the better because we got a longer ride! Which I will tell you why below…
We got to watch the balloon blow up again, but up close this time!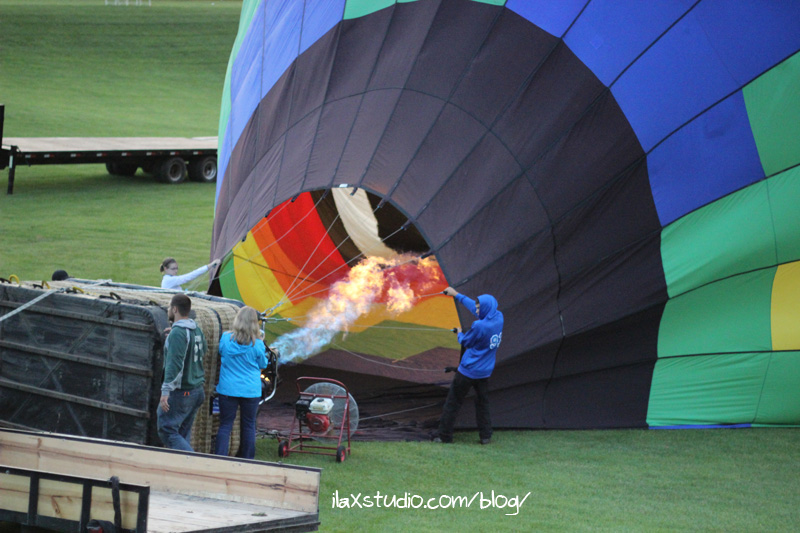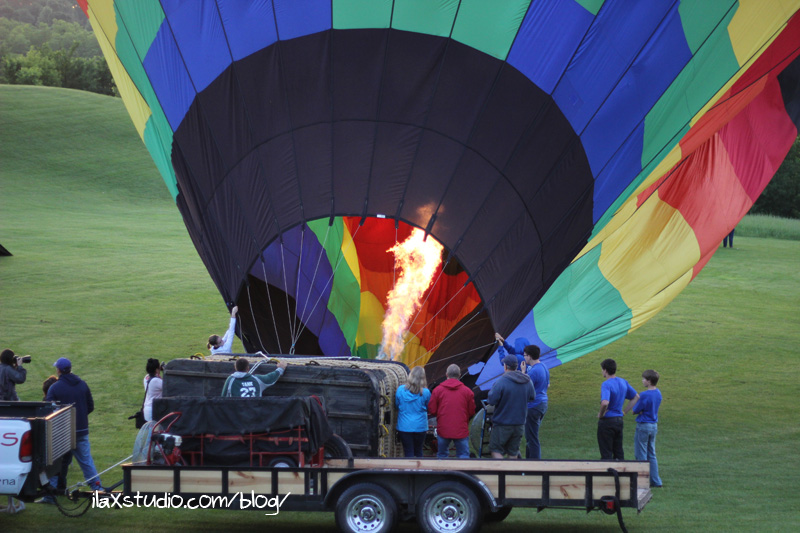 And they were off!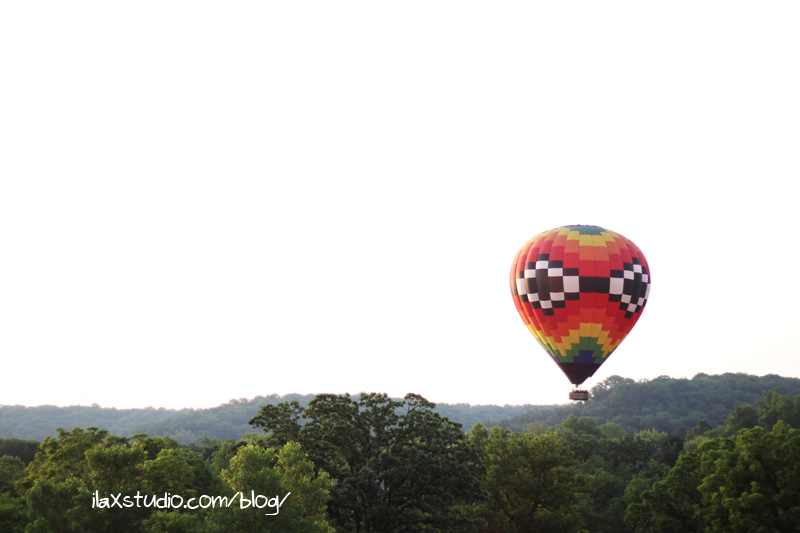 Our "chase" didn't seem like it took that long…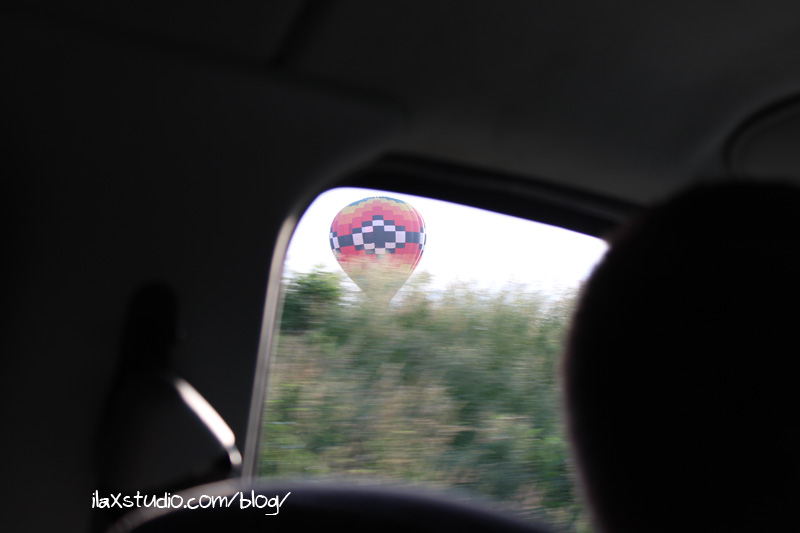 and it was quickly time for the "hop"!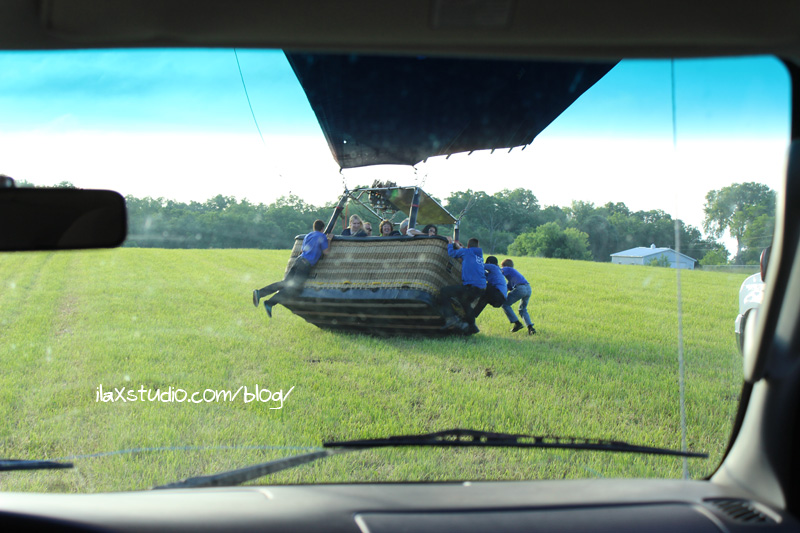 It is interesting that the basket started to tip like that when the first group landed, because our group had two smooth landings. Yes, two. Ha ha. 
We not so quickly (ha ha) unloaded and loaded one at a time, and took off! We stayed lower to the ground (400′ above) for the first twenty minutes or so.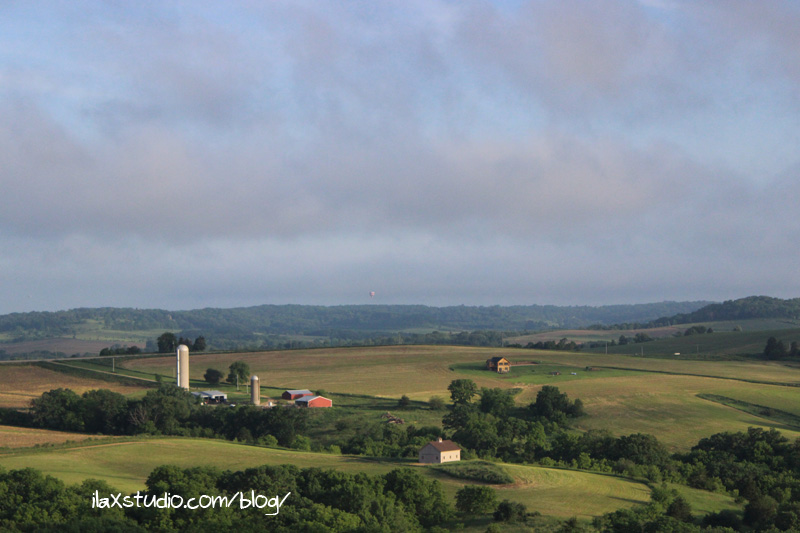 We were amazed by how smooth the ride was. And the propane tanks were not that hot… although they did drip from time to time. I noticed at the end that one lady had a white cardigan on, and it had spots all over it. Oops.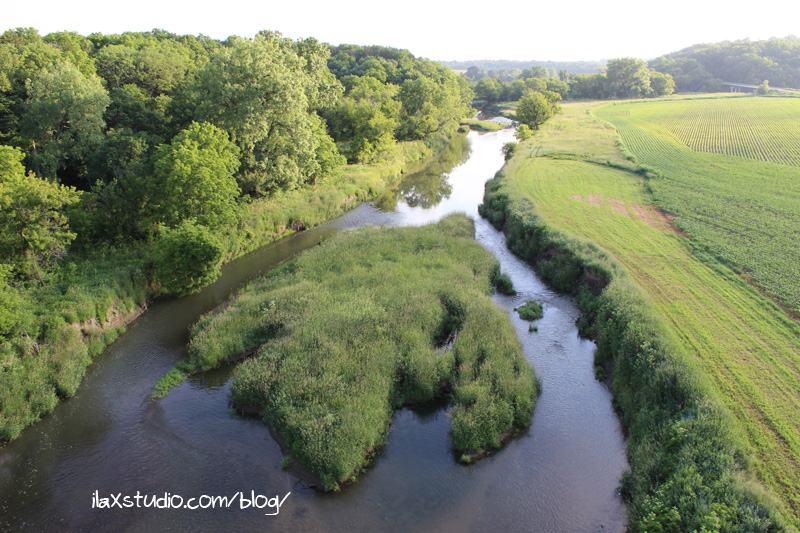 Anyways. The views were just beautiful. The fields, forests, farms, rolling landscape… the country is so beautiful to me. And we saw quite a bit of wildlife too. Lots of running deer… and lots of noisy cows. They would moo so loud when we would go over. I wonder what they were thinking!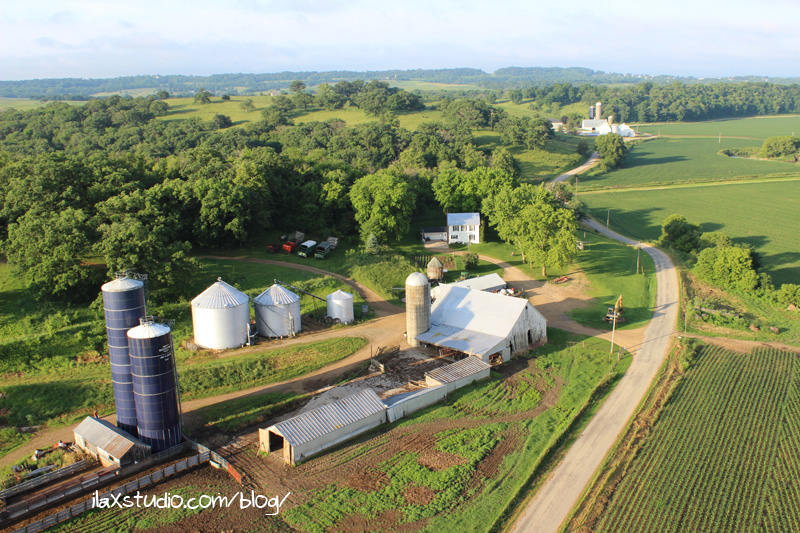 The ride was really comfortable. Very smooth, as I said. You stand the entire time. There is not a lot of space to move around (we had eight people on our side of the basket) but I didn't feel jammed or anything. The air temperature was nice, and we didn't have any issues breathing.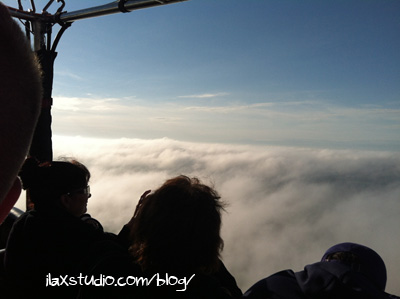 Eventually, we soared up a few thousand more feet. And flew among the clouds for a bit.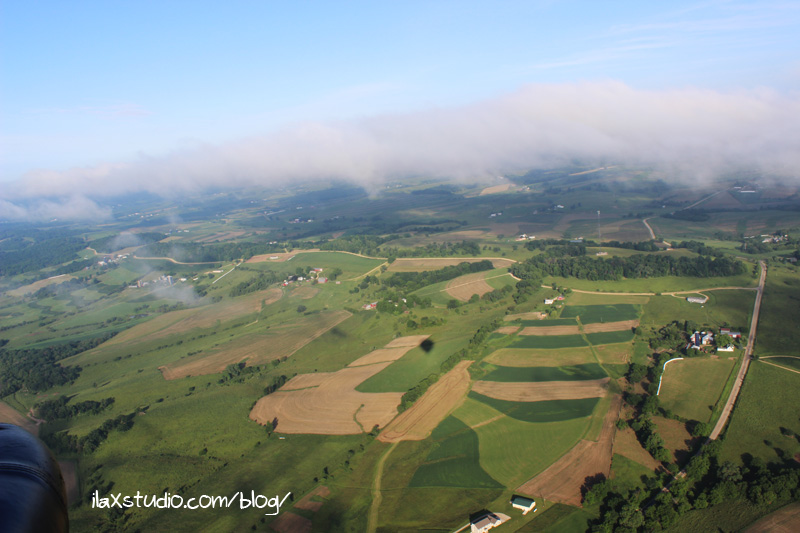 So, so peaceful!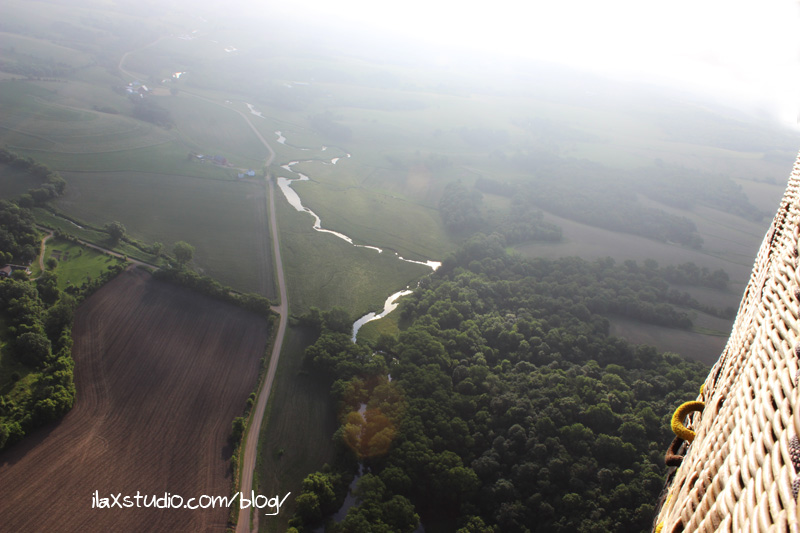 Our balloon pilot, Andy, was super charismatic. He knew a lot of random trivia, and shared it throughout the ride (we learned a lot about how hot air balloons operate!).
It wasn't until the night before our ride that Steven and I wondered how the balloon would get back to the launch site – as you just mostly go where the wind takes you. That is when we realized we would be shuttled back. Duh.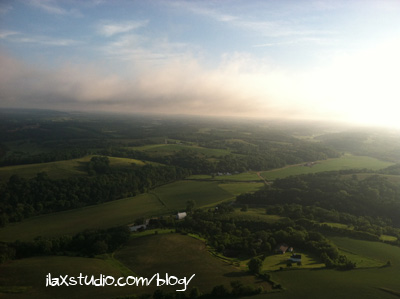 Because Andy flies in this area often, he knows most of the land owners and has agreements with some about landing on their property. But since we were doing a "hop," we were kind of going in to uncharted territory. 
While we were flying, he would communicate with the ground crew following us. When it was time to land, he asked them to go talk to the land owners and see if it was okay if we landed on their property.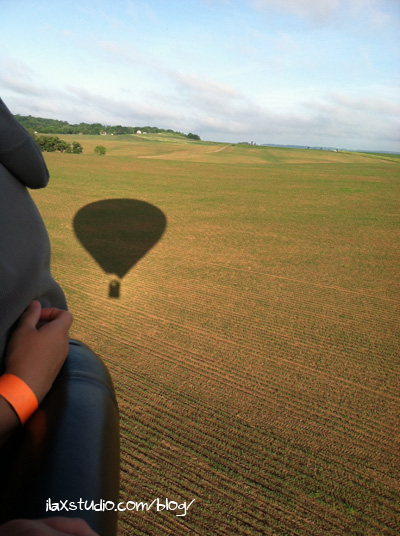 So we prepared to land – holding on to ropes inside the basket and with our knees bent to brace for impact. 
Ha! The landing was nice and smooth – no issues at all!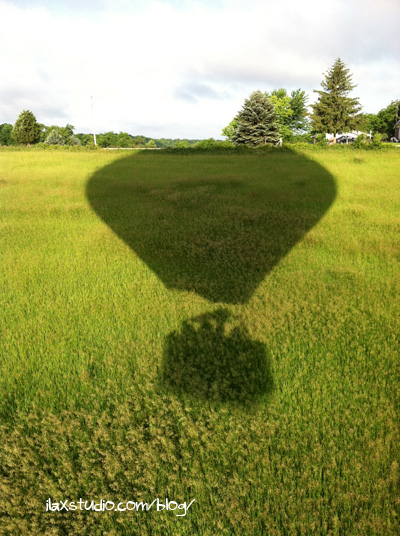 Only… the crew never got permission to land in that spot (the land owner wasn't home). Andy didn't want to upset anyone, so we went back up and tried to find a different spot and get permission from someone else. He told his crew to tell the land owners they could have a free balloon ride if we could land. Ha! I would say yes to that!
So we went back up to look for a new spot to land. I wasn't upset! We were getting an even longer ride! Ha ha!
We eventually landed in a field with tall grass (so that is why they tell you to wear close-toed shoes – I am happy that I did!). They still couldn't get the land owner's permission (also not home), but they talked to the neighbors about it.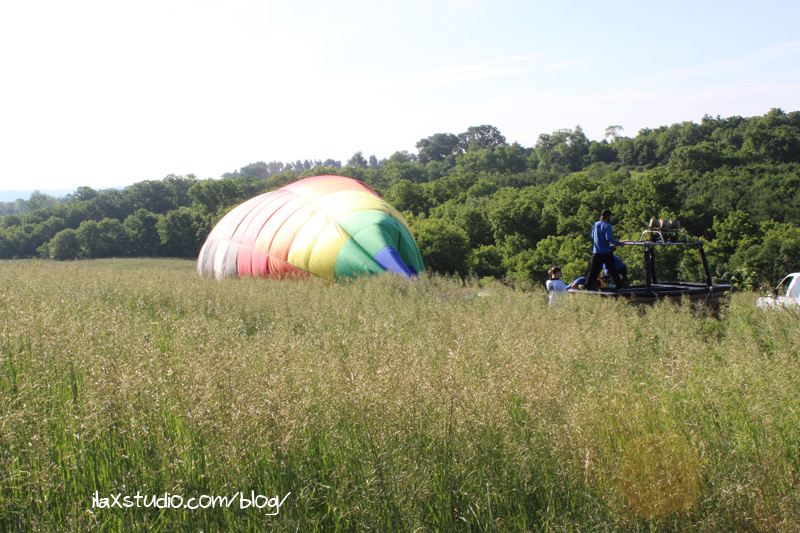 And with that, our ride was over. Well, after a van ride back, and celebratory champagne (at 8:00 am? Why not?!).
I knew that this entire event was started to raise money for the Juvenile Diabetes Research Foundation (JDRF), but I didn't realize until we were on the ride that Andy was the one who started it for his son. How cool is that?! And what an event it has turned out to be. I think they are in their 12th year! And Andy's son who has diabetes is part of the balloon crew (they run out to grab the basket when it lands and keep it from tipping over, and load the balloon back up when the ride is over). 
I am anxious to see how much money was raised for JDRF!
Anyways… I am leaving out a lot (like the kid on the crew that got shocked by an electric fence near our landing spot) but dang, this is already long enough. And I wanted to share some other photos from the weekend:
Hanging out with the traffic directors at event parking: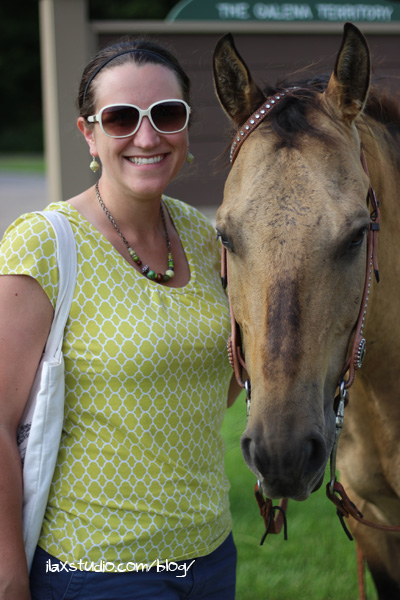 Enjoying a steam facial from some fa-jay-jays: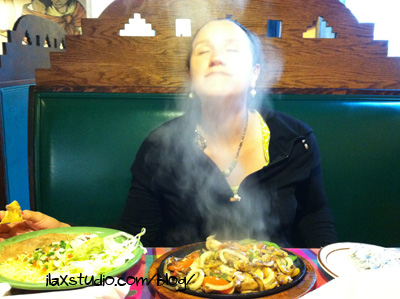 Making new friends: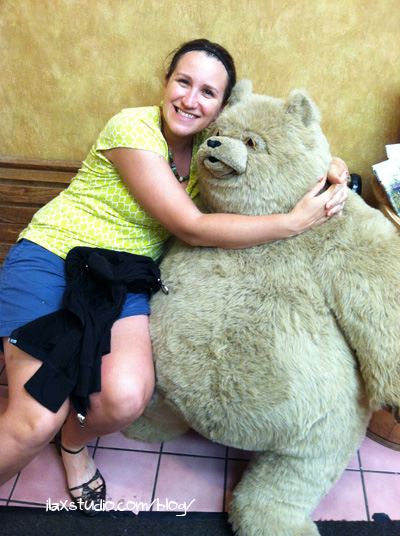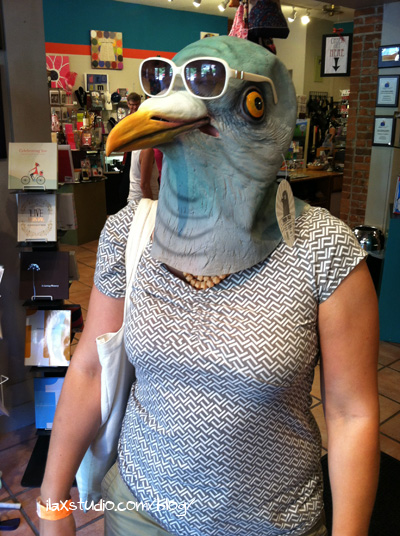 Trying a vegan restaurant in Rockford on the way home: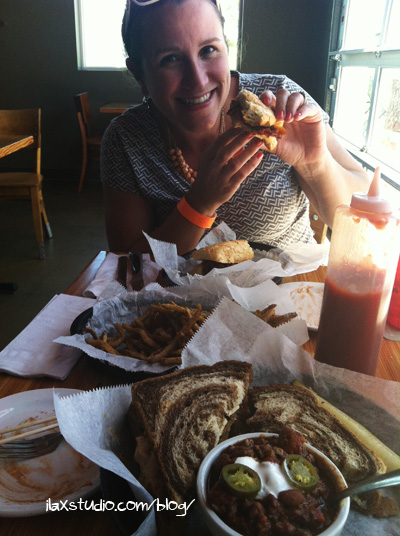 Following this sign on the way home: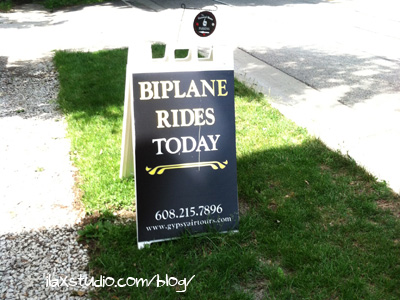 Almost! They were sold out. Darn it!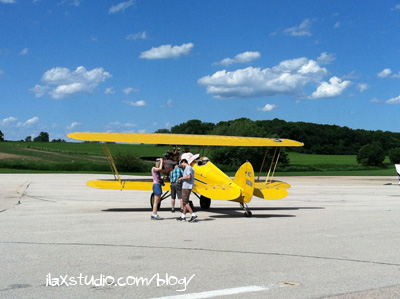 By
54 Responses to "On the fly"