Ha ha, my friend Evan shared this article on Facebook (and ensured us he read it) and I had to share it here (yes, I read it all too) – "The Less You Read, The More You Share" (pdf here).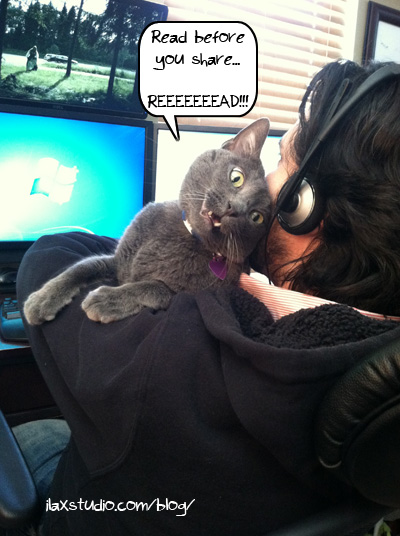 The article is based off of research on one website (Upworthy), so yeah, we know to take it with a grain of salt and all that, but! It's still interesting! Their research says that people are more likely to share an article without reading the whole thing than they are if they read the whole thing. They are actually basing it off of this interesting metric called "attention minutes" which includes time on the site and time per article. If you care about marketing, you might want to read the article, because they do bring up a good point that you should consider where information is placed in an article.
ANYWAY. Reading this cracked me the EFF up because I very, very often email articles to Steven without reading them. But, I am not even going to the site. Ha ha. I just see them in Feedly, see that it looks like something I think will interest Steven (i.e. robots), and send it to him. I do this a lot in email, and uh, not just to Steven. BUT! I never do it when I share an article in a public place (here or on Facebook) because I want to know what I am sharing with the public. Is that weird, or what?
Do you read 100% of the articles you share… before you share them?
And not entirely related, but I want to ask – Do you read an entire blog post before you comment?
We're all in such a hurry, aren't we?! I admit – blog posts that "look" long with lots of big paragraphs scare me away.
By
41 Responses to "Are you reading what you share?"