Had to use a quote from The Godfather for the title.
Do you have godparents? If so, what role do they play in your life? Are you a godparent?
The other day, I was asked to be a godparent!!!!
To my snister's cat, Dexter.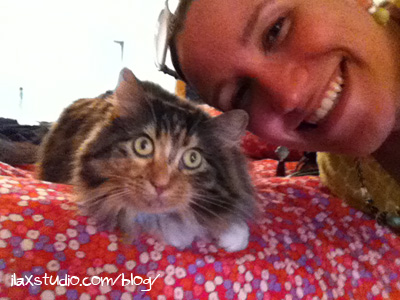 Dexter and me
Hee hee. 
Christina asked if Steven and I would be Dexter's godparents, in the case something happened to Christina and Will, we would go to Kansas City to get Dexter and take care of her. 
I said of course! I also said that I may have to ask Steven's brother (who also lives in Kansas City) to go get Dexter until we could get there, but that I would be happy to be her godparent. Does this mean I also need to help Dexter on her journey through faith and religion?!
Okay, totally joking about that last part (although Christina said I can take Dexter to church when I take Data, ha ha). But I tend to think of godparents in the religious sense, not the guardian sense. Which is why I think I will never be asked to be a godparent if it's for religious purposes, because I am not a religious person. But I can definitely be one if it's defined by wikipedia's secular definition of a godfather: 
The secular view of a godparent tends to be an individual chosen by the parents to take an interest in the child's upbringing and personal development.
And I am not trying to make light of the religious definition! Christina asking me just got me thinking about all this. 
If you have kids, do they have godparents? What role do you want them to play in your kid's life?
By
33 Responses to "I'm gonna make him an offer he won't refuse."