When you are reading and run across a "big" (or hey! a "small") word that you don't know the meaning of, do you make an effort to look it up and add it to your vocabulary? Or do you skim over it and just try to figure it out from the context around it?
I was reading this article "Big Words Are Fading, But Many People Still Love Them" (pdf here), and it made me think about how when I see a word I don't know, it's about a 50/50 chance whether I will look it up or not. I try to figure out things via context, but sometimes, it's not possible, so I look it up. My eyes tend to skip over words I don't know – I have a really hard time with pronunciation, and the easy route for my brain is to not figure out how to pronounce things. Brain! You so lazy!
Funny, that I bought this book (below) years ago and was so pumped about the exercises I wrote about them here, and would even do them long-distance with Steven (when I was traveling for work). Hmm, maybe I will pick it up, again? Riiiiiiiiiiight.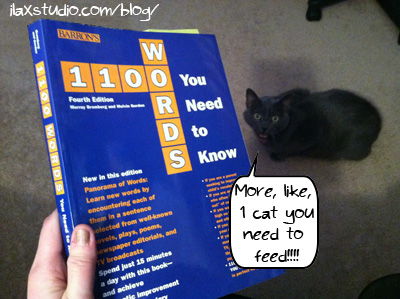 That article is actually really interesting. It mentions that technology is encouraging us to shorten our words – for time and space's sake. Even the SATs are being modified to "drop obscure vocabulary words."
And of course, it was fun to read people's reactions to others using "big words" on them. As I started reading the article, people came to mind who I perceive as using "big words" to sound smart and confuse others, and sure enough, this point was made in the article:
If you are using $50 words to show off, and you know people will not understand them, then that is unkind and annoying, and they have a reason to react negatively.
Hee hee. 
It also gave tips for big word lovers, on how to read people and know when to use them. You know, writing that almost makes me think we are getting closer and closer to Idiocracy, but nah, if something can be explained with one simpler word, or a few simpler ones… that isn't really a bad thing. I would rather focus on my communication skills (which need some work) than big words. 
For S&G, here is a list of words used in that article that I would have to look up to know the meaning (especially since many were used as examples and not in context). How many of these do you know, off hand? Yeah, I should know quite a few of these! And I think it's funny that spellcheck thinks a lot of these aren't words. Ha!
ebullient
innocuous
malodorous
prevaricator
sagacious
ignominious
empirical
otorhinolaryngology
fastidious 
esoteric
penultimate
non sequitur
didactic 
circumlocute
obfuscate
perfidiousness
excogitate
perspicacious
remunerative
vicissitudes
By
34 Responses to "Big words"