Growing up, did your parents ever call you someone else's name (probably a sibling's) by accident? What was that name? Do you do it now to your kids, or pets (as that is the discussion that actually inspired this post), or anyone else?
This probably doesn't happen to only children? You guys tell me! But growing up (and now), my mom and other family members sure did call us by the wrong names quite often from time to time. Our names are Nicholas, Kimberly, Anthony and Christina. But sometimes you were called by another sibling's name. Sometimes names were combined – Ant Kim, Ant Nick, Ant Chris (not sure why Anthony always came to mind first). Ha ha, even this weekend, my mom was looking right at me, and called me Christina! I ignored her of course, just to be a brat.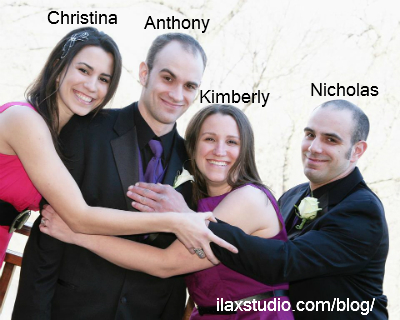 This came up at work, after I asked my coworkers if people ever call their pets by the wrong sex (Data is not a "she" or "her," dammit!). They said no, but one person said they do get their own pets' names mixed up, the same way their parents used to mix up their sibling's name with theirs. Ha ha. Maybe that trait is hereditary!
I sometimes get people's names mixed up and call them by a different student's name when I am teaching class. Hey, lack of oxygen to the brain, give me a break! And, very oddly, when Steven and Nick (my brother) are together, I sometimes swap their names by accident. Weiiiiiiiiiird. 
By
39 Responses to "That's not my name!"