What kind of milk did you drink, growing up? And now?
Ha ha ha. I know! Soooo completely random. But I think it's interesting to find out… we drank skim cow's milk in our house as kids, so anything heavier than that always tasted extremely gross to me! But! I know that people who are used to 1%, 2%, or whole would think skim was n-a-s-t-y. Hee hee.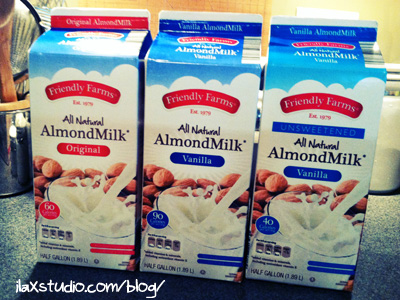 Now I drink vanilla almond milk in cereal, or bake with it or soy milk. I am not the type to drink a glass of milk. It's not appealing to me, and it upsets my stomach (even though it's not from an animal). Even eating a bowl of cereal with milk gives me an upset stomach. Bizarro! Luckily, I can have small amounts of it in smoothies, baked goods, chai lattes, etc. TMI. Ha ha.
By
23 Responses to "Friday Question 251"