Do you ever feel the urge to try a new route to get somewhere, even if it's a place you've traveled to before? (Ha, and I mean this quite literally – driving or running or what have you. Of course, the question could take on other meanings, too.)
We've been on the road a lot lately, mostly to places we've visited before, but to some new places, as well. We've been checking out different routes to the places we are familiar with, and trying somewhat separate routes (go a different way there than back) to the new places.
It's reminding me how much I enjoy the excitement of "seeing what's out there." I get way overly enthusiastic when I see a brown informational sign on the highway. WHAT COULD THAT POSSIBLY BE?!?!?! I feel like I need to pull over to check out every little "point of interest."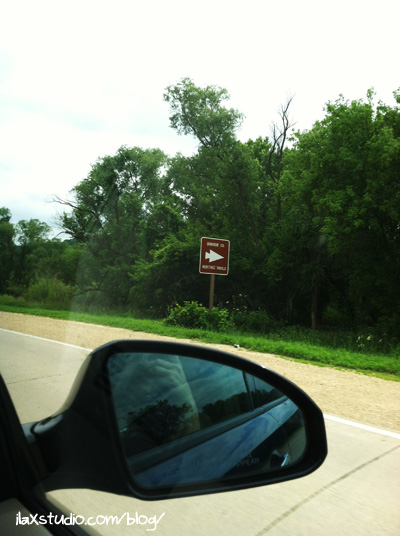 I don't, but I mentally note them, and sometimes research them later. 
On our Thursday drive to Iowa, we went through southern Wisconsin instead of our typical Illinois to Iowa route. It was mostly curvy, hilly back country roads. The landscape was so beautiful, it made the drive fly by. We drove through a cut rock road that was really neat! I'd like to drive that route again and stop to take photos. 
And on our trip back on Sunday, we went a bit out of the way to drive through a little town we had been in the night before for fireworks. We had driven there in the dark and just that was an interesting ride – we were curious to see what it would be like in the daylight. It was another curvy, hilly road – even more so than the one we had taken a few days earlier. It added a few extra minutes to our trip, but I felt like it was totally worth it to check out the landscape and little towns on the route.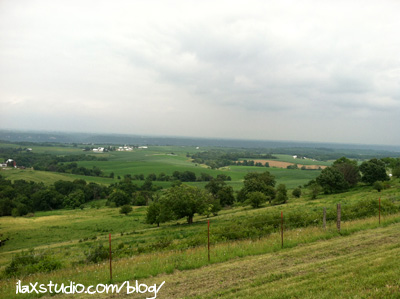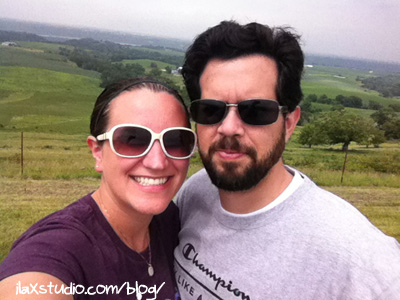 We have a lot of traveling this summer, and I am excited to see where else we end up. Sometimes I explore new routes for local travel, again, just to see what else is "out there," but I am definitely more likely to do it during leisure trips!
By
28 Responses to "Taking a different route"