Gosh, I love trail running. Even with my slower pace, falling, and squeaky shorts… I can't NOT enjoy myself on the trails. Especially when I have my trail buddy, Rachel, with me. This weekend we ran 10 miles at the Psycho Psummer Trail Run (put on by Trail Nerds) in Wyandotte Country Park in Kansas and had an amazing time! I've already got it in my head that we need to do this race next year (and go for the 20 miles we originally signed up for, ha!).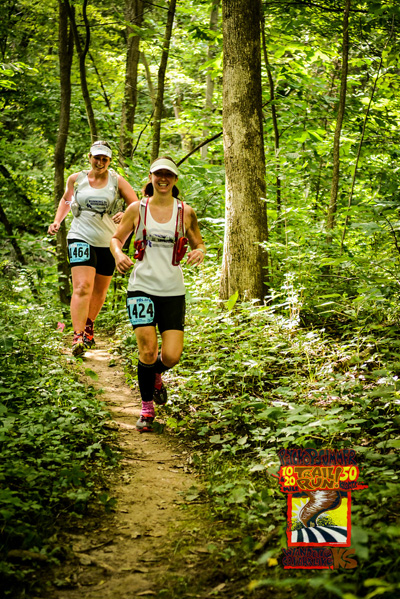 Why a race in Kansas? Ha, why not? Really though, we were casually talking about how neither of us have ever been to a game at Kauffman stadium (where the Royals play). We discussed dates, one miraculously worked, and when I found this trail race, I knew it was meant to be! And with a course description like this, how could we NOT drive over 500 miles to do it?!
A beautiful but challenging run on hilly single-track trails. This course is very different in many ways from the February "Run Toto Run" Race. 50K Run, 10-Mile Run, and 20-miler. All on bridle trails and single-track trails. This is a rocky and hilly UNPAVED loop course. 9-hour time limit.
The course was a 10 mile loop you did one, two or three times, and we signed up for the 20-mile option. We're of the mindset "the more time on the trails, the better"… but we also had a baseball game to get to and we wanted to spend some time with my family before, so we hoped to be done with the 20 miles around 1:00 pm. With the race starting at 8:00 am (for 50k and 20-mile, 10-mile was at 9:00) that gave us five hours – a 15:00 minute mile pace. No big deal, right…? Hee hee…
It was nice to "sleep in" a bit the morning of the race, especially after the long (but so fun) drive the day before. We were out the door around 6:30 and made the short drive from my father-in-law's to a church parking lot, where we were being bused from to race start. I wasn't sure about the buses – would we have to wait long to get a ride? But we didn't have to wait to get there or get back! Awesome! Logistics for the whole race were this easy – everything was really well organized, the course was marked great, there were plenty of port-a-potties, food, and so on. Trail Nerds puts on a great race!
We did same-day packet pickup, and I was really excited that we got a mug*, pin, and shirt, and with such a cool design!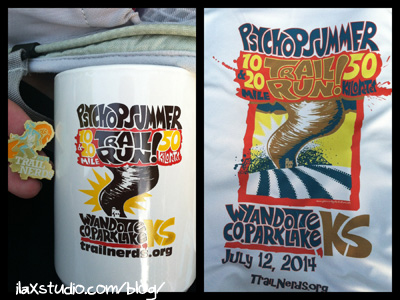 I put the pin on my vest (queue ominous foreshadowing) right away. We body glided, put our bags in gear check, and it wasn't too long until the race started!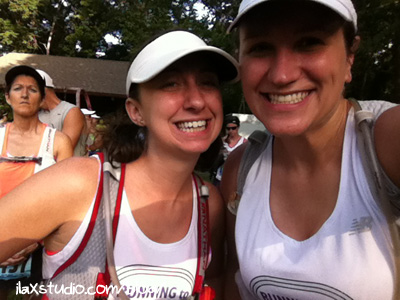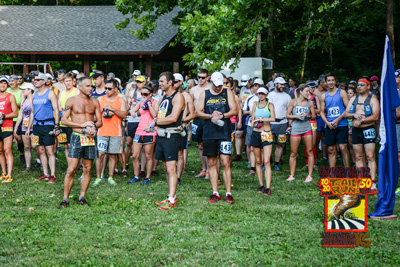 Everyone had been warning us about the heat (really, telling us we'd be miserable, except Trail Nerds, who just said to prepare). It's hot in Kansas in July. It was 84°F with 51% humidity when we started and 89°F with 45% humidity when we ended. That is probably the hottest I have ever started a race. Rachel and I laughed when we were researching the race and saw how many people do the race shirtless! But we weren't worried. We had our water vest (you were required to carry water in something) and were going to take it easy. We weren't out there to RACE.
And guess what? The heat didn't bother us at all. The course was almost completely shaded. And for the most open portion that wasn't shaded, there was a breeze. I didn't have any chafing despite being completely drenched in sweat. So, yay! for the heat not being an issue. 
Alright! About this course!
One thing that intrigued us in the race photos we saw before (which were FREE by the way! how awesome is that?!) is how rocky the course was! And it started out that way!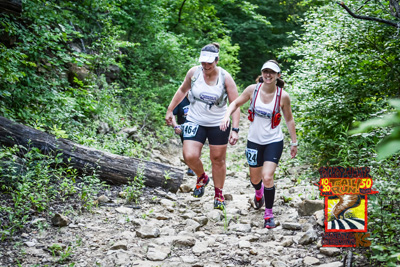 The first few miles were up and down (it was ALL up and down) with some single-back dirt trail (always with roots) but a lot of rocky crossings, too. We always walk the uphills in trail races, but we had to carefully walk a lot of the downhills that were so rocky! Can you imagine falling down that?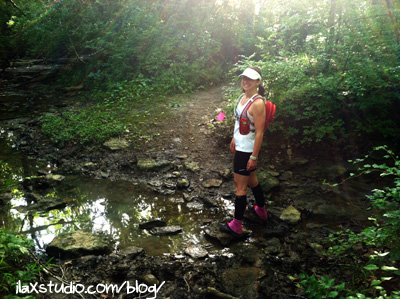 Don't worry, we both made sure to have our falls just be in the dirt. Ha ha. Rachel won for first fall of the day, shortly after our first manned aid station (there were also unmanned water jugs out there for us). We got to the switchback portion, which was where we were able to do most of the running – it seemed to have the least roots and rocks. But Rachel tripped over a little root sticking up in the trail, and got right back up… covered in dirt. We laughed – falling when running trails is expected for us!
I really liked the switchback part of the trails. We quickly ended up in the back of the pack (as we expected) but we could see more people on the lower parts of the switchback, which was fun! And, obviously, it made the hills easier, since they were gradual!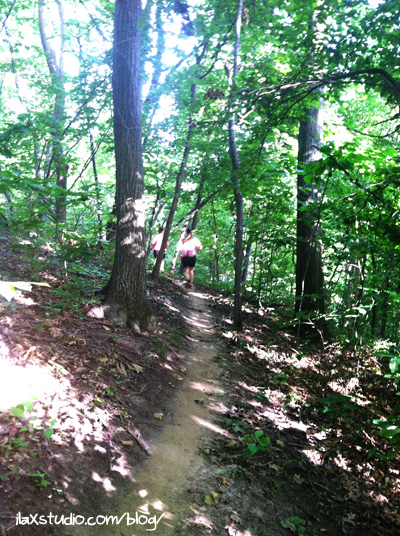 The course went around a lake, and every once in awhile, we'd get a peek at it! I kept hoping we'd get to run along it at some point!
But first we had to run by a snake (can you see it?):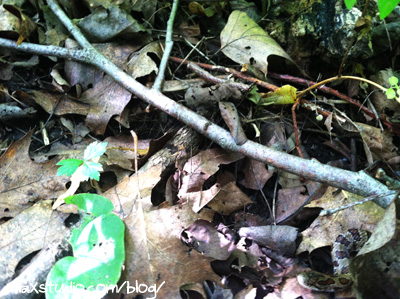 Then get our photographs taken as we slowed down to climb over a log, ha ha: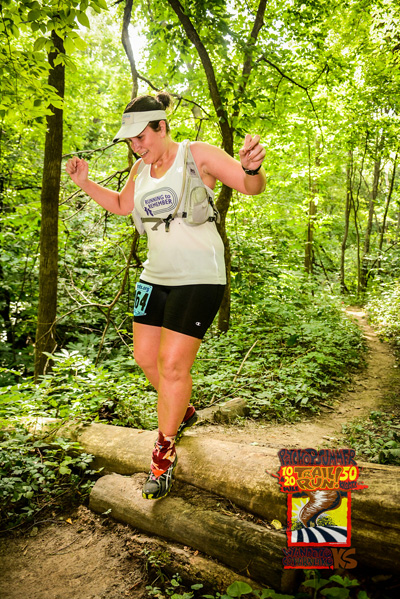 Then we made it to the second manned aid station, and it was AMAZING! All of the aid stations were. You got there and you were treated like VIP. They asked you what you needed when you got there, and got it for you.It was like having your own personal race assistant. I was really impressed this aid station had grilled cheese sandwiches and bacon! I didn't go for that (ha ha) but I ate a ton of chips and pickles.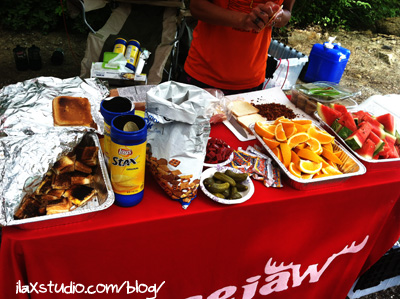 Then we kept running and got our view of the lake!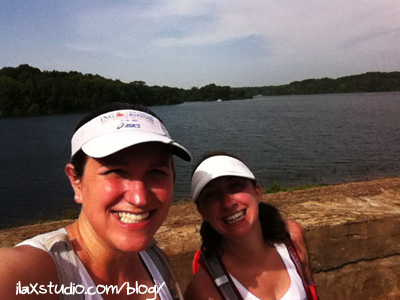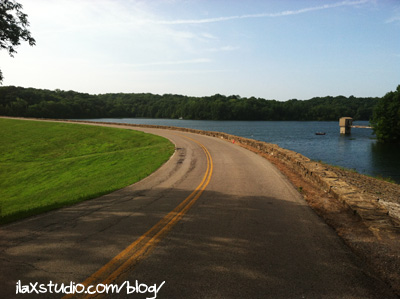 At that point we were a little over half way done but I could tell we were not on pace. I had switched my watch over just to show overall time (not mileage), and when they told us the mileage at the aid station I realized our pace was not where we thought it would be. The course was much more technical that we expected! Nothing bad about that… it just slowed us down. 
We kept trucking along, back to more single-track, roots, hills and rocks. The 10-milers, who started an hour later than us, started catching up and passing us. They almost always called they were coming, so we'd just get over and let them pass (and admire the shirtless males). We could NOT believe how fast they were running, and their agility up and down the hills! They were amazing! The 10-mile and 50K winner had an overall pace in the mid 7:00s!!!
At one point I noticed the new pin that I put on was clinking with another pin on my vest. The noise was bugging me so I went to adjust it… and wasn't looking at the trail and had my crash. Ha. I did not get up as fast as Rachel, but I was quickly laughing about it. 
When we got to the next aid station, they came up with towels to wipe us off, and we were all "NO! Get our picture first!" (then wipe us off)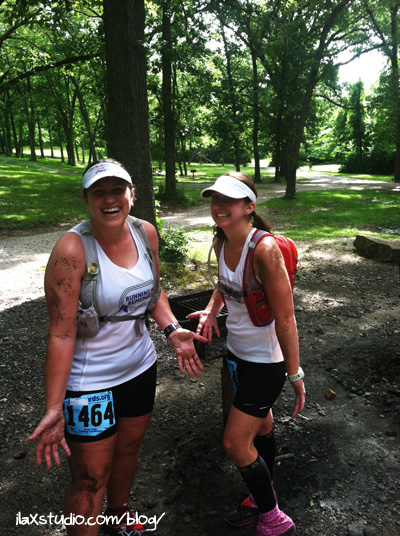 We took some other goofy pictures there, too: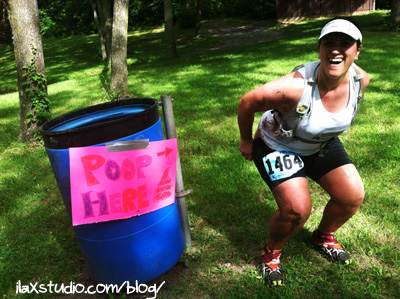 The volunteers at the aid stations were so great. The mile 7 aid station (above) put all these fun signs up before and after their stop. We hung out there for quite awhile… oops (not really!)?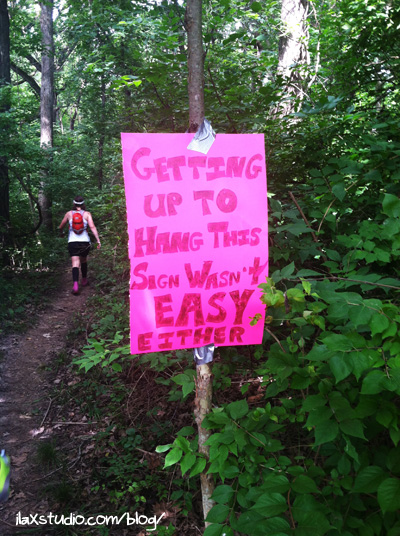 After we left that aid station I heard this weird whistling noise every time I moved. I thought something was going on with my vest… then I realized my shorts were so soaked in sweat they were making a squeaky whistling noise. Ha ha ha. Again, I am AMAZED I had no chafing, and felt so good – all that water, salt and the electrolyte tabs really helped (my hands and toes did swell though, and my toes were still swollen the next day).
The last part of the course had the steepest, rockiest hills. The three hills are named "the three sisters" (see elevation map here). We were struggling just to WALK up them. Fasties would pass us and start to run up, but even they had to stop to power-hike their way to the top.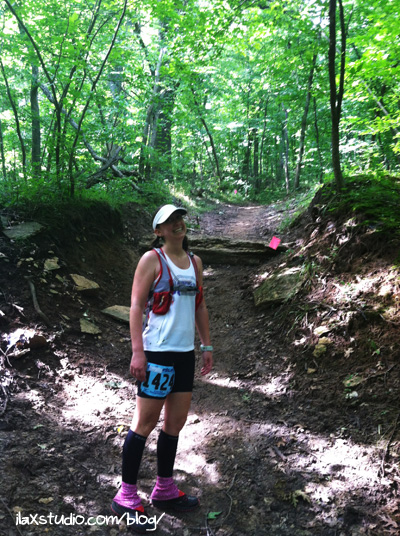 As we got closer to the end (and more and more people passed us) we started discussing if we wanted to stop at 10 or do another loop for 20. We had talked about this before the race as an option if we didn't feel good because of the heat. And we actually felt great, heat-wise. But we were a bit sore from our falls (my ankle must have twisted), and since the first loop took us three hours – much longer than expected – we had no idea how long the second loop would take. Maybe four? Which would get us back in a rush to get to the baseball game, and then we might be too fried to enjoy the game**. 
So we got to the finish and decided to drop to 10 instead of keep going.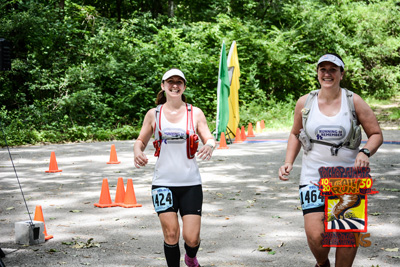 We felt completely fine with this decision, until the volunteer at the finish made a really sad face when we told her we were dropping. Rachel and I reassured her we had a blast… just that we had too much going on that evening and didn't want to feel like crap. Ha. That is probably not a thought that ever enters a true trail runners mind. TRAILS FIRST! TRAILS BEFORE BASEBALL! TRAILS BEFORE FAMILY! I asked the volunteer if we were the only ones to drop and she said no… I wonder if everyone got that sad face when they delivered the news. 
Ha. I was just happy that we got a medal, for doing the 10 miler, too. And it's really neat!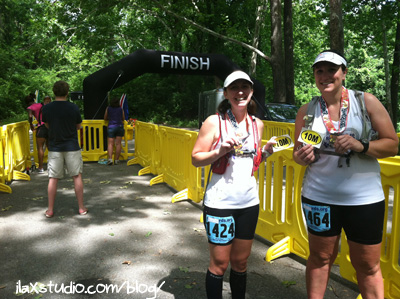 I felt so happy the whole time I was doing this race. I never had that "ugh, when is this going to be over?!" feeling, like I sometimes do at road races. And since I had never run this course, every turn was interesting and beautiful (as I bet it is for people who run it over and over!). It's actually kind of nice we had to go so slow, and take so much in.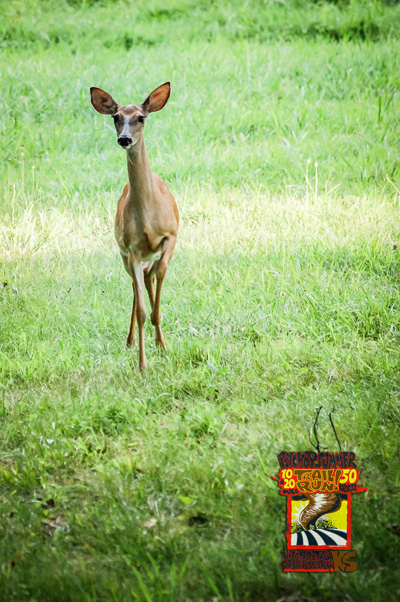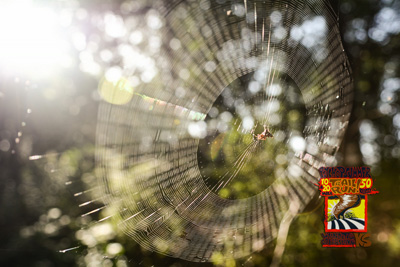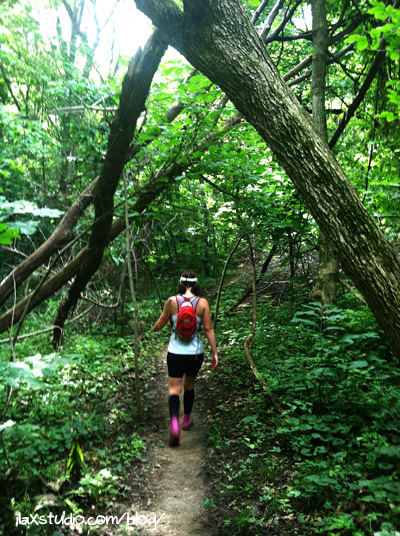 And I love running trails with Rachel. Our approach to trail running aligns perfectly. And we have fun whether we are chatting, simply saying what a beautiful view/fun course it is, or just running in silence (plus squeaky shorts) together. It's kind of selfish, but I am hoping Rachel and I can do another trail race together this year! Local is fine, ha ha – trail communities everywhere seem to rock, as this one did. Everyone was so friendly (runners and volunteers) and nice. We had fun chatting with a few different people, and just admiring the different types of runners that were there. It's true that the trail community is very inclusive!
*I got the coffee mug and Rachel got the beer mug
**It's really good we stopped when we did at the race, because the game was SO hot for the first 5-6 innings. It was in the 90s, and despite being in the shade, we were all really feeling the heat. I think if we had done two loops that day we might not have enjoyed the game, which was the starting reason for the trip!
By
41 Responses to "Psycho Psummer Trail Run Race Report"