Wow. RAGBRAI was so much fun. It completely exceeded everything I imagined it would be. I can see why it's something people do over and over again!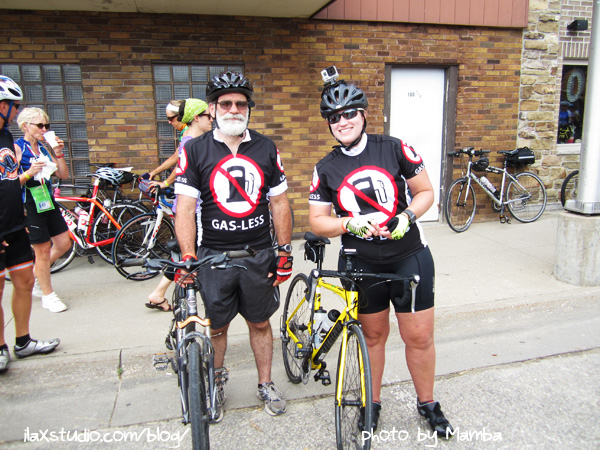 And that I got to ride it with my dad is so darn cool. I love to see him challenging himself with these workout goals… and enjoying them, too! 
So let's see… last year I asked him to run a 5K with me "for my birthday," and we did that on July 27. This year I asked him to cycle 70 miles with me "for my birthday" and we did that on July 26. Any ideas on what I should ask Dad to do next year? Ha ha ha. He already said no to a swimming event. 
Let's back up a bit. What is RAGBRAI? And wasn't I supposed to ride this with Will? (Skip the next two paragraphs if you already know the answers to these questions!)
RAGBRAI is an acronym for the Register's Annual Great Bike Ride Across Iowa. It's a non competitive biking event that started in 1973 when two writers for the Des Moines Register decided to bike across Iowa, invited readers to join them, and wrote about it during the event. It's grown each year, and now it's a week long event, that includes a start point (at the Missouri River) and an end point (at the Mississippi River) and six overnight stops in between. It maxes out at 8,500 week riders and 1,500 day riders (but so many ride without registering).  The total route varies between 400-500 miles each year, with varying distances between stops, and a different route each year.
You can ride the whole week or get day passes, and this year, the route was perfect for me to ride the last day – it started near my hometown, and ended in the town my grandmother lives in! I signed Will and myself up in January, then he found out in April he had to be in a wedding the same day as the ride. It just didn't work out. So I asked my dad in April if he would take Will's spot (he officially transferred his name) and he (eventually, ha!) said yes! Woo hoo! I think he actually put more miles in training then me, and even got slicker tires for his bike. He was ready to go!!!
So on to the start, already!
You can begin the day's ride as early/late as you want. You just have to be to the overnight town by a certain time.  I wanted to hit the road (cycling) by 7:00 am. I was thinking we would average 10mph with stops, and finish at 2:00pm… giving us enough time to hit up the beach and soak our tired legs in the afternoon. Ha ha, priorities!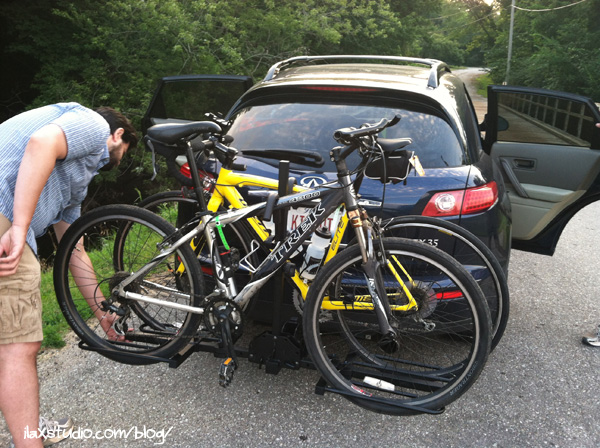 Steven ordered a new bike rack to use for this event (and after) and I LOVE it – it's so easy to use!
We picked my parents up in my hometown, to make the thirty minute drive to the start in Independence. The coordination of this event is a bit tricky (and even more so for people who do the whole week!), since you start and stop someplace different. How do you get to the start and back home from the finish? Luckily, my mom and dad left a car in the finish town earlier in the week – so that they would have a way home after the ride, and Steven and my mom could use our car during the ride, then we could drive it home after. Confusing, right? Anyway.
My mom's brother, Rob, was actually riding the entire week of RAGBRAI, so we met him to start together in Independence. He looked pretty… rough. He said he was happy to be almost done. I'll get in to it more later, but I think I would like to do this again, but probably only a day or two.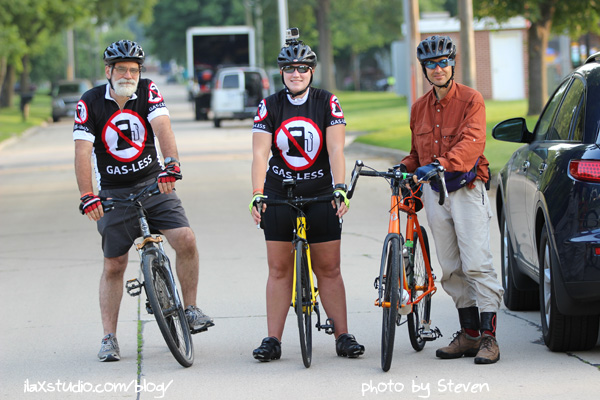 All week I had been planning what to bring in my jersey. I didn't want to bring anything I'd not use… or forget anything. I am happy to report I used everything I brought!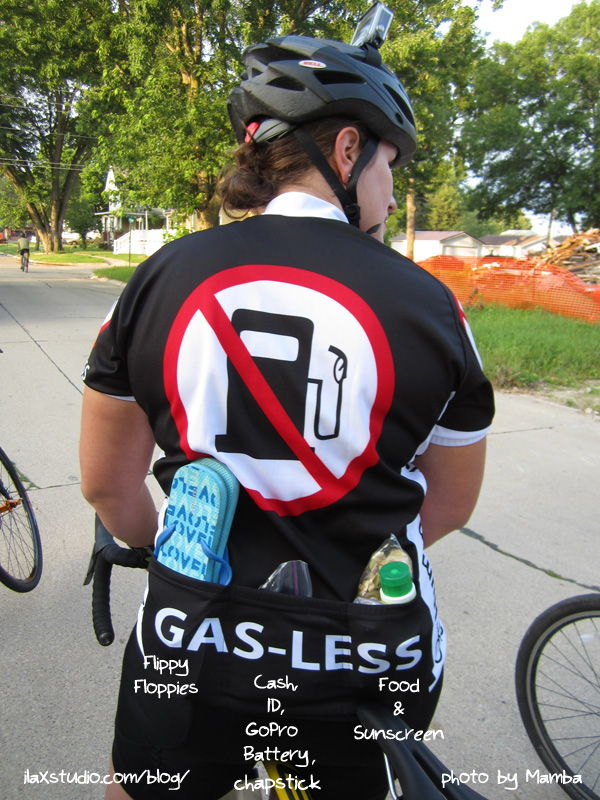 Oh, and we got SO MANY comments on our jerseys, which is funny, because the review I read on Amazon (where I bought them) said the same thing. People really think they are funny! "Did you guys run out of gas?" "You should eat more beans and fiber!" "I don't think my wife would let me wear that!" Of course, I got them to be a bit funny… we aren't always so gas-less.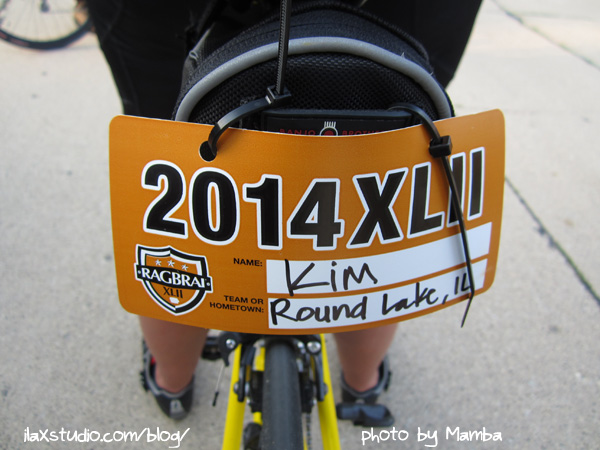 I wasn't quite sure if there was a specific "start" point in town. Looking at the map, it looked like there was a road "out" for the day's ride, so we just got close to that, and soon enough we joined up with a huge group of cyclists!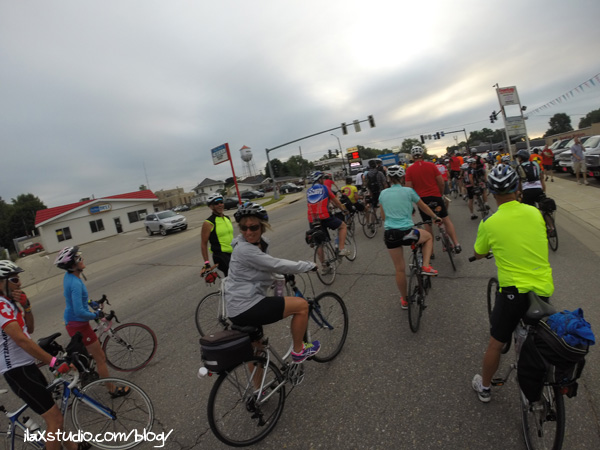 Riding in such a big group was really exciting. There was a great vibe/energy to it. Dad and I both agreed it was most fun when we were around a big group. And mostly everyone had fantastic riding etiquette, calling passes, calling out rumble strip or cracks in the road, car up/ car back, signaling if they were coming on or off the road. I never felt worried or boxed in or anything (we did see a few crash aftermaths though – not sure if it was people colliding or just falling off their bike).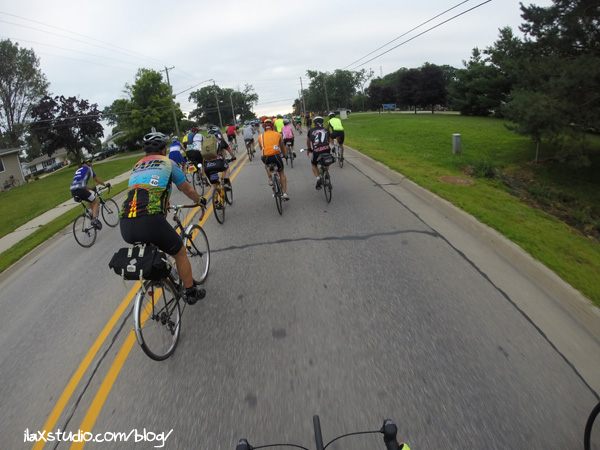 We had a loose plan to see Steven and my mom in a few of the pass through towns – we would be going through a total of five of them!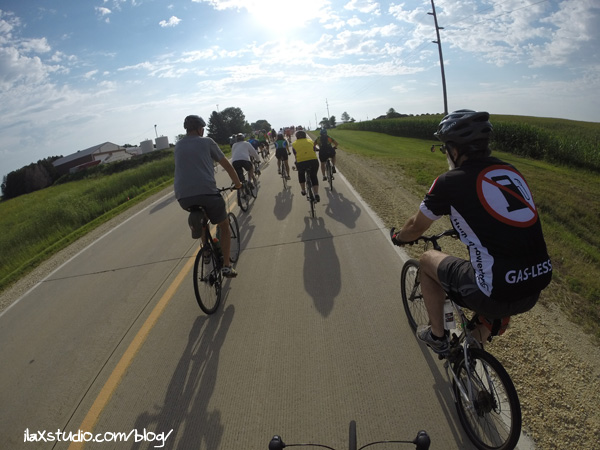 The pass-through towns have everything the riders need – drink and food (for money and some for free), porta potties, bike maintenance, and entertainment.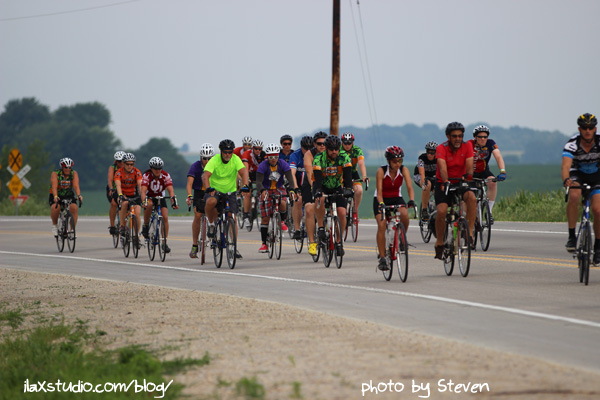 We'd only been riding for a few miles when we saw Steven and my mom up ahead! They were driving along a parallel route to us on the highway and saw bikes so they decided to take an exit to the course and happened to see us! What a great surprise!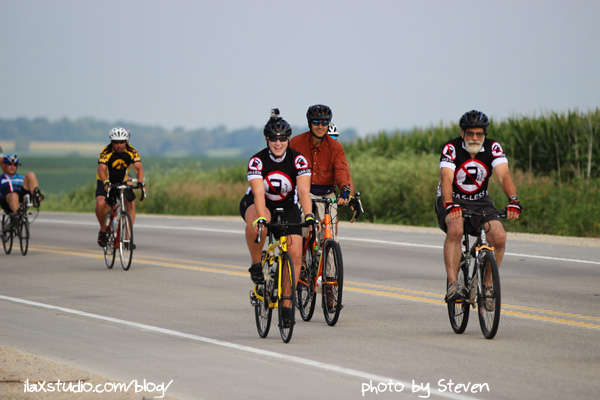 The start of the course was flat, and we didn't have much of a head wind. My dad was commenting on how we were cycling miles in the 3:00s – which was much faster than the 4:00s he had trained in. We were making good time!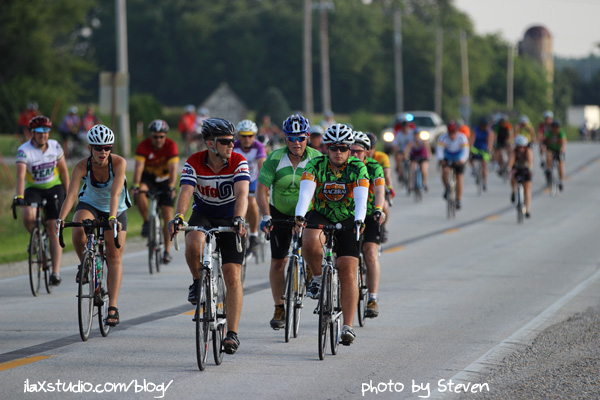 We skipped the first pass-through town, but stopped in the second (Lamont), to see Steven and Mom. It was really easy to coordinate with them because I mounted my phone on my handlebars and they would update me where they were (at first I was using Glympse but it drained my battery like whoa).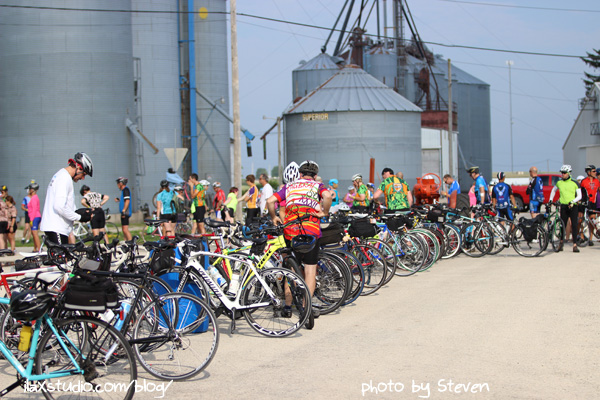 In the first pass-through town, you could still cycle through, albeit slowly. In this one, you slowed down to walk your bike. It was just after 8:00 o'clock, and they had all sorts of things cooking, and loud music playing. It was very festive!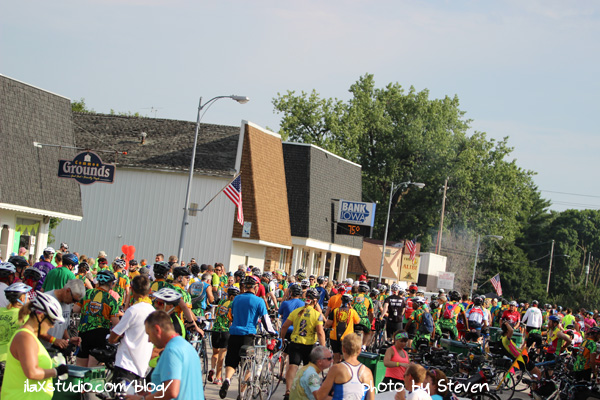 We hung out a bit with Steven and Mom, eating and filling up our water bottles. I should note – Dad and I mostly ate food that we brought. We had food in our jerseys (GU, Clif Shot Gels, gummy candies, banana chips) and every time we saw mom, she brought a bag filled with dried fruit and Dots for us. Dad and I only ended up spending $7 on food/drink the entire day (on a pickle, a piece of pie, a peach and two bottles of water)! I bet most people spend a bit more than that, on food (and booze) but it worked well for us!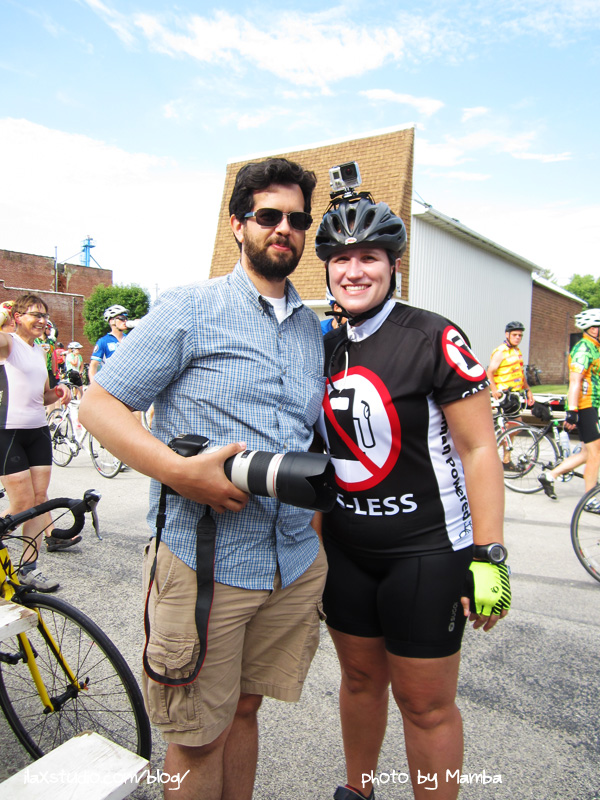 Steven rented a lens for the event! And I LOVED using my GoPro. There will be another post of GoPro photos later!
We hung out for a bit and continued on.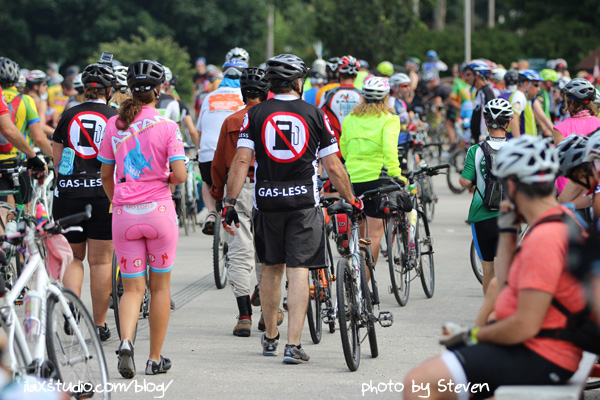 And ran in to wind. And the sun was coming out. But it really wasn't that bad. I knew the course, and that we'd be out of the headwind in a few turns (and once we got in to the hills) and I was just grateful the sun wasn't out the ENTIRE time. I was happy for the overcast start! I was sweaty enough, with that!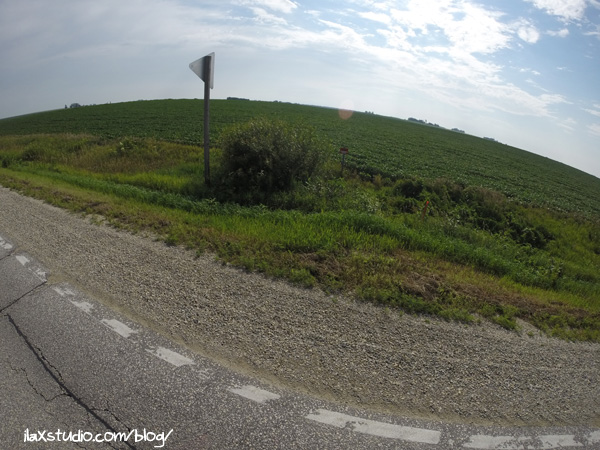 There was always something going on during the ride – someone playing music would ride by, or I would strike up a conversation with someone based on what their "license plate" said (surprisingly, I only talked to two people from Chicagoland), or what they were wearing. Or dad and I would be chatting. It really just flew by (for me, he said not so much for him…)!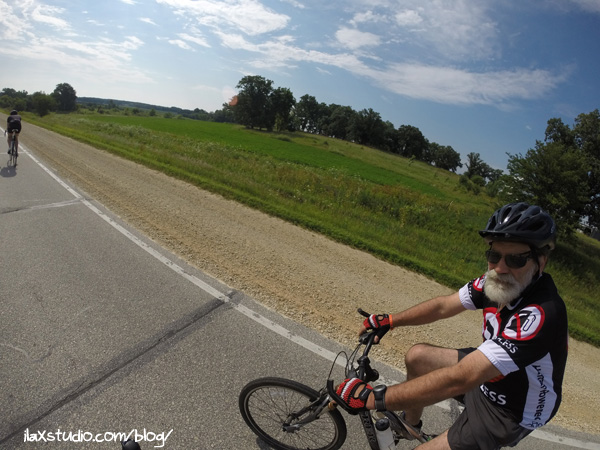 We made a short stop in the next pass-through, Strawberry Point, so I could get a pickle. Then continued on to Edgewood, where we'd see Steven and Mom again. 
My mom is fantastic. She made a sign for me and a sign for me and my dad! She's so creative! She and Steven make an awesome spectating team. They have some stories of their own from this trip, which I'll share tomorrow.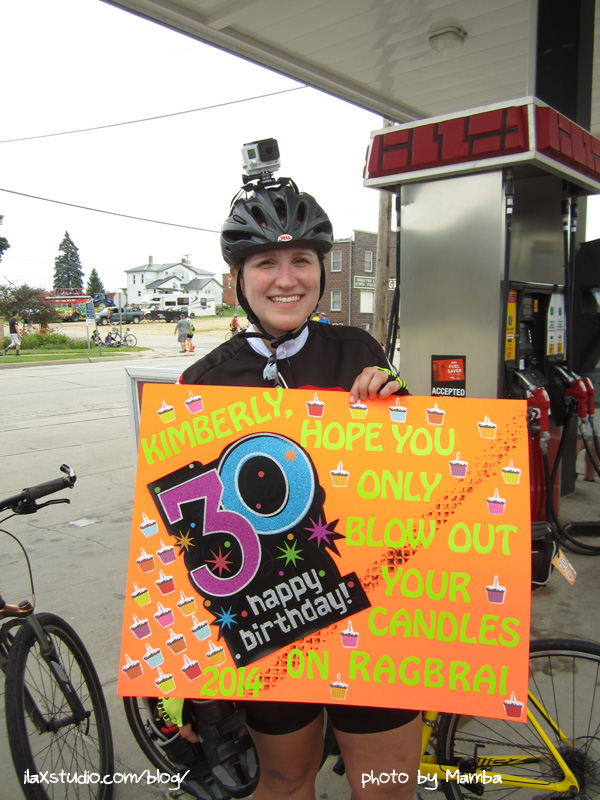 We hung out quite a bit in Edgewood. I was confused and thought there was a merchandise tent there (why would there be in the MIDDLE of the course? derrrr) and was looking for it. I really liked this year's jerseys and wanted to buy one.
I took the time to take my shoes off and let my toes stretch in my flip flops. My left toes were cramping, just like at Udder Century. I loosened up the velcro straps on my shoes and would unclip from time to time, which really helped. 
After we left Edgewood (with just over 26 miles to go), we started to get in to hilly territory. Oh gosh. We started with an exhilarating downhill. I went the fastest I ever have on my bike – 39 mph. They really want you to break down the downhills, because it's dangerous (duh) to go that fast on your bike. But man, we really thought that was a blast.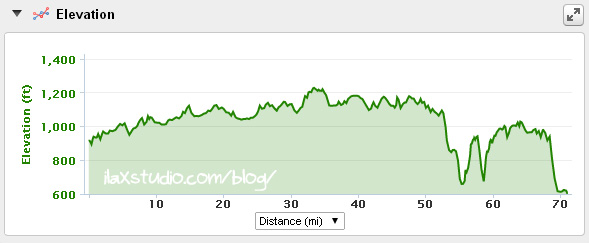 What goes down must come up! We went nice and slow up those hills. I felt bad that I dropped my dad on the big hills, then would slow on the top to wait for him. I was in my lowest gears and couldn't pedal any slower. But neither of us walked the hills, which we saw people doing. Someone asked me if that was why I had flip flops in my jersey. Nope!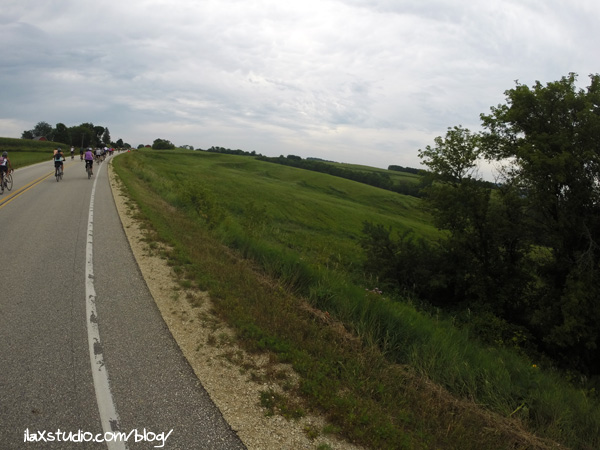 I actually didn't find the hills to be that bad, because they felt gradual. I think I am still scarred from the duathlon I did in the spring – those hills were NUTS. Sooooo steep. I am happy I had done those, so these seemed easier (we did have 3,073 feet of climb, total).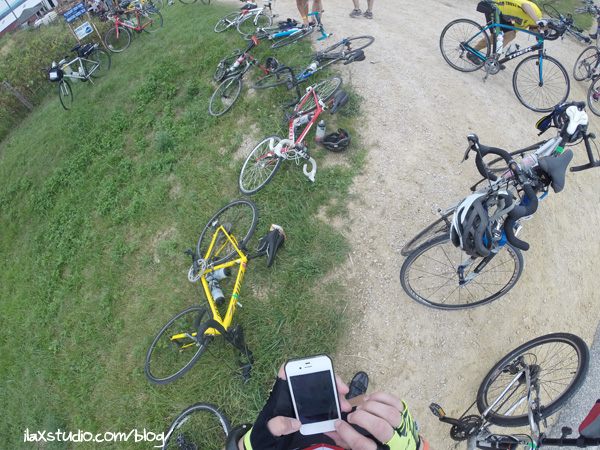 We kept plugging along. We skipped the last pass-through town, but stopped at a little booth for pie, fruit, and water. Bikes, bikes, everywhere! This photo above was a common sight at the stops!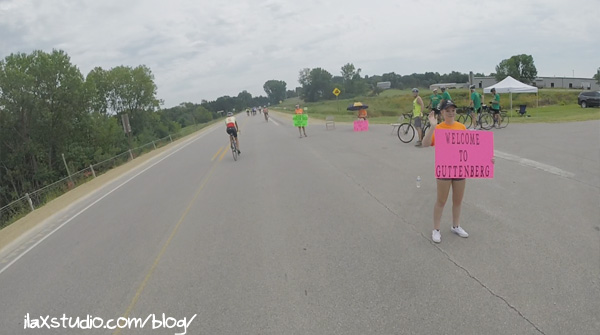 It wasn't too long until we saw this welcome in to Guttenberg and I felt sad it was almost over! We were making great time, coming in much sooner than I thought we would – about 30 minutes ahead of schedule! We ended up averaging 13.4 mph on the ride.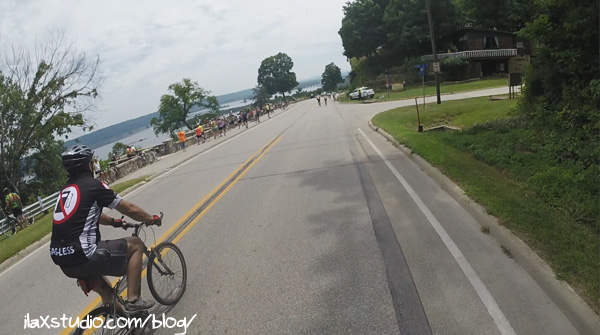 There was one last giant downhill in to town. It's a road I am very familiar with and was excited about riding down. It was fun to know that was at the finish. And I made sure to mention it to anyone saying how bad the uphills were. "There's a downhill at the finish!"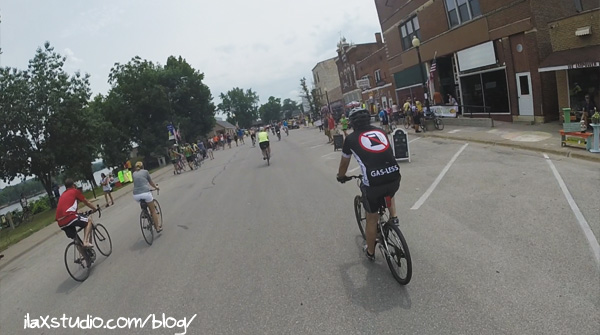 We came in to town to SO many bikes and people. It was fantastic to see  my favorite small town so decked out! And I was happy to see the merchandise tent (where I did get tops for me and Dad, later!).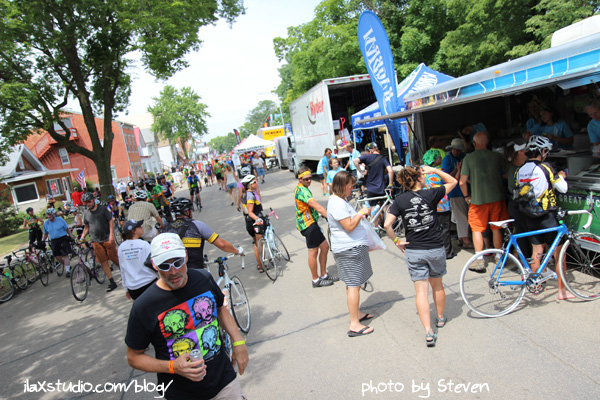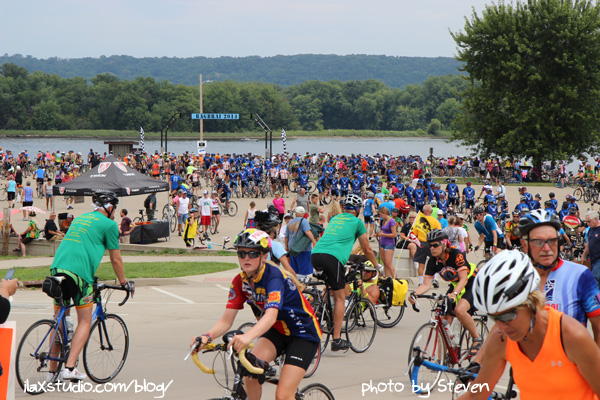 We did the traditional front bike tire dip in to the river… even though we didn't do the back tire dip at the start. Eh, details, right?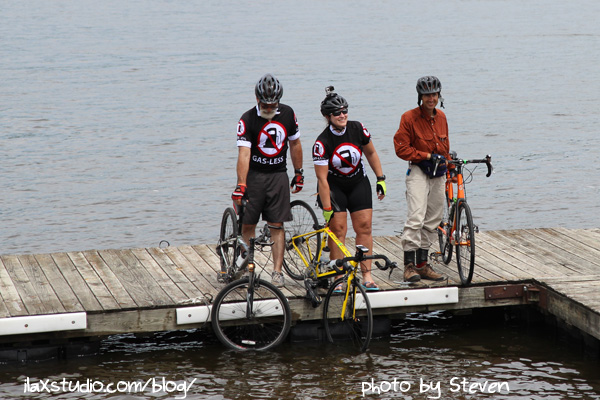 We had actually lost Rob at the halfway point! He stopped to go to the bathroom and said he'd catch up but we missed him! He finished right before us. And was happy to be done. 
It was cool to finish and have so many of my family members there! From L to R below, my uncle and aunt, Steven, Nick and Chevy, (me), Alyssa, Mom and Grandma. I made me feel really special that they were there cheering us on (and waiting in the hot sun, no less – it was in the 70s for the entire event, but humid!!!).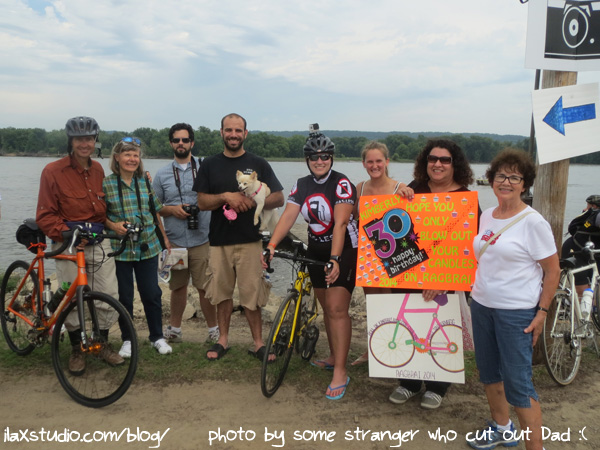 And just like that… 71.05 miles were cycled. That is a new personal distance record for me and for my dad!
I thought this was so fun. It's a treat just to ride the roads with a group of other cyclists, and feel safe (and not like a nuisance). And to have all of that support from the pass-through towns, little shops and the event itself make it even better. 
One thing that I really enjoyed seeing was such a variety of cyclists. We saw all sorts of ages – some kids ride this, and some parents pull their kids in trailers! And there were people who looked super fit, like they cycle all the time, and people who were just doing it for fun. We saw all sorts of bikes – hand cycles, recumbents, ElliptiGos… Dang! We didn't see a unicycle, though! Oh! And I have to say, I really enjoyed admiring people's tattoos on their legs. Hee hee. 
Dad and I said we could totally see ourselves doing a day or two of this event again – if the logistics worked out so nicely. RAGBRAI probably won't stop in Guttenberg for another 8-10 years (the last time it stopped there was 2005). It would be neat to try out an overnight town, and see what it's like to camp then bike the next day. But I am not sure if this is what I would want to do if I took an entire week off from work. Think about all the coordination for that – outfits for each day, food, tent, charging your electronics (ha ha), etc. They have charter groups that will do it all for you, but wow. Well, never say never, right?
I have to say again, I am very grateful I got to do this with my dad. If you are going to ride this far with someone, you really want it to be someone whose company you enjoy, and that is my dad, for sure. And someone who doesn't complain. Ha ha. That was NOT my dad, but a certain someone was worried about the upcoming hills in the first few miles and I had to tell them not to psych themselves out. Or to ruin my ride buzz. 
And I know I would have a blast if I had ridden this with Will, as well. It looks like I need to find a cycling event for him, my dad, and me. Heck, we might as well invite Andrew, too!
Oh! And don't worry! We did get to the beach!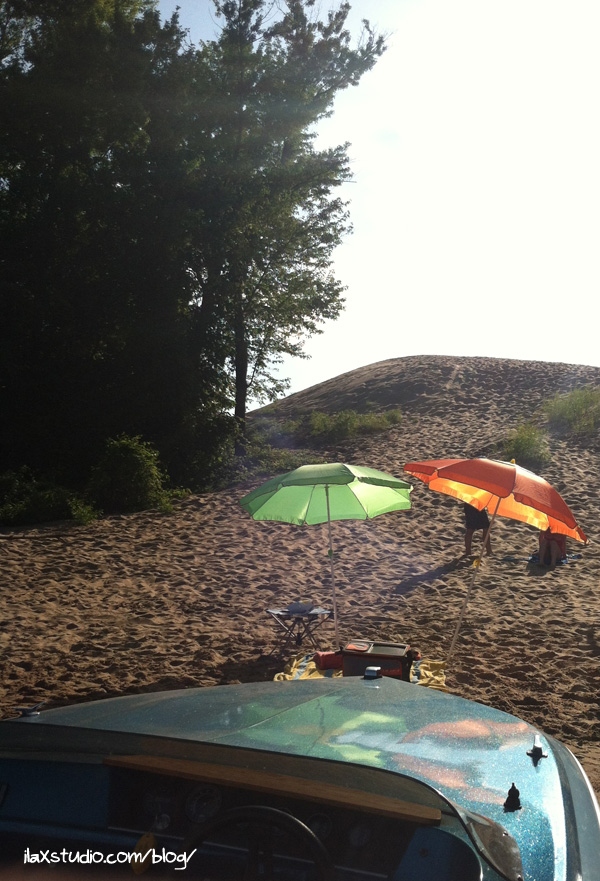 By
33 Responses to "RAGBRAI Day 7 – Ride Report"