My dad never intended to ride RAGBRAI with me in 2014. I actually signed up to ride it with my snister's husband, Will, but after we signed up, he found out he was going to be in a wedding that same day. We contemplated him trying to make both work for awhile (ha ha) then finally succumbed to reality – that no make sense. Luckily though, you can transfer your registration, so Dad took Will's spot (and then Dad was hooked on RAGBRAI, HOOKED!!! <— slight sarcasm).
So this year, Will was really hoping he could ride, and was just as excited as me to see the course went through Cedar Falls (the town he went to college in, and where he and my sister lived for awhile). He decided to do Day 5, from Cedar Falls to Hiawatha. Later, when his sister, Julie, found out he was riding a day of RAGBRAI, she decided to sign up too. Schweet! The more, the merrier! (Plus, Will's siblings are a lot of fun and I was looking forward to spending more time with Julie!)
We started at my dad's mom's house in Cedar Falls just before 8:00 am and cycled a few miles and joined up with the rest of the riders. It was 60°F with no cloud coverage when we started.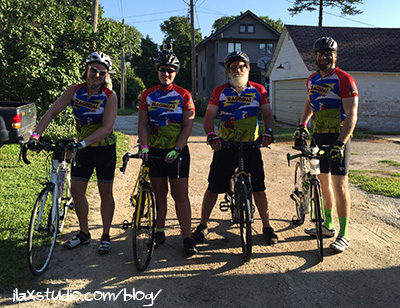 It seems like the starting points of the ride tend to be somewhat crowded, which is fine, because everyone communicates about what they are doing. I gave Will and Julie a little bit of a heads up about the different ways that riders signal what they are doing, and the warnings they give one another, but I mostly knew they'd figure it out from hearing/seeing it!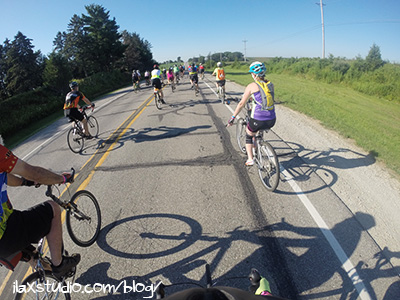 Rider signaling to her left that she is going to move to that spot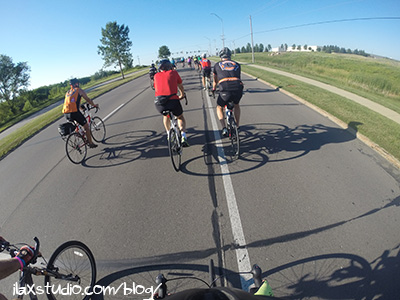 Dad and I noticed though, that Thursday's ride seemed to be much more crowded, in general, than Wednesday's. Not in a bad way, just many more riders out. Or maybe, we started at the same time as more people? Either way, there was always someone else on the road, near us!
We had seven pass-through towns on Thursday.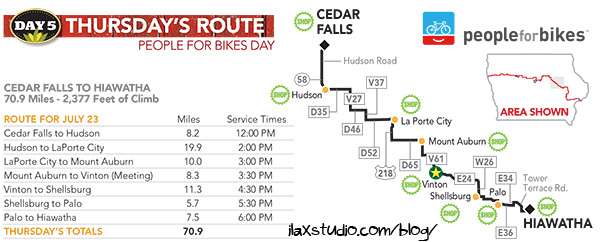 I was excited to go through the first one, Hudson, because my uncle owns a bar there, and I thought maybe we'd see him! My dad actually saw my aunt there, and went over to say hi. Which apparently, I got a photo of, ha ha: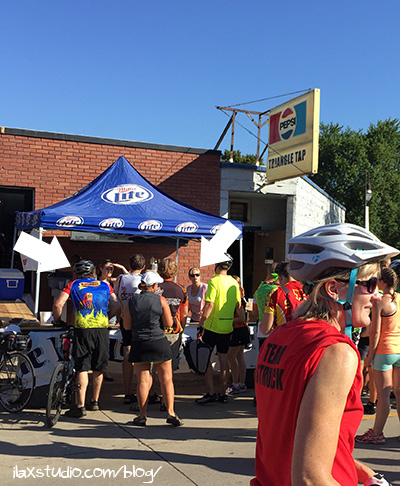 Many of the pass-through towns seem to have themes. On Wednesday, one town's theme was about beavers, because they are along beaver highway (or something) and along a river with beaver in the name. Hence the beaver picture from Wednesday.
Hudson had a pirate theme – pirates are their high school's logo. Right away when we got in to town, there was a place you could make a $1 donation and get a temporary pirate tattoo. Why not, right?
You can't quite make it out in the photo, but it says in small print on the sign that the money is for the AMVETS. It was nice to be supporting a local group. You hear a lot about the money that RAGBRAI brings to these small towns, but even riding on the Wednesday, I could see signs for vendors that I saw last year (and since it's new towns each year, you wouldn't think there'd be repeat vendors). And on Thursday, we saw many of the same vendors that we did on Wednesday. Obviously, people want to come in and make money off of this event. And it's nice to have lots of options in these towns (for example, a group called "Carbo Hut" is usually in the midway pass-through town and is the only vendor I've seen with fake meats options – I got something from them both days), but… I hope these bigger companies that come in for the event don't completely overshadow the local ones.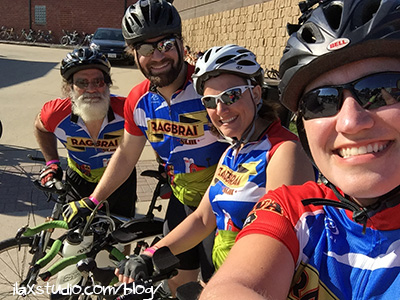 Hudson selfie
So, before the ride, I didn't pay attention to the distance between stops. When we were leaving Hudson though, I heard someone say it was 20 miles to the next stop. Um… what?! I confirmed this with someone who was riding with the course map visible on his bike – "Yep! 19.9 miles!" Eek, that was a bit long for me. Even with stops in between, ha ha.
On Wednesday, I passed by a free post card booth too quickly to stop and send one. When I saw signs for it the next day, after the Hudson stop, I pulled over to send a postcard to Luca. And he actually already received it!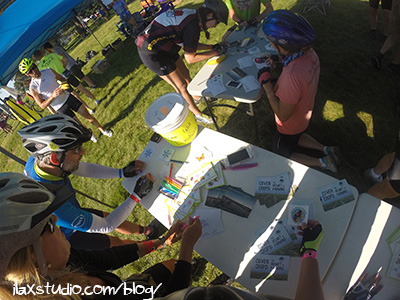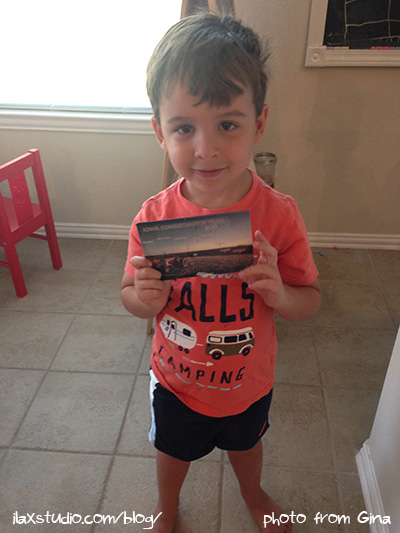 The postcard station was also next to a water and banana station. It's so great that people set these stops up to support the riders!
And actually, all the pass-through towns have water stations set up so you can get free water (usually by the fire station). You can also buy bottled, too. I did a mix of both.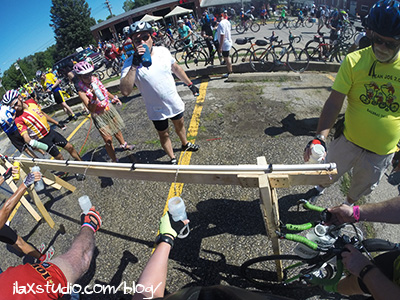 The cell network was overloaded and I could no longer receive or send texts. Which was a bummer because I had enjoyed sending updates to a few people (especially Steven, since he couldn't come) the day before as dad and I rode. I was luckily able to see an old message that Christina and Mom were near LaPorte City, so I called her to let her know we'd be there awhile.
Yay, they found us!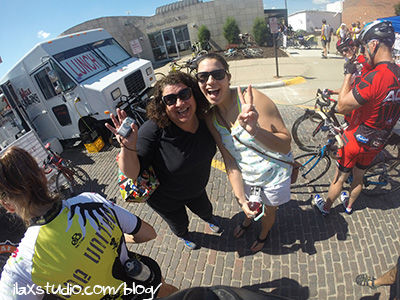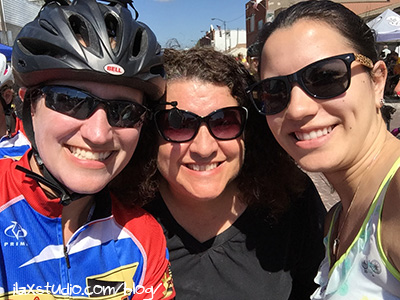 By the time we got to LaPorte City, it was near midday and I was SUPER hungry. I was still eating and drinking on the ride, but man, was my body oh so confused when I was in Iowa last week – the entire five days. I'd have moments each day where I felt like I was starving. So odd. (Or not really – my schedule was all off and I was burning a ton of calories.)
I got a sandwich called a buca – which was a hollowed out end of a long bread bun stuffed with whatever you wanted – I got peanut butter and a banana. Not truly what I was craving, but I needed the calories! And I liked how easy it was to hold.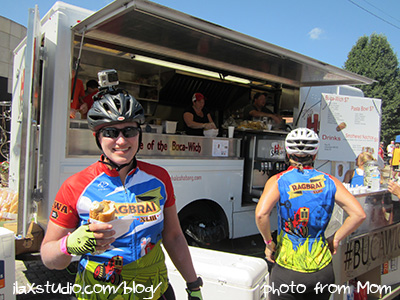 Dad and Will got breakfast pizza and Julie got a sandwich, fruit and cookies (a package lunch from a local church).
This is how we'd stack our bikes when we stopped – Dad had a kickstand, which he'd put down, then we'd lean all our bikes on his. Thanks, Dad!
We hung out with Mom and Christina for a bit then faced the reality that we better get back on our bikes!
We decided we'd see them again in Vinton – two stops away. And this is where I have to consult the GoPro pics to see what we did between LaPorte City and Vinton (beyond stop in Mt Auburn). I kind of forgot how people assume you are making a video when you wear a GoPro. Someone rode by me and said "Hi! Am I in your video?!" and waved. Ha. Nah, you aren't. And it didn't get a photo of you either.
I had it set to take a photo every minute. Which is A LOT of photos to go through, but I may set it for every 30 seconds next time. There are a few things I am wishing it would have taken photos of, like the time a plane flew really low over all the cyclists, or the funny fake crocodile and bike that someone put in a marshy area we passed.
Anyway, what did the GoPro say I did? Got my pickle!
And rode a bit with everyone: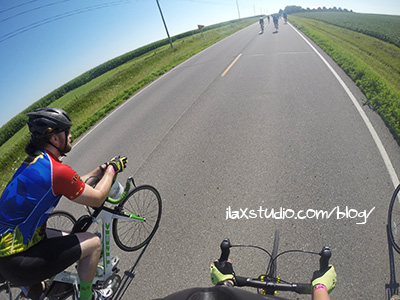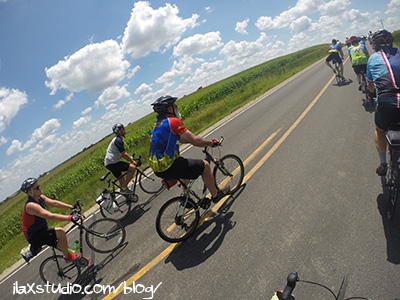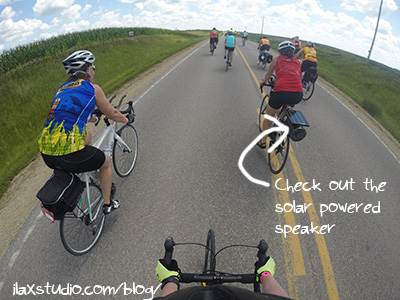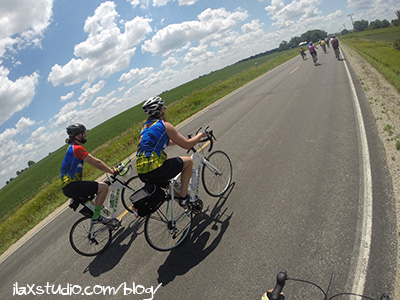 We'd tend to ride in pairs throughout the day, me usually with Dad, and Will and Julie together, but sometimes, we'd end up switching it around. And we'd almost always get separated a bit, and simply pull off for awhile to wait for the rest of the crew.
Dad and I were both feeling a bit meh going in to Mt Auburn. I started to take my feet out of my shoes and ride with my feet (my left, more than my right) on top of my shoes, which actually really helped. And I'd put my hands on the top of the handlebar, closest to me, rather than further away, which helped with shoulder soreness.
But I have to say, I was really looking forward to getting to Vinton and having a bit longer of a stop!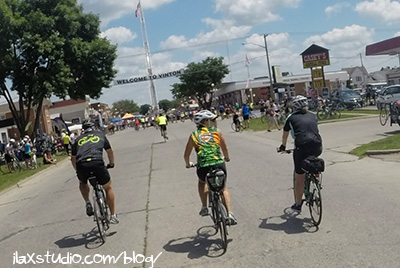 Right away we stacked our bikes and split up to look for food. I got in line at the Carbo Hut for a bowl of rice, veggies and tofu. Christina found me waiting in line and gave me a Vitamin Water XXX! AHH! That was EXACTLY what I was craving! Love my snis.
I had just eaten that PB&B buca and pickle, but again, my stomach was asking me for real food. The dish was too hot (temperature not spiciness level), but hit the spot!
We hung out in the shade a bit, and watched people go over by our stack of bikes, to admire Will's. Hee hee, he does have a really schweet bike!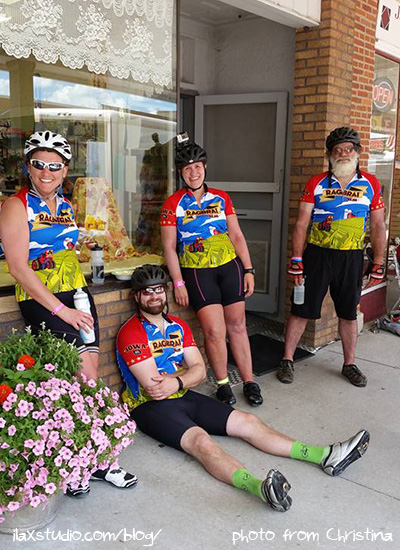 A friend of Mom's lives in Vinton and very kindly offered for us to come over and sit in her AC and use a real toilet, but I knew if I did that, I would never want to leave! We tried not to stand around too much (although I must have waited 15 minutes in the hot sun to get my food), but I bet we were there for 30-45 minutes.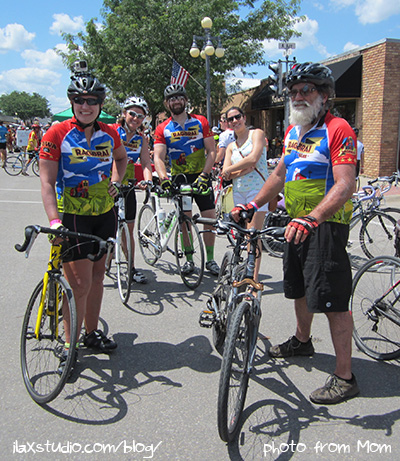 After Vinton we had two more pass-through towns. I was starting to rally back and feel really energetic and chatty. But I definitely did say, in Shellsburg, that I would rather ride my bike through than get off and walk! Luckily, we were able to do just that, in Palo, our last pass-through town!
And after that, we were on our way to Hiawatha, which I had never been to before. I kind of enjoyed the ride more on Wednesday, and last year, knowing the town I was going to – that made it exciting, to watch out for when I would see familiar streets. But it was definitely still fun to FINALLY BE DONE! Even thought I felt really good at the end, I was spent!
But we still had to find Mom and Christina. And figure out where the thing actually ended. Ha ha, after we passed under the "Welcome to Hiawatha" banner, we still rode a mile or two to get to all the finish booths (where I wanted to buy an official RAGBRAI pin). And somehow we lost Dad. Oops. But we found him!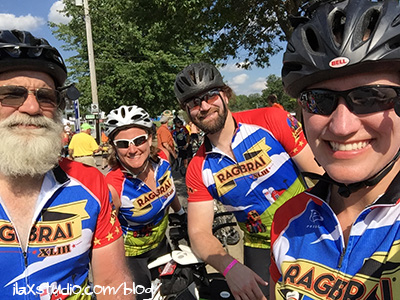 Finished!
We called Mom and Christina to ask them to please try to get a little closer to the finish to pick us up. We finished with over 70 miles ridden (76 miles in 6:25, much longer elapsed time but don't have the data) and riding a few more to get to the car seemed ludicrous. Ha ha!
It was 80°F when we finished around 4:00 pm and like I said, I was spent! We all rode back in my dad's truck, and I was half out of it/half goofy.
When we got back to Cedar Falls, we made sure to take photos of our ombre tan lines: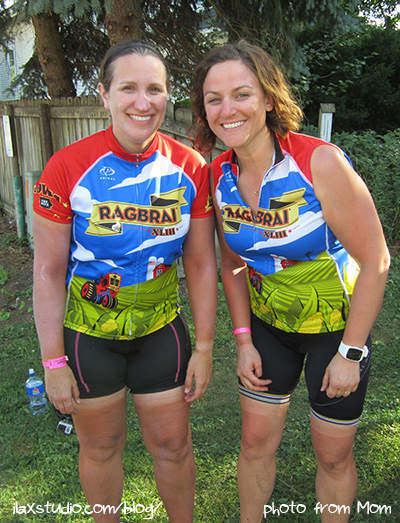 And to compare skin shades, ha ha: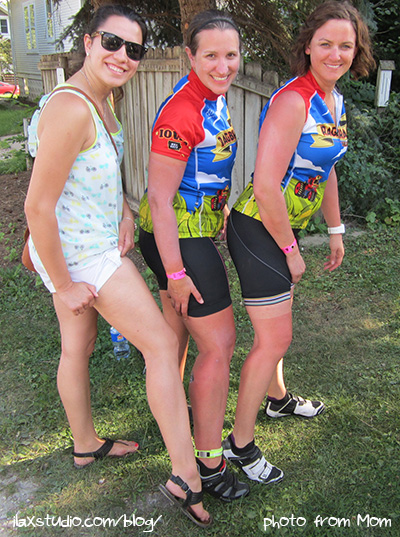 We all decided we had fun and would like to do it again, but that we were definitely worn out. It was a lot hotter on Thursday, than Wednesday. Most headwind on the bike was actually appreciated, to keep us cooler.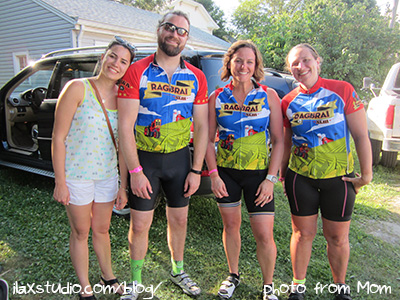 I did tell Dad I think we should do the final day again next year! He said he'll train more this time. To prepare for this, I rode my bike every week this year (sometimes twice) to get my butt used to sitting on the seat. What got to me during the ride was my left toes going numb and my shoulders getting tight. Maybe I should try some aero bars? Hmm… we shall see!
A few random comments:
I was so frustrated when my watch died a few miles from the finish. And when my phone wouldn't work. And I felt stupid for letting technology frustrate me. Sigh. I am not out there to be connected to people I am not with… but it does help when my phone works (I couldn't even make calls, at points).
We didn't see anyone wearing a pie on their helmet like last year! Nor, did any of us stop for pie.
We saw a jersey similar to the one we wore last year.
We saw a few interesting bike set-ups – one guy on a unicycle Wednesday, many recumbents and tandems. And we saw quite a few kids cycling as well, some on tandems and some on their own bikes!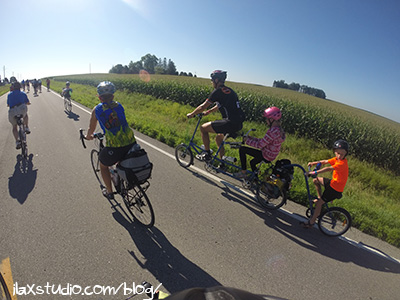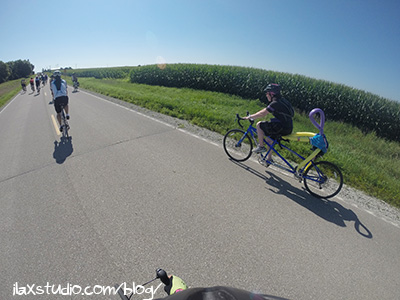 Christina and I liked this photo because Will's shadow looks like a turtle and Julie's looks like a squirrel. Ha ha.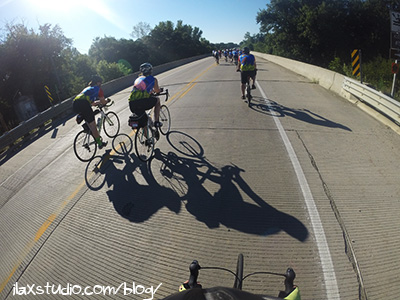 I actually burned my lip so bad that I woke up Friday am with painful Kylie Jenner lips. They finally stopped being sensitive yesterday. Ouch!
By
13 Responses to "RAGBRAI Day 5 2015 – Ride Report"