I was on the track team in junior high. Everyone who wanted to be on the track team… got to be on the track team – you didn't have to compete for spots (read: I wasn't very good, but was really in to all the sports in junior high, for some odd reason).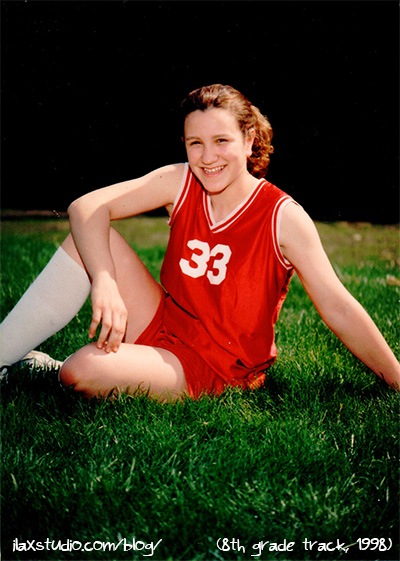 Only a few things stick out to me about junior high track: how scared I was of the hurdles (still true), how I was always in the middle/back of the pack (still true), disliking running on the track in the hot sun (still true), the track itself, the training route we'd run to the high school and back, and… one really weird thing.
The ponytail rule.
Seriously, this is so odd.
When we ran (in training, not at meets), our coach would shout to us from the sidelines, "I don't want to see those ponytails going side to side! They should be going up and down!"
Um, what?!
Yeah… he didn't want any lateral ponytail sway. Only a slight up and down vertical bob.
I couldn't figure it out then. I can't figure it out, now. Did we have too much lateral movement? Is that what it was about? Were we not holding our heads straight, and looking ahead? Did he want us to be robots?
And isn't ponytail sway all about how you tie your hair up, anyway?
Ha ha ha. This actually stuck with me so much, that when I started running consistently in 2006, I thought about which way my ponytail was going. Then realized how silly it was, and wore my hair in a bun.
Ahh, the funny things we remember from our youth.
(This story makes this guy sound crazy. He wasn't. I just don't think I was grasping whatever he was getting at with this.)
By
23 Responses to "The ponytail rule"